The head of the National Emergency Coordination Group has said he does not expect weather conditions from Storm Brian this weekend to be anywhere near as damaging as Storm Ophelia.
Met Éireann has issued a Status Orange wind warning for a number of Atlantic coastal counties, which is to come into effect on Saturday morning.
Winds of up to 80km/h and gusts reaching 130km/h are expected in Wexford, Waterford, Cork, Kerry, Clare, Galway and Mayo.
A Status Yellow wind warning is in place for the rest of the country, with average speeds of 65km/h and gusts reaching 110km/h expected.
A separate Status Yellow rainfall warning was in place for Munster and much of Leinster today, with accumulations of up to 50mm possible in places.
Flooding has been reported this evening on roads in the south and the midlands as rain continues to fall.
AA Roadwatch says Cork city and county, as well as counties Waterford, Tipperary, Kerry, are affected.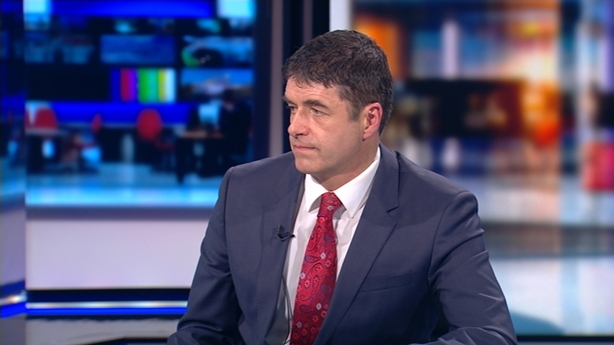 Met Éireann's Gerry Murphy said that the weather system forecast for this weekend would be weaker than that experienced around Hurricane Ophelia and most parts of the country would not experience very strong winds.
However, speaking on RTÉ's Six One, Mr Murphy said that the winds along west Munster coastal areas on Saturday morning would be very strong. These will progress to coastal areas along Galway and Mayo later in the afternoon.
Cork County Council, meanwhile, is already warning of possible coastal flooding at high tide on Friday evening because of a storm surge.
One concern is there may be trees weakened by Ophelia that will be knocked over by the strong winds.
NECG chief Sean Hogan said Ophelia was "unprecedented" but they had planned and prepared for it.
He said Ireland gets 50 to 70 weather warnings from Met Éireann each winter season and he is confident the weather this weekend does not look set to cause widespread damage or disruption.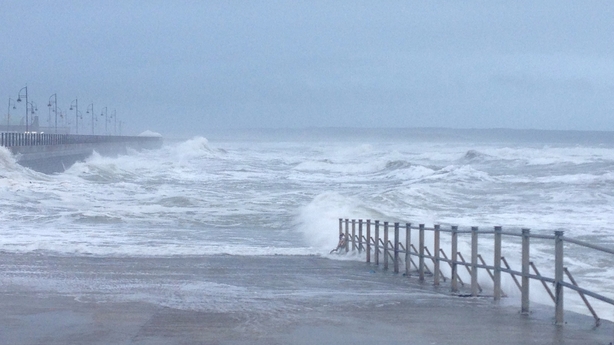 Most homes and business that lost power due to Storm Ophelia should have it restored by Saturday, Mr Hogan has said.
ESB Networks has said that 50,000 properties were still without power following the storm, with efforts focused on Wexford and Cork.
ESB said the worst impacted areas are in the environs of Enniscorthy, Wexford town, New Ross, Bandon, Dunmanway and Fermoy.
Around 7,800 households are without water due to the storm, with a further 1,600 homes at risk of losing supply.
In an update, the NECG said 21 wastewater treatment plants and pump stations, serving a total population of 17,400, are still without power.
Eir has said that around 30,000 remain without broadband, telephone and mobile services.
At the height of Monday's storm, 385,000 homes and business were without electricity.
Mr Hogan said that the Defence Forces were supporting ESB workers in helping to locate the damage in some areas.
A full list of ESB outages is available on Powercheck.ie.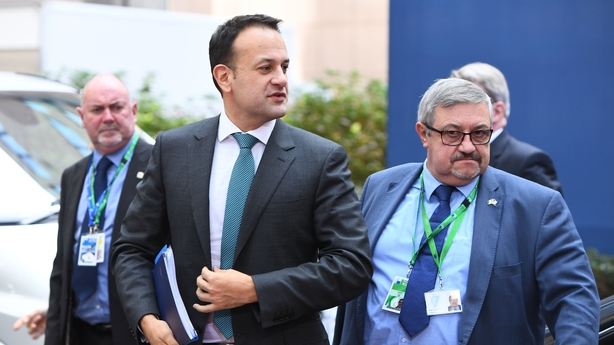 Varadkar looking to EU emergency funding over Ophelia impact
Taoiseach Leo Varadkar has raised the possibility of EU emergency funding for the impact of Hurricane Ophelia at a summit of EU leaders in Brussels.
Under the European Union Solidarity Fund, member states can qualify for disaster relief if the cost of the damage is over a certain threshold.
Member states countries have 12 weeks to make an application for support.
According to the rules, a country must suffer damage to the tune of 0.6% of Gross National Income (GNI).
In Ireland's case, the damage caused by Hurricane Ophelia would have to amount to €1.2 billion in order for the country to qualify for emergency support.
However, it is understood the European Commission has raised the possibility that the rules could be changed in order to make it easier for countries such as Ireland to access funding.
It is understood Irish officials have raised the issue with the European Commission.
The issue has been spurred by the recent forest fires in Spain and Portugal in which 46 people were killed.
Should the rules be changed, Ireland would be in a position to make an application for emergency funding before the 12-week period elapses in December.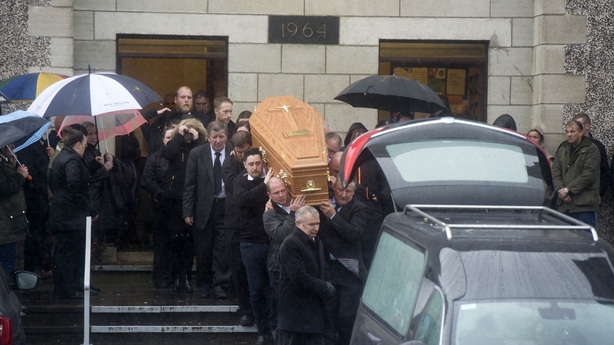 Hundreds of people have attended the funeral of Michael Pyke, one of the three people who died in Storm Ophelia-related incidents on Monday.
The funeral Mass took place at the Church of the Holy Family in Mr Pyke's hometown of Ardfinnan, Co Tipperary.
The 31-year-old died when a section of a tree hit him on a road near Ardfinnan on Monday afternoon.
Parish priest of nearby Clogheen, Fr Bobby Power, who was based in Ardfinnan until recently, described it as "a very sad day" and said Mr Pyke's sudden death was a shocking event that had devastated his family and friends.
"Michael, what can I say, we are heartbroken," his sister said at the end of the Mass. "You were the best son, brother, uncle, friend and boyfriend to Nollaig."
The entire family were comforted by the fact that Michael, the youngest of the family, was "back in the arms of our mother [Moira]," she said.