British Prime Minister Theresa May has said the UK government will do everything it can to help restore Northern Ireland's power-sharing government, adding that Brexit would not herald the return of a hard border.
"I believe very firmly that the decisions for Northern Ireland are best made in Northern Ireland in that devolved administration. So we want to see that executive up and running," Mrs May said.
"We have been very clear, and the European Union agrees with us, that there should no physical infrastructure on the border," she said.
She added: "It is important ... that we don't return to the hard border of the past."
Earlier, Mrs May said that the European Parliament's vote against moving Brexit talks to the next stage was not unexpected.
"I don't think that vote was particularly an unexpected one," Mrs May told Sky News.
"I have put an offer out there as what the future partnership for the UK and the EU could be. Now we wait to hear from the EU what their response is," she said.
Earlier today, the parliament voted that the talks should not move on to the topic of future trade arrangements as there has been no "sufficient progress".
MEPs in Strasbourg backed a motion by 557 votes to 92 that said negotiations should not be allowed to progress unless there is a major breakthrough.
European Union leaders say they will not accede to Britain's request for discussions on a post-Brexit free trade relationship until progress is made on key issues affecting the withdrawal of Britain in March 2019.
A further round of negotiations are due to be held in Brussels next week.
Meanwhile, Britain's Foreign Secretary Boris Johnson said that negotiations to leave the EU are going well but there was too much doom and gloom attached to Brexit.
Speaking at the UK Conservative Party's annual conference, he said that while trade deals with other countries take time to negotiate, there would be "loads" of them done before the next British election in 2022.
Mr Johnson also told a meeting on the sidelines of the conference that Britain would want to do things differently to the EU in certain areas, such as data and bio-science.
Earlier, the EU's chief Brexit negotiator told the European Parliament that the remaining 27 EU member states will not be expected to pay for Britain's exit from the bloc.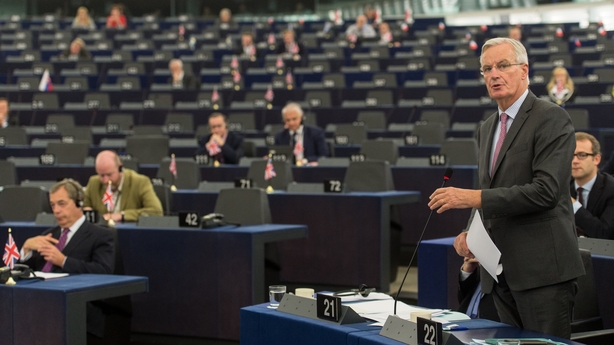 Updating MEPs on the EU's negotiations with the UK, Michel Barnier said the taxpayers of the 27 will not have to pay for a decision they did not take.
"No more, no less," he said, to a round of applause from parliamentarians.
On Northern Ireland, he said solutions will have to respect the integrity surrounding the legal order of the EU and the Good Friday Agreement.
He noted that the Common Travel Area will require detailed work, which he said both the EU and the UK are committed to.
Guy Verhofstadt, who is the European Parliament's Brexit negotiator, told MEPs that he visited Northern Ireland for the first time recently and it struck him that the problems are not over, and despite peace, tensions remain.
"There are fences 12 metres high and this is in the 21st Century," he said.
The leader of the Alliance of Liberals and Democrats stressed the importance of the Good Friday Agreement for Northern Ireland, saying that if a border returns, violence will return.
Ulster Unionist MEP Jim Nicholson described the European Parliament resolution on Brexit negotiations which is being debated in Strasbourg this morning as biased.
Mr Nicholson accused Mr Verhofstadt of taking sides by calling for an international border between Northern Ireland and the rest of the UK.
He said Brexit could not be used as an excuse to break up the UK.
"We joined as one country and will leave as one United Kingdom", he told MEPs.
Fine Gael MEP Mairead McGuinness said that progress has to be made in the Brexit negotiations.
During this morning's plenary debate, she questioned what would replace the single market and customs union if they were removed.
"We need the UK to remain in the single market and customs unit", she said.
The parliament's vice president said she would not allow Ireland to return to the borders of the past.
Independent MEP Marian Harkin described today's debate as "positive".
However, she said Northern Ireland representatives must be clear whether they want a hardening of the border or whether they accept a unique solution for Northern Ireland, which she said would avoid hardening the border, maintain the Common Travel Area and the Good Friday Agreement.
Independent MEP Luke Ming Flanagan compared the negotiations to dating, saying if you want it to succeed there are things you do not say.
He told EU leaders to put their egos away, make it work and stop insulting the people with whom they need to work.
Britain had hoped to have advanced enough for EU leaders to green light trade discussions this month.
European Commission president Jean-Claude Juncker has already said it would take "miracles" for trade talks to begin before the end of October.
A fifth round of Brexit negotiations is expected to begin on 9 October but Mr Juncker's comments suggest a breakthrough is unlikely before the council summit on 18 October.
Council president Donald Tusk and Mr Barnier have also said the UK needs to do before negotiations can move on.
The motion voted on MEPs said it is "vital" that commitments Mrs May made in her recent speech in Florence translate into "tangible changes" to the UK's position and "concrete proposals".
The text, tabled by Mr Verhofstadt, stressed that Britain must obey EU rules including free movement and European Court of Justice judgments during the transition period of around two years proposed by Mrs May.
It "takes note" of her offer to pay into EU coffers during the transition but bemoans "the absence of clear proposals" and sets out further "financial obligations".
The resolution acknowledges Mrs May's olive branch on EU citizens' rights - a promise to write them into UK law - but stresses the ECJ must remain the "sole and competent authority" for enforcing the withdrawal agreement.
The British government was also accused in the motion of attempting to "predetermine" trade talks by committing not to introduce any new physical checks on the Irish border, as it presumes either the UK or Northern Ireland will remain in the single market and customs union.