The European Parliament's Brexit co-ordinator has said there is no way that there can be a hard border between Northern Ireland and the Republic of Ireland.
Speaking in Co Monaghan, Guy Verhofstadt said a hard border would be a disaster for the citizens, businesses, farmers, for everybody and certainly for the people in Northern Ireland.
He was speaking after a day spent in Belfast and the border counties.
Earlier, he said the onus on finding a workable solution to the Irish border problem post-Brexit remains firmly with the UK government.
He again suggested Northern Ireland remaining in the customs union and single market post-Brexit could provide a resolution.
He said enabling the region to retain such status, even if the rest of the UK leaves the customs union and single market, might be the way to avoid a hardening of the border.
In relation to Ireland's vulnerability in the Brexit process, Mr Verhofstadt told RTÉ News that Ireland should not become a "bargaining chip" in the negotiations - "this is not in the interest of Ireland and not in the interests of the European Union," he added.
Asked about the slow progress in separation negotiations between the EU and the UK, he said the first rounds of talks between them were not decisive and he hoped a speech British Prime Minister Theresa May will make in Florence later this week might provide more clarity.
Decisions about three elements of the Brexit talks, including Ireland-related questions, are due to be considered by EU leaders at a summit next month.
Mr Verhofstadt told journalists in Co Monaghan tonight "we have to avoid a hard border and we have to push the UK for a solution that avoids such a hard border."
We need your consent to load this rte-player contentWe use rte-player to manage extra content that can set cookies on your device and collect data about your activity. Please review their details and accept them to load the content.Manage Preferences
Reflecting on what was his first visit to Belfast, he said "for 20 years we did not hear anything about Belfast and the peace process in our countries in the rest of Europe."
He also said "it is not true that peace is there and things are over".
Mr Verhofstadt said the Good Friday Agreement is a success and this is a good result but it needs to continue and it cannot be put in danger.
He was in Belfast today at the start of a two-day fact-finding mission to the island of Ireland.
Tomorrow in Dublin he will hold talks with Taoiseach Leo Varadkar and Fianna Fáil leader Micheál Martin. He will address a number of Oireachtas joint committees.
Verhofstadt holds meeting with NI parties in Stormont
After a meeting between Mr Verhofstadt and Sinn Féin politicians at Stormont, the party's northern leader Michelle O'Neill said they had found him to be very understanding.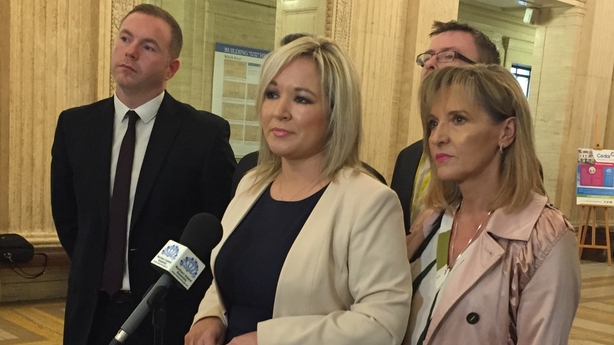 She said: "He's very clear in dismissing the papers which the British government have produced to date and so I did find him a very understanding man and we need to take these opportunities to engage with him.
"I believe he's someone who has been very aware of the implications of Brexit on the island of Ireland and someone who has been very strong in setting out his position on issues which need to be resolved before moving on to the next stage of negotiations.
"We've made very clear to him today the issues which we need to see - we need to remain in the customs union, we need to have access to the single market, we need to see no return to hard borders and to see citizens have access to the European Courts of Justice."
Ms O'Neill added: "At least he's had the manners to come and talk to people about the implications which is far more than any British minister has done."
European MP Diane Dodds joined her party leader Arlene Foster in the Democratic Unionist delegation that met Mr Verhofstadt at Stormont.
Afterwards, Ms Dodds insisted Northern Ireland could not be treated any differently to the rest of the UK.
"We would not countenance and indeed it would be calamitous for the economy in Northern Ireland if there were barriers to trade with our largest partner which is the rest of the United Kingdom," she said.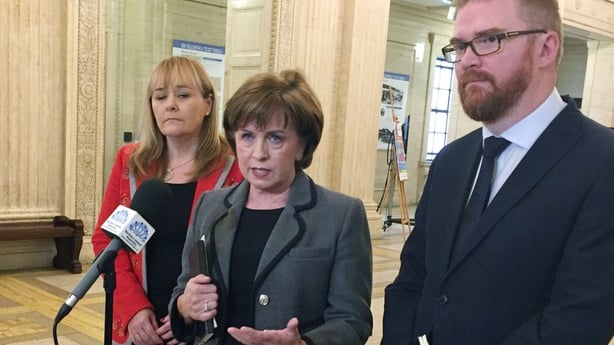 Responding to Mr Verhofstadt's claim that the onus for drawing up a solution rested with the UK, Ms Dodds added: "These talks will only be successful if the two sides are willing and able to talk through a sensible solution to Brexit.
"So therefore soundbites like this ... will not reflect the reality of the solution when it comes."
SDLP leader Colum Eastwood said there was an "economic and political tsunami" heading for Northern Ireland.
He said Mr Verhofstadt shared his party's position.
"He has the right position," said Mr Eastwood.
"He understands that we need to accommodate the unique circumstances in Northern Ireland, he understands that people in Northern Ireland voted to remain and that has to be respected."
UUP leader Robin Swann said the lack of a powersharing executive at Stormont, due to an ongoing political stalemate between the DUP and Sinn Fein, was harming the region at a crucial time.
"It was shame and disgrace today that we were meeting as individual parties and there wasn't an executive representing Northern Ireland in what is a crucial moment and crucial activity in how Northern Ireland progresses at this moment in time," he said.
Former Alliance party justice minister David Ford said their discussions had included how the UK's withdrawal from the EU could impact on cross-border security issues.
Mr Ford said: "We had significant discussions on the potential dangers of the UK moving away from the EU arrangements, the need to remain full members of international bodies such as Europol and Eurojust to ensure that the UK plays a part in setting the regulations."
My thoughts after meeting all the political forces in Northern Ireland involved in #Brexit here in Belfast today pic.twitter.com/cnQUuLrisi

— Guy Verhofstadt (@GuyVerhofstadt) September 20, 2017
After his meetings in Belfast, Mr Verhofstadt posted a Twitter video in which he stressed the need to secure the success of the peace process.
"Every solution inside Brexit needs to take into account that the peace process and Good Friday Agreement is secure and there is no hard border between the Irish Republic and Northern Ireland," he said.
"It is something that is a concern that is not sufficiently present around the negotiating table."
A visual demonstration of this complicated & inexistent border: brown field is in the Rep of Ireland & the green field is in N.Ireland pic.twitter.com/iENALd1Ya5

— Guy Verhofstadt (@GuyVerhofstadt) September 20, 2017