Almost 60,000 students are receiving the results of their Leaving Certificate exams today.
This year sees a rise in the number of students opting to be examined at Higher Level. In Irish the proportion of students sitting the Higher Level paper has risen by 10%, in Maths it is up by 8%. In English, there is an increase of 6%.
This change has led to a fall in the proportion of students receiving higher marks at Ordinary Level, as students who might in previous years have performed well at Ordinary Level have opted instead for Higher Level papers.
Similarly, there has been a rise in the proportion of lower marks awarded on Higher Level papers.
There are a number of factors which are likely to have contributed to the rise in the number of students choosing to sit Higher Level papers.
Under the new grading system, CAO points are awarded for any score of 30% or more on a Higher Level paper.
In the past, the threshold for CAO points was 40%.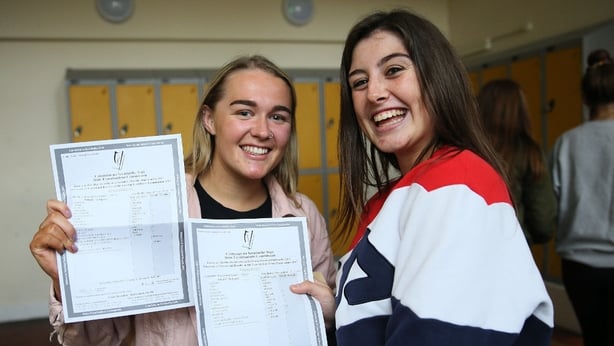 Bruton says students can be 'rightly proud of achievements'
#LeavingCert students @MaryfieldCollege give their reaction to results2017 #rtenews pic.twitter.com/f63II2tyNp

— Joe Mag Raollaigh (@joemagraollaigh) August 16, 2017
This year also sees the introduction of a new grading system, which reduces the number of different grades awarded from 14 to just 8.
The old alphabetical system of As, Bs and Cs has been replaced by a shorter numerical based one, which runs from one to eight at Higher, Ordinary, or Foundation Level.
A 'One' in the new system is the equivalent of an 'A1' in the old system, representing a result of between 90% and 100%.
A 'Two' is the equivalent of an A2 and B1, representing a score of between 80% and 90% and a 'Three' represents a score of between 70% and 80%. This encompasses the old B2 and B3 grades.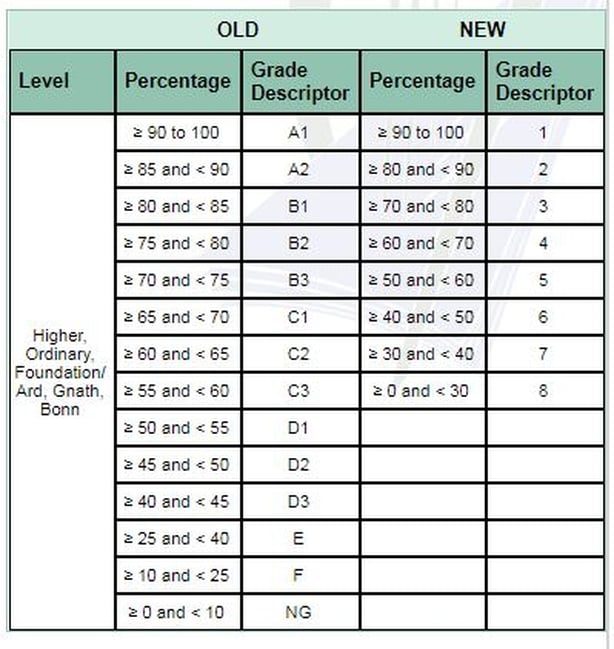 This change, accompanied by an alteration in the CAO points system, has been introduced in an attempt to make the college entry system fairer.
The points system has been recalibrated so that fewer students achieve the exact same score.
In the past, because large numbers of students achieved the exact same points score, not all who reached the threshold for a particular course were accepted.
A greater diversity in individual scores should make for a fairer allocation of college places.
It is also hoped that the wider grading bands introduced this year will over time reduce the pressure felt by students to maximise their scores.
However, it remains to be seen if the changes will have this desired outcome.
The author of a report which recommended these changes has said more needs to be done to reduce the points pressure on students.
Aine Hyland, Emeritus Professor of Education at UCC, told RTÉ News that the third-level institutions need to continue to reduce the number of specialised first-year courses on offer to students.
Prof Hyland said students leaving second level should not have to make life-determining choices so early on.
She said students would be better served by entering more general courses, such as omnibus arts or science degree courses, in their first year.
This would enable them to postpone decisions on specialisation to a later stage, she argues.
A reduced number of courses should also lead to a reduction in the points required for many subjects.
16,395 students sat the Higher Level Maths paper this year. This represents 30% of all students sitting the subject and is the highest number ever.
The vast majority of those achieved 30% or more.
Of this year's 58,550 Leaving Certificate students, just under 5% sat the Leaving Certificate Applied programme.
This is a programme with a more vocational focus, where a large proportion of marks have already been awarded through continuous assessment.
Thirteen students achieved top marks - eight Grade One's at Higher Level.
Laura Stack, from Dromcollogher in Co Limerick, who went to Hazelwood College, was among those who achieved the highest points possible.
Speaking on RTÉ's News At One, she said there is no secret to her eight H1s, saying she did the work "bit by bit".
"I just tried to do the work as I went along, I didn't spend hours upon hours with my head in the books or anything like that.
"I just tried to do it bit by bit as I got it, it worked out anyway. I kept up sports throughout the year until it got to exam time and I played a lot of camogie.
"I think that helped me out a bit as well because it gave me structure so I knew I had to get it done before I went training or whatever."
Overall, more than 6,500 students will be awarded at least one Higher Level Grade One in their results.
Thirteen students achieved top marks in their exams, getting eight Higher Level Grade Ones.
---
Don't count your chickens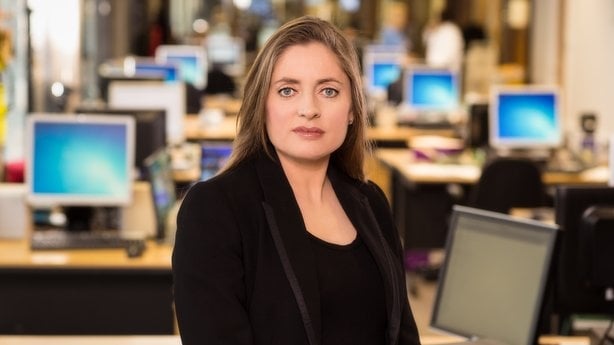 After receiving their results today many thousands of students will be anxiously awaiting third-level college offers that are due on Monday, writes RTÉ Education Correspondent Emma O Kelly.
Every year students use the previous year's points requirements as an indicator of whether or not the points they have achieved are likely to secure them a place on the course of their choice.
Students should always be a little bit wary of doing this, because a number of factors can lead to the points for courses rising or falling from year to year.
However, this year students should be especially wary of taking last year's entry requirements for a particular course as an in any way reliable indication of this year's.
While this year's changes have led to a simplification of the grading process, with 14 possible grades under the old system now replaced by just eight, accompanying changes made to the CAO points system actually complicate that process and mean that last year's points and this year's may not be directly comparable.
It's all down to mathematics.
The old points system was based entirely on numbers that were multiples of five.
For this reason, many students ended up with the exact same points score, and so an element of random selection was employed for entry to many courses.
The new system is designed to get rid of random selection.
It has dispensed with using multiples of five and instead uses different numbers in a pattern designed to vastly increase the range of points that can be achieved by any individual student.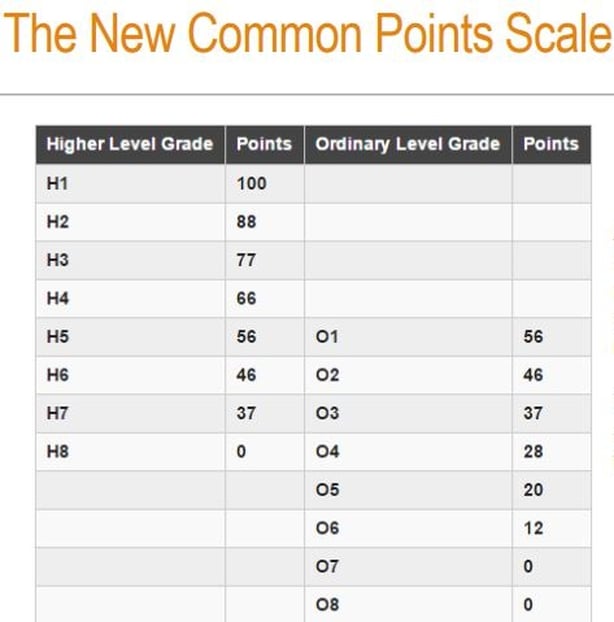 It's now much less likely that any two students applying for the same course will have the exact same points score, and how this will play out in Monday's CAO offers and points requirements is at this stage anyone's guess.
This is always an anxious few days for students.
Unfortunately this year's changes and the lack of certainty those changes bring are likely to add to that anxiety, as students wait to see whether they have been accepted on the course of their choice.
While CAO offers can't be accurately predicted, Qualifax has taken some of the stress out of the calculation process with this points calculator