The Minister for Education has congratulated Leaving Cert students saying they can be "rightly proud of what they have achieved".
Richard Bruton said the Leaving Cert should open pathways to people and this is now possible in a number of ways, including apprenticeships and traineeships.
He said that any students, who may be disappointed in their results today, should remember that there are many routes to achieve their ambitions.
He also welcomed the fact that more students are taking the Higher Level options, particularly in STEM subjects, describing it as a positive change.
Min for Education @RichardbrutonTD greets #leavingcert2017 students in Maryfield College #rtenews pic.twitter.com/JGBCwZkSAm

— Joe Mag Raollaigh (@joemagraollaigh) August 16, 2017
The minister said the new grading system had been approved by the higher education institutions as a way to expose students to more challenging courses.
He said there has been no change in the way exams are set or marked but because more students are now opting for higher level papers, there is a higher failure rate at ordinary level, effectively because "you've taken out the high performers".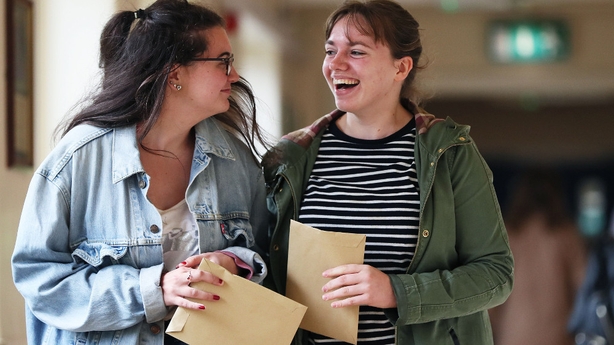 Results were available from schools at 9am or online at www.examinations.ie from midday.
The National Parents Council helpline number is 1800 265 165.