In his first visit as Taoiseach to Belfast, Leo Varadkar said this afternoon that being European is an essential part of the modern Irish identity.
Mr Varadkar said the Government he leads is committed to remaining at the heart of Europe and he does not want an economic border on the island or between Ireland and Britain.
He outlined how the right of Northern Ireland's citizens to be British, or Irish, or both, and their right to be European, makes the North unique in the context of the Brexit debate.
The Taoiseach took issue with those who favour a hard Brexit that would create a trade border between the UK and the European Union, and therefore between Ireland and Britain and a border across the island of Ireland.
He also listed what he saw as possible compromise options in the Brexit negotiations, including the UK joining the European Free Trade Association, EFTA, and the UK making a new Customs Union arrangement with the EU.
Taoiseach Varadkar says the onus is on the people who want a border between the UK and Ireland to come up with proposals for such a border. pic.twitter.com/pOnzpZuZKp

— RTÉ News (@rtenews) August 4, 2017
He made his remarks during a speech at Belfast's Queen's University on the Future of Relations North and South.
Mr Varadkar also reiterated his comment that the hard Brexiteers who advocated a hard border had to come up with proposals as to how that would work.
"They've already had 14 months to do so," he said.
He again insisted that the Irish Government will not design a hard border for Brexiteers.
Mr Varadkar said a meaningful solution could be the establishment of an EU-UK customs union.
"After all, we have one with Turkey. Surely we can have one with the United Kingdom?" he said.
The Taoiseach also suggested that if the UK does not want to stay in the single market, it could perhaps enter into a deep free trade agreement with the EU and rejoin the EFTA.
He said if this cannot be agreed now then perhaps there can be a period of transition during which the UK stays in the single market and customs union while the issues are worked out.
The Taoiseach echoed a warning by European Commission chief negotiator Michel Barnier that the "clock is ticking" towards the UK's planned departure from the EU and warned of the challenges in trying to agree a deal by March 2019.
Taoiseach Varadkar says the challenge of our generation is Brexit and every single aspect of life in NI could be affected pic.twitter.com/gkXhbhO2DL

— RTÉ News (@rtenews) August 4, 2017
He also said he hopes sufficient progress can be made on citizens' rights, the financial settlement between Britain and Europe, and issues relating to Ireland ahead of a European Council meeting in October.
He concluded his speech saying: "At a time when Brexit threatens to drive a wedge between North and South, we need to build more bridges and fewer borders.
"I promise I will play my part in helping to do exactly that."
Mr Varadkar was due to hold separate meetings with the leaders of Northern Ireland's main political parties and urge them to restore the power-sharing institutions at Stormont without further delay.
Before arriving in Belfast, the Taoiseach had been accused by the DUP of being incoherent and incompetent on what would happen to North-South relations in the wake of Bexit.
DUP leader Arlene Foster this week described earlier border comments from the Taoiseach as "not helpful" and said she was looking forward to meeting Mr Varadkar to discuss a number of issues.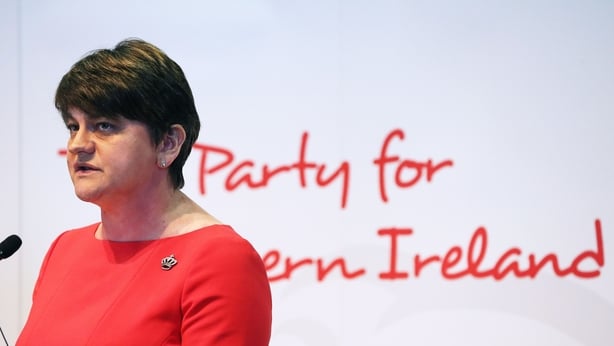 The Taoiseach has been meeting with the leaders of the main political parties in Northern Ireland this afternoon.
Ms Foster described her meeting with Mr Varadkar as "useful."
She said: "We talked about the current political situation in Northern Ireland and of course the absence of an Executive - an Executive we want up and running immediately, but others are preventing from come back because their ever growing list of demands.
"We agree with him [LV], particularly on the European Union exit, that it would be very important to have an Executive in place so that we can have a strong voice at the negotiating table.
"But in the absence of that, we did point out that our ten MPs at Westminster have a very clear voice and will use that voice on behalf of all the people of Northern Ireland."
After meeting Taoiseach in Belfast, @GerryAdamsSF welcomed the 'general tenor' of his Speech at Queens Uni pic.twitter.com/QwjB4ttmkD

— Paul Cunningham (@RTENewsPaulC) August 4, 2017
The issue of same-sex marriage may also be discussed as Mr Varadkar intends to participate in a gay Pride breakfast event in Belfast tomorrow to promote the rights of the LGBT community.
Mr Varadkar has said his attendance at the Pride event is not an attempt to unsettle anyone who holds a different view on same sex marriage.
The Taoiseach said he fully accepts the issue of whether or not gay marriage should be introduced in Northern Ireland was entirely the responsibility of local politicians.
However Mr Varadkar said he wanted to attend the Pride breakfast event to demonstrate his support for equality before the law.
He also hailed the fact that uniformed officers from the PSNI and An Garda Síochána would be taking part in Belfast's Pride parade for the first time on Saturday.