Mayo Mountain Rescue has said 13 people sustained injuries and were evacuated off Croagh Patrick.
Heavy and persistent rain showers, along strong winds are making conditions difficult for pilgrims climbing the mountain for the annual Reek Sunday pilgrimage.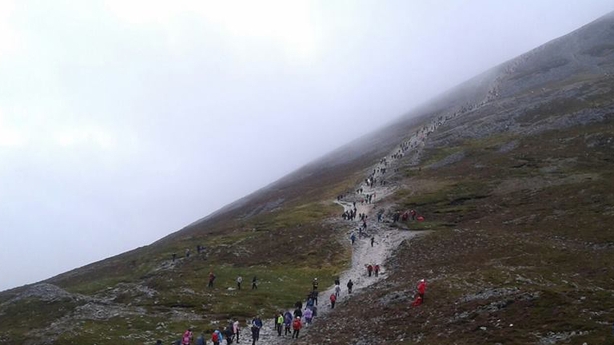 One man in his 70s had a suspected heart attack and was treated at the summit before being airlifted to Galway University Hospital.
A 70-year-old woman with a head injury was assessed at the medical tent before being airlifted to hospital.
A 46-year-old man sustained serious upper body injuries, a dislocated shoulder and facial injuries, before being treated and evacuated by the Air Corps to Mayo University Hospital, while a 10-year-old boy was brought to Mayo University Hospital after sustaining head and wrist injuries.
A 68-year-old man suffered a broken wrist and was also brought to hospital.
A further seven people were treated by medical staff on the reek before being assisted down the mountain.
And this afternoon, a 13th casualty was stretchered off the mountain.
Thousands of pilgrims took part in the event in Co Mayo.