Northern Ireland has enjoyed one of its most peaceful Twelfth of July days for years, police said.
The Orange Order paraded past the Ardoyne flashpoint in north Belfast this morning without violent protests and agreed not to hold its return evening procession, in what local representatives said was a massive step forward for community relations.
It followed a deal struck by residents and belied the current stalemate between the two largest political parties which has left the country without devolved government for months.
PSNI assistant chief constable Alan Todd said officers made a small number of arrests.
He added: "These were very much in the margins of what has been widely described as the most peaceful Twelfth of July for some years and a model for years to come."
Last night, firefighters dealt with 40 bonfire-related incidents - up 21% on last year - on a night when they received 213 emergency calls in total and mobilised to 133 incidents overall - a 49% increase on 2016.
Huge bonfires burned in loyalist areas to usher in the Twelfth of July.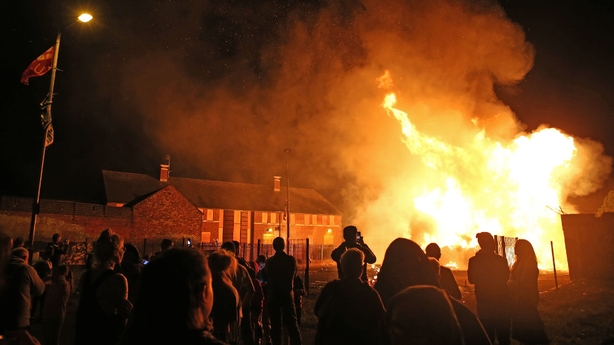 The Northern Ireland Fire and Rescue Service (NIFRS) described the night as "exceptionally busy", with crews dealing with 95 operational incidents between 10pm and 1am.
During the most intense period, the NIFRS's regional control centre handled an emergency 999 call every minute.
Homes were boarded up at a number of bonfire sites amid concerns around safety and risk to property.
Firefighters doused at-risk buildings with water in an effort to keep them cool as the fires raged nearby.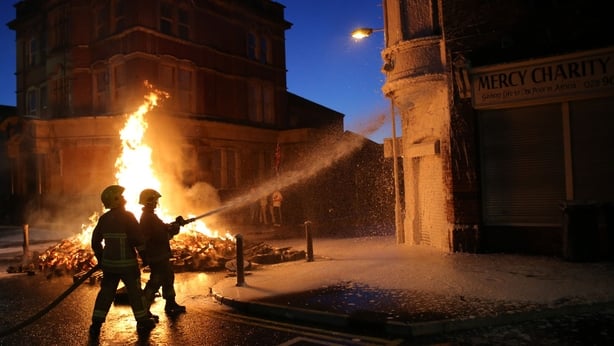 A small number of annual marches by the Orange Order have been blighted by serious violence involving supporters or protesters in the past.
At one stage Ardoyne was a byword for conflict at this time of year.
This year hundreds of loyalist bandsmen marched noisily past the front of Ardoyne shops followed by Orangemen in collarettes in an early-morning parade.
Only a handful of local residents watched them. As part of the deal an evening return parade was cancelled.
There was a heavy police presence in the residential side streets but the riot-trained officers were not called into action.
Fr Gary Donegan, a Catholic priest who has spent years working in Ardoyne, said: "Every step that happens here, no matter how small it is, is massive."
The parades mark King William of Orange's victory over James II at the Battle of the Boyne in Ireland in 1690.
Politics has overshadowed this year's marching season but it was agreed to halt substantive discussions between the parties until after the summer.