Northern Ireland's fire service says it has received a higher number of emergency calls than last year as huge bonfires are being lit in loyalist areas around the region.
The Northern Ireland Fire & Rescue Service said it had received 37 emergency calls between 6pm and 9pm -when many of the bonfires were yet to be lit.
They responded to 25 operational incidents, two of which were bonfire-related.
Homes have been boarded up at a number of sites in Northern Ireland amid concerns around safety and risk to property from the fires, which will be lit in loyalist areas to usher in the main date in the Protestant loyal order parading season - the Twelfth of July.
Some of the unregulated structures have been erected in built-up areas near homes and other properties.
Contractors in Belfast spent most of this morning boarding up windows at a number of the sites, including Ravenscroft Avenue and Cregagh in the east of the city and Lanark Way in the north.
Belfast City Council has secured a court order to prevent further construction on four bonfires in the east of the city amid safety concerns.
Last year, a number of terraced homes next to the Hopewell Square bonfire in Belfast's Shankill Road were badly damaged when a blaze broke out on the roofs.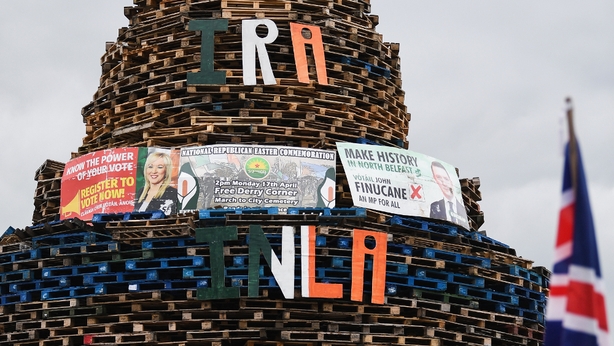 Bonfire builders have faced criticism after Irish flags and posters and effigies of high-profile nationalist politicians were placed on the top of some of the bonfires.
John Finucane, the son of loyalist murder victim Pat Finucane and a Sinn Féin candidate in the recent general election, said he contacted police after learning that some of his campaign posters had been attached to a bonfire.
My posters have been placed on top of a bonfire. I have reported this hate crime & theft to PSNI to allow them to act urgently. pic.twitter.com/Qu9WuD0SeZ

— John Finucane (@johnfinucane) July 11, 2017
The solicitor tweeted a picture of the bonfire on Tuesday morning.
"My posters have been placed on top of a bonfire," he wrote.
"I have reported this hate crime & theft to PSNI to allow them to act urgently."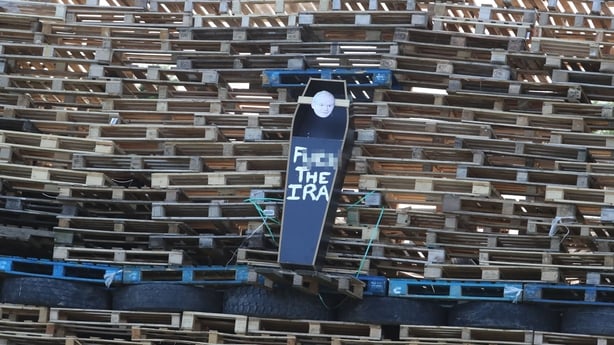 Martin McGuinness' son Emmett called for an end to "displays of hate" after a black coffin adorned with the face of the late Sinn Féin deputy first minister was attached to a bonfire off the Castlereagh Road in east Belfast.
Police are also investigating a racist banner referencing Celtic striker Scott Sinclair hung on another bonfire in the east of the city.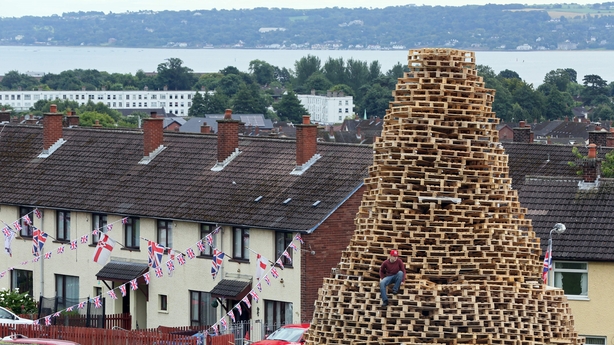 O'Neill calls for end to 'display of hate'
Sinn Féin's leader in Northern Ireland Michelle O'Neill has called for an end to what she described as an "annual display of hate".
She said: "Once again, we have witnessed bonfires across the North being festooned with stolen Sinn Féin election posters, Irish national flags and other emblems.
"The theft and burning of posters from any party as well as flags, effigies and other symbols is not culture, it is a hate crime.
"I have written to the PSNI Chief Constable (George Hamilton) and told him it should be treated as such by the PSNI and appropriate steps taken.
"There is also a responsibility on unionist political parties and the loyal orders to show some leadership on this issue and end this annual display of hate once and for all."
A PSNI spokeswoman said: "We take hate crime very seriously and actively investigate all incidents reported to us. Hate crime is wrong on all levels and the PSNI will do everything it can to ensure that everyone, from whatever background, can live free from prejudice, fear and discrimination."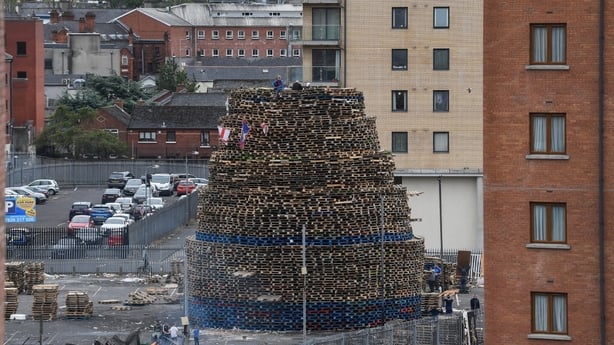 However DUP leader Arlene Foster claimed there was a campaign to "demonise" the bonfires.
"Bonfires on the Eleventh Night have long been part of the unionist culture," she said.
"Those who have waged a campaign of demonisation against such celebrations should dial down the rhetoric.
To those who build bonfires, I urge them to not play into the hands of those who want to demonise the culture. They should be respectful of their neighbours. Endangering property and lives should not be a concern for residents on the Eleventh Night. These should be events that all the family can enjoy. We will work constructively with communities to achieve this."
Mrs Foster said she wants Northern Ireland to move forward to a place where the Orange culture is supported and respected by all.
"I do not want any culture to threaten or dominate any other," she said.
"A shared society in Northern Ireland must have room for all but without elevating or promoting one section of society above another.
"Despite the image sometimes portrayed, it is not politics that dominates the Twelfth July, however. It is the families who come together as they have done for generations. It is the acquaintances that are refreshed in the field or on the street. It is the celebration of civil and religious liberty and the centrality of faith to the Orange Institution which are far more important.
"I would hope that everyone will enjoy the Twelfth celebrations, both those who do so every year, and perhaps others who will explore this part of our culture and heritage for the first time.
"Hopefully we can all help build a Northern Ireland where there is respect, tolerance and support for all our cultures and traditions, celebrated equally with one another."