Marriage equality campaigners have predicted victory in Northern Ireland as they called for action from the country's deadlocked politicians.
It is the only part of Ireland or the UK where same-sex marriage is banned.
Demonstrators today said any new government must be for all the country's people as thousands thronged Belfast city centre in a colourful and noisy parade.
We need your consent to load this rte-player contentWe use rte-player to manage extra content that can set cookies on your device and collect data about your activity. Please review their details and accept them to load the content.Manage Preferences
Gay rights activists, trade unionists, civil servants, firemen, drag queens and same-sex couples turned out for a procession to the City Hall bedecked with rainbow flags and banners.
The Lord Mayor of Belfast Nuala McAllister, Northern Ireland-born The Fall actor Bronagh Waugh and Rainbow Project director John O'Doherty led demonstrators.
Mr O'Doherty told political leaders nice words at election time were not enough, saying: "We need action.
"Action to make communities safe, action to make schools safe, an over-arching commitment from all the public institutions to addressing the historical and current inequalities which prevent Northern Ireland from being the society that we all want it to be."
It is one sticking point delaying the formation of a new devolved power-sharing government at Stormont.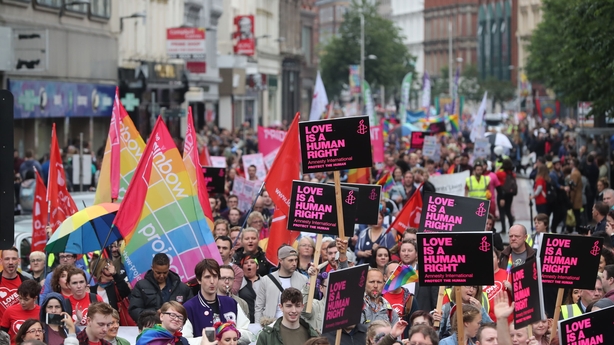 Mr O'Doherty alluded to the shift in public opinion, yesterday Germany became the latest country to vote for gay marriage.
"Together we are the future of Northern Ireland.
"We are the progressive majority and those who oppose us will lose, just like they did every time before.
"When we win this battle, do not think that we are done.
"This campaign is not just about changing the law, we are about changing the world," added Mr O'Doherty.
Ahead of the event, a range of celebrities including Liam Neeson, Stephen Fry and Graham Norton voiced their support for the campaign.
Scottish First Minister Nicola Sturgeon also joined the leaders of all the main parties in the devolved Scottish parliament to call for a law change in Northern Ireland.