Sinn Féin president Gerry Adams has said he does not expect a deal to restore power-sharing at Stormont will be struck by Monday.
He said the door was still open but that the DUP had shown no sense of urgency around piecing together an agreement.
The UK government has extended the talks process until Monday, despite Stormont parties missing Thursday's statutory deadline.
Mr Adams said: "I don't believe that there is going to be a deal by Monday.
"The DUP are showing no urgency or no real inclination to deal with the rights-based issues which are at the crux and the heart of these difficulties which we are talking here about."
He said those included Sinn Féin's demands for an Irish Language Act, a Bill of Rights, marriage equality and dealing with the legacy of decades of past violence.
We need your consent to load this rte-player contentWe use rte-player to manage extra content that can set cookies on your device and collect data about your activity. Please review their details and accept them to load the content.Manage Preferences
"Unless they step-change I just cannot see, here we are on Saturday afternoon, I just cannot see how, and we told them this directly, how a deal can be put together by then," said Mr Adams.
Northern Ireland Secretary James Brokenshire is due to make a statement to the House of Commons on Monday outlining the British government's intentions going forward.
In the absence of agreement, the options open to Mr Brokenshire include setting another deadline for the talks process, calling a second snap Assembly election or re-imposing some form of direct rule from London.
The key sticking point in the way of a deal has emerged as Sinn Féin's demands for an Irish Language Act, which would bestow official protection for Irish speakers.
The DUP is willing to legislate on the language issue, but only if Ulster Scots speakers are included in any act, a condition Sinn Féin has rejected.
The institutions imploded in January when Ms Foster was forced from office after Sinn Féin's then deputy first minister, the late Martin McGuinness, quit in protest at the DUP's handling of the Renewable Heat Incentive - a scheme that left the administration facing a £490m overspend.
His move triggered a snap Assembly election in March.
A number of attempts to restore power-sharing in the wake of that poll floundered, with three UK government deadlines for a deal having already been missed.
Civil servants have been running Stormont departments since March.
Last night, British Prime Minister Theresa May spoke with the leader of the DUP and with Sinn Féin's leader in Northern Ireland.
The calls came after Sinn Féin's John O'Dowd appealed for Dublin and Downing Street to become directly involved in talks to save power-sharing.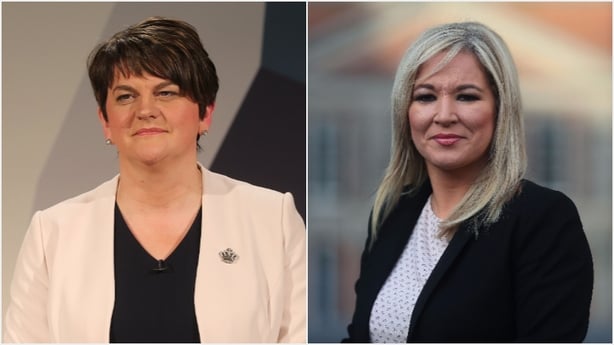 Last night, Mrs May told Ms Foster the British government would do "everything we can" to help the parties reach a successful conclusion.
A Number 10 spokeswoman added: "On the ongoing talks, the Prime Minister said it was encouraging to see discussions continuing and it was important that momentum is maintained so an Executive can be restored and they both agreed that this was in the interest of everyone in Northern Ireland."
Separately she told Ms O'Neill the UK "remains steadfast in our commitment to making sure Northern Ireland has the political stability it requires".
Both women agreed on the need for the Executive to be restored for the benefit of everyone in Northern Ireland, the spokeswoman added.
"The Prime Minister recognised that constructive discussions had taken place between the parties and urged them both to come together reach a collective agreement so that devolved government could be restored in Northern Ireland."