A man considered to be one of the "fathers of the internet" has expressed concern about the damage abuse of the platform is doing to it.
Vint Cerf, who is one of a number of people credited with establishing the internet in the 1970s, said its openness is being threatened by people who wish to use it for nefarious purposes.
"This megaphone that everybody has access to has also induced people whose interests are not necessarily aligned with everyone's to use that same megaphone to spread malware, to spread misinformation, to commit various and sundry harms on the net, botnets for example attacking targets," the veteran technologist said.
"So now we have this challenge, which I believe we must meet, to figure out how to preserve all of the very evident benefits of this online open environment and protect people from the abuses that some people insist on visiting."
We need your consent to load this YouTube contentWe use YouTube to manage extra content that can set cookies on your device and collect data about your activity. Please review their details and accept them to load the content.Manage Preferences
Mr Cerf, who is currently Vice-President and Chief Internet Evangelist at Google, is in Dublin to speak at the government organised Data Summit which takes place today and tomorrow.
The 73 year old American said his speech tomorrow morning will focus on the unfinished business of the internet, including the need to prevent it being damaged through a variety of means.
As well as tools to stop those spreading malware, fake news and other damaging content, agreements on an international or global scale to assist with apprehending these individuals are also required, he said.
He also suggested wider society should be empowered to say such activities are not acceptable any more, as such peer pressure can be powerful.
Another unfinished area Mr Cerf will talk about is defending against what he describes as the Digital Dark Ages - the danger that people think digital information is immortal.
"You are inclined to think it is as it is just bits, and bits don't have a natural way of wearing out," he said.
"But the medium in which they are stored may not last or you can't find a reader for that medium. So I worry about preserving digital content over literally hundreds of years."
Mr Cerf also thinks there is work to be done in spreading the benefits of the internet to the remaining billions of people around the world who don't have access to it.
"Eric Schmidt told me I wasn't allowed to retire because I am only half done," he said jokingly, referring to the Google Executive Chairman.
"The internet evangelist has 3.5bn more people to convert."
Mr Cerf met yesterday with the Minister for Communications, Climate Action and the Environment and discussed plans for the National Broadband plan which he described as a fabulous initiative.
"I think it would be highly beneficial to the people who have high speed internet," he claimed.
"But also, you are working one of the hardest problems we know about. Highly distributed, highly rural, low density population....So your success in this will be a real beacon for other populations that have this similar sort of rural population."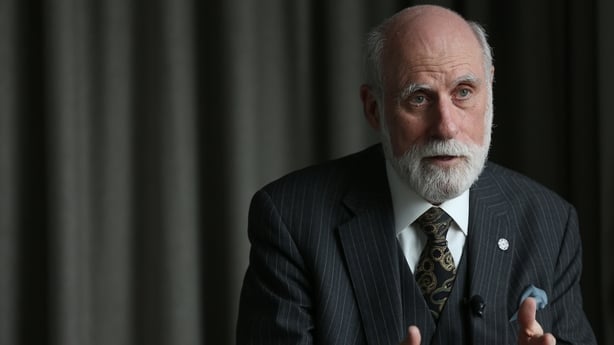 Although many technologists have warned about the threat of artificial intelligence and automation to people's jobs and to society, the former Stanford professor isn't concerned.
He pointed to the industrial revolution which brought many benefits, including new jobs.
And although he acknowledged that some jobs were lost to automation, many new jobs were created, he said.
The key to ensuring the people who lose jobs get new ones is an ongoing cycle of education and training, he claimed.
"It's a good bet that over 80 years technology is going to change, jobs are going to change," he said.
"You need to learn new things as your career proceeds. So instead of go to school, go to work, retire it is sort of go to school, go to work, go to school, go to work, go to school, go to work."
"Education becomes a need not a requirement to sustain your ability to work."
However, although he is not concerned about the threat from artificial intelligence, he remains sceptical about it.
"We should be a little sceptical about how general artificial intelligence is able to be," he told RTE News.
"If you look at the deep learning mechanisms we see today like the ones coming from Google's Deep Mind, where you see the spectacular results...you realise this is very impressive, but it is also very narrow.
"And so a lot of the really spectacular AI things have tended to have a very narrow focus."
Mr Cerf is involved in a huge number of advisory roles, including with Nasa in the development of an interplanetary internet protocol.
He said it is necessary because the big distances and planetary rotation means the traditional TC/IP internet protocol wouldn't work.
The Bundle Protocols that he helped developed are now actively being used in space and was recently used to operate a rover on Earth from the International Space Station.
"Our hope is that for each new scientific mission that gets launched, if they carry the protocols on board, then when the mission is done from a scientific point of view we can repurpose that spacecraft to be a node in the interplanetary backbone."