Prime Minister Theresa May has promised a "proper investigation" following a fire that engulfed a 24-storey tower block in London, saying that if any lessons are to be learned they will be, and "action will be taken".
Police have confirmed that 12 people have died in the Grenfell Tower blaze, and said the death toll is expected to rise further.
Mrs May paid tribute to the efforts of the emergency services and said support should be given to the hundreds affected by the fire.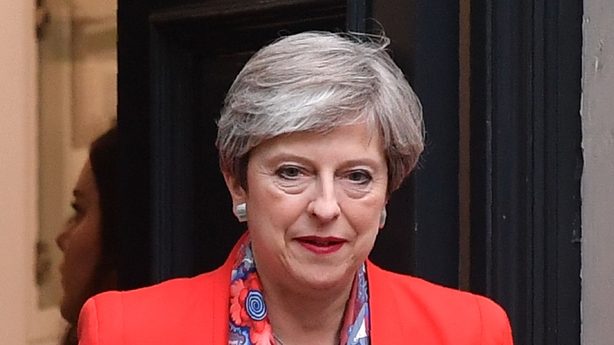 Speaking from Downing Street she said: "There are people tonight who have no home to go to, they have lost absolutely everything, so our focus must be on support to them.
"In due course, when the scene is secure, when it's possible to identify the cause of this fire, then of course there will be proper investigation and if there are any lessons to be learnt they will be, and action will be taken."
London Mayor Sadiq Khan has said that "a lot of people" are unaccounted for after the fire at Grenfell Tower in north Kensington.
More than 200 firefighters were sent to tackle the fire which was reported just after 1.15am.
Fire crews worked into the night to bring the fire under control but the block is not in danger of collapsing after it had been checked by structural engineers.
They are tackling "pockets of fire" in the building with many people still unaccounted for.
---
Read More:
---
Steve Apter, director of safety and assurance at London Fire Brigade, said: "I can confirm I have had firefighters manage to get through particularly arduous conditions up to the top floor."
London Fire Brigade said it had rescued 65 people from the building.
Residents who escaped the fire spoke of others trapped and screaming for help, with some holding children from windows and others jumping from upper floors.
British Police say that 12 people have died following a fire at a 24-storey tower block in London pic.twitter.com/MG9MazV1sT

— RTÉ News (@rtenews) June 14, 2017
Some bodies have been removed from the smouldering remains of the building, which contains 120 flats thought to be home to between 400 and 600 people.
Commander Stuart Cundy of the Metropolitan Police said: "Sadly I can confirm that there are now 12 people that have died that we know of.
"This is going to be a long and complex recovery operation and I do anticipate that the number of fatalities will sadly increase beyond those 12."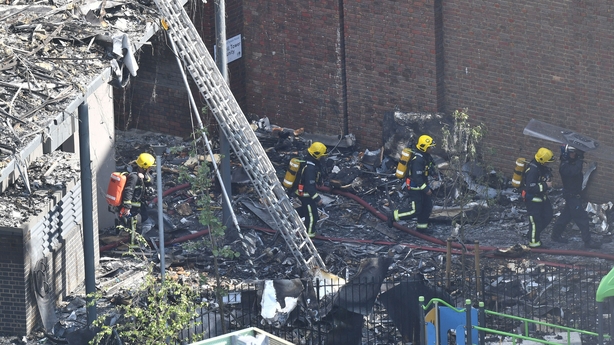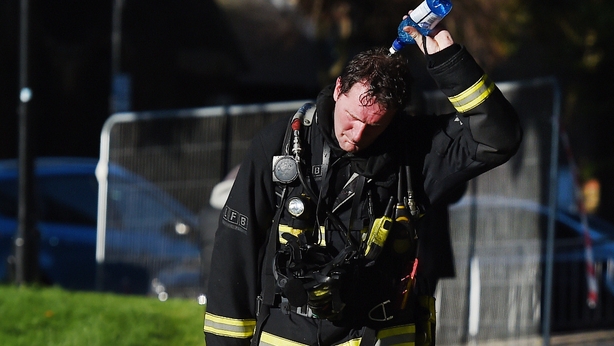 Grenfell Tower is at least 24 storeys high and has undergone major refurbishment recently including insulated exterior cladding, new windows and a new communal heating system.
It was built in 1974 and contains 120 homes according to the Royal Borough of Kensington and Chelsea.
A resident of the 17th floor of the block, identified as Methrob, told LBC Radio the "real issue was when it caught fire to the cladding outside".
In a statement, Kensington and Chelsea Council said that at "present all our focus is on supporting the rescue and relief operation" adding that the "cause of the fire will be fully investigated".
Twenty people in critical care are among 74 being treated in six London hospitals, London Ambulance Service said, and are being treated for a range of injuries.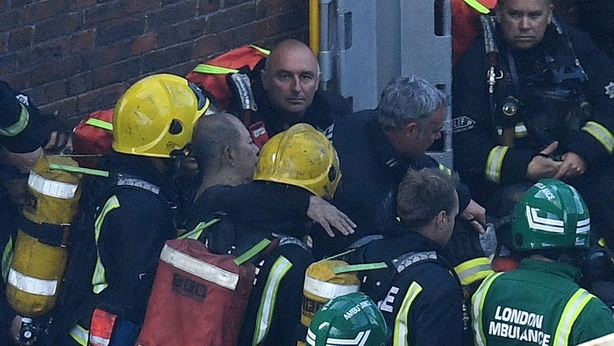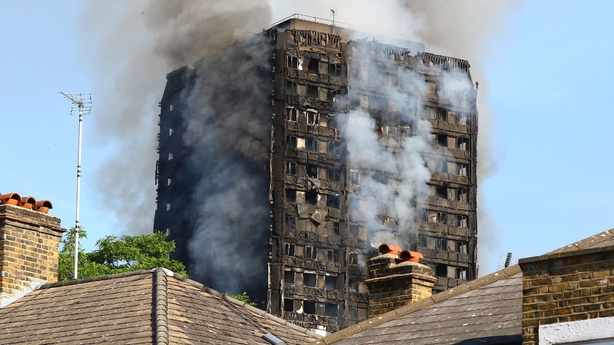 NHS England said no details were available at present on the condition of people taken to hospital.
The five hospitals are St Mary's, Chelsea and Westminster, Royal Free, St Thomas' and King's College Hospital.
A spokeswoman for NHS England London region said: "Our thoughts are with everyone affected by the tragic incident at the Grenfell tower block in Kensington.
"Our priority is to continue to work closely with the NHS and emergency services involved".
Commander Stuart Cundy of the Metropolitan Police, said: "I can confirm there have been a number of fatalities and others receiving medical care. We will be soon making contact with next of kin."
The force said it was "likely to take some time before we are in a position to confirm the cause of the fire".
Fire crews from north Kensington, Kensington, Hammersmith and Paddington and surrounding stations were at the scene with the fire burning from the second to the top floor.
A massive fire has engulfed a tower block in west London pic.twitter.com/iAKYpLAugB

— RTÉ News (@rtenews) June 14, 2017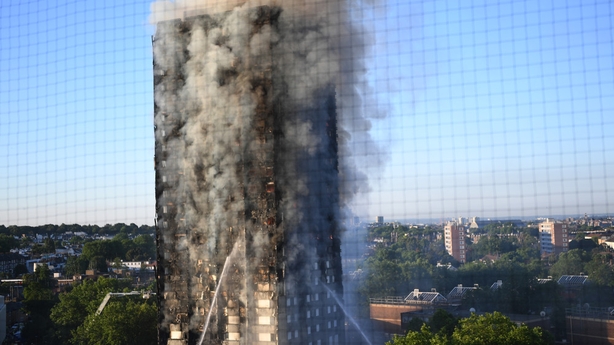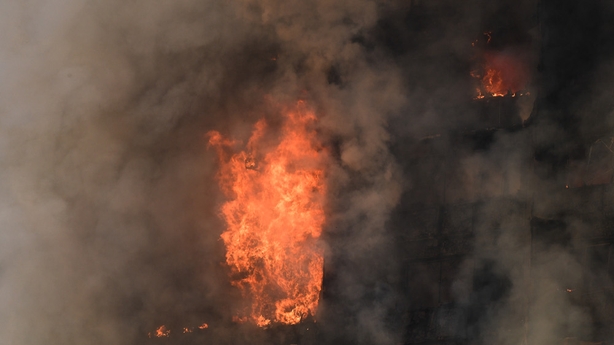 Around 30 flats near the scene have been evacuated and a cordon is in place.
One witness, who lives close to the scene in Latimer Road, said he feared the block could collapse.
It's horrendous. The whole building is engulfed in flames. It's gone. It's just a matter of time before this building collapses
"It's the most terrifying thing I've ever seen. I just hope they have got everyone out".
Another witness said: "I watched one person falling out, I watched another woman holding her baby out the window... hearing screams.
"I was yelling everyone to get down and they were saying 'We can't leave our apartments, the smoke is too bad on the corridors'," he said.
An acrid column of smoke could be seen rising from the building shortly before 7am.
The charred structure still had pockets of flame rising from several storeys as the desperate effort to bring the blaze under control continued.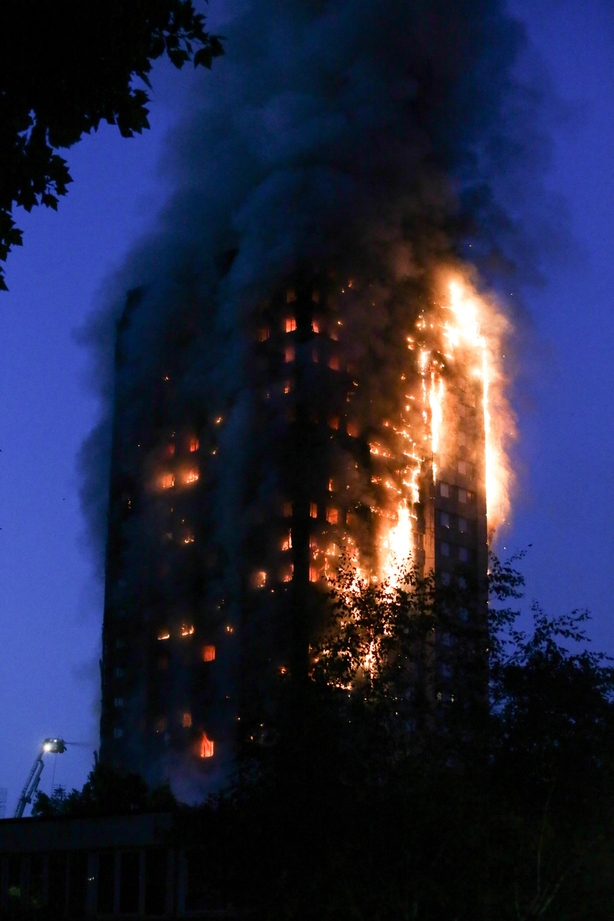 Television presenter George Clarke said told BBC Radio 5 Live that he was in bed when he heard what he thought was a car alarm and saw a glow through the windows.
"I'm getting covered in ash, that's how bad it is. I'm 100 metres away and I'm absolutely covered in ash.
"It's so heartbreaking, I've seen someone flashing their torches at the top level and they obviously can't get out.
"The guys are doing an incredible job to try and get people out that building, but it's truly awful," he said.