How did a 20-year-old student who tanked with just 380 votes in his first local election outing in 1999 rise to the highest political office in Ireland?
Conor McMorrow of our political staff spoke to some of the people who have witnessed first-hand Leo Varadkar's meteoric rise to the office of Taoiseach.
From meeting his parents, to visiting his old school, to tracking down the former Republican congressman who he interned with in Washington as a student, we find out more about who Mr Varadkar really is.
Leo Varadkar through the eyes of those who know him best https://t.co/HgW8M1QFAj pic.twitter.com/DXWrvCW0bJ

— RTÉ News (@rtenews) June 14, 2017
---
'A very good child who never gave any problems'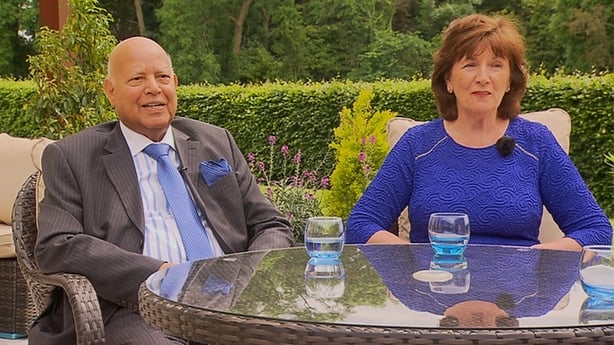 Things could have been different. After Ashok Varadkar, a doctor from India, and his wife Miriam, a nurse from Dungarvan, Co Waterford, met in London, they moved to Ashok's homeland to build a new life.
Their eldest daughter Sophie was born in England. Their second daughter Sonia was born when they moved to India. But Miriam found it difficult to settle in India.
So the family moved back to Ireland and settled in Blanchardstown in west Dublin, where Leo was born in 1979.
The Varadkars remember Leo as "a very good child who never gave any problems".
"He liked to achieve. When he came from school and he got very high marks, he was always very proud. He was an achiever from a very early age," said Miriam.

Ashok recalls how their son was always competing in school with his eldest sister Sophie. It was always important to him to try to achieve higher marks than her. The retired GP said: "He was 0.2% better than her and that was very important to him."
The only problem the future taoiseach gave his parents growing up was when he wanted to leave school in The King's Hospital in Palmerstown as he did not want to do transition year.
Described as a politician in a hurry to the top in recent times, Miriam said: "He was in a big hurry to go to university. So he wanted to skip that year and go to Leeson Street. But he was talked out of it."
His parents said they did not particularly encourage their son to study medicine but it probably "came natural to him" given the house he grew up in.
There is a misconception that Leo Varadkar is the first person in his family to pursue an interest in politics. But Ashok says there was a political backdrop to his upbringing.
Two of his elder brothers were political prisoners for their involvement in the movement for Indian independence. His sisters were involved in the liberation of Goa.
He is eager to point out that his siblings were not involved in violence. "They were politically involved and they went the Ghandian way of no violence."
Asked if anything triggered Leo's interest in politics, Miriam points to Ashok and said their son used to sit watching all the political TV programmes with his father.
"From about the age of ten, he used to watch all the elections with Ashok, he was very keen on what was happening in other countries," said Miriam.
Miriam recounts a stand out moment in the 1980s when a shopkeeper asked Leo what he wanted to be when he grows up.
"He said he wanted to be Minister for Health and it was very embarrassing as I think he was only about seven or eight. I was actually shocked."
The Varadkars said that they always knew their son would do well in politics but did not think he would be Taoiseach. "It's a big surprise," said Miriam.
Nobody currently lives in the Varadkar's ancestral home in India. But after news of Leo's election as Fine Gael leader reached the area, the local people got together outside the house and had a procession from there for over 2km to the local Hindu temple where they had prayers for the new Fine Gael leader.
Ashok's relatives in Mumbai held a traditional Indian celebration that involved dancing outside their home.
Similarly, Miriam said her 90-year-old mother in Waterford has been congratulated by everybody on her grandson's success.
Now that Leo has risen through the ranks to the office of Taoiseach, Miriam said: "We are proud as punch. We are delighted for him because we think it is probably what he wants.
"We are happy but we still get worried a bit now and again. I am more concerned about the media because I think that they love you some weeks and after a few weeks they find a lot of faults and they tear you down."
She concluded: "We are delighted. We are very proud and we hope that the country will be very proud of him."
---
'Very well-informed'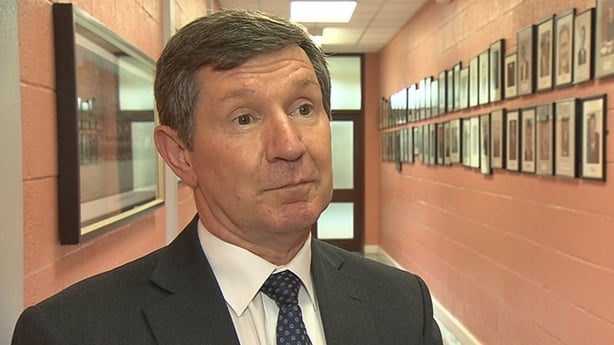 John Rafter was a mathematics teacher in The King's Hospital School in Dublin where Leo Varadkar was a pupil from 1991 to 1997. Twenty years on, he is the headmaster at the prestigious fee-paying school in west Dublin.
The walls of one of the corridors in the school hold pictures of notable past pupils including noted academics and scientists. Side by side on the wall are pictures of two pupils from the Leaving Certificate class of 1997 – RTÉ presenter Kathryn Thomas and Leo Varadkar.
"We are delighted to have two such distinguished past pupils on our records."
Mr Varadkar's name is also up on one of the large decorative wooden boards in the school's dining hall.
Mr Rafter explained: "In our dining hall we have our distinctions board. Leo, based on his Leaving Certificate results, was awarded an entrance exhibition into Trinity College to study medicine.
"Leo was very much a scientist and very good at mathematics. But he was also very interested in history. His history teacher has told me that they would have very good debates and discussions about political issues and Leo was always very well-informed about issues."
---
'He was always a straight talker'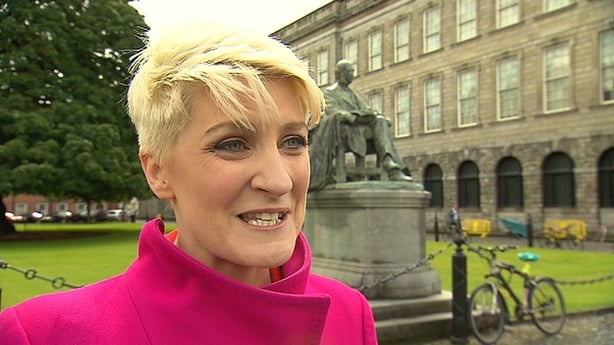 Averil Power, a former Senator, studied in Trinity College Dublin at the same time as Mr Varadkar. She was in Ógra Fianna Fáil while the future taoiseach was in Young Fine Gael. Despite their political differences, the pair have been friends since their college days.
Ms Power, now CEO of Asthma Ireland, said: "I don't think anyone who was in college with Leo would be surprised at how well he has done since. His energy, his determination, and his straight-talking manner made him stand out even back then.
"He had the energy to do a tough medicine degree in Trinity while also being involved in young Fine Gael, both on campus and nationally. He had the guts to run in the local elections as a 20-year-old student.
"He was only in second year in college when he ran in the local elections. He had the character to pick himself up after he lost that election and work hard to top the poll next time out."
She also pointed out: "He was always a straight talker. He always said it as it is. I think that is a quality that people admire to this day, whether you agree with his policies or not.
"As a Trinity graduate, I am delighted that we finally have equality with our first Trinity taoiseach in the history of the State."
---
'He was an ambitious young man who was bound for success'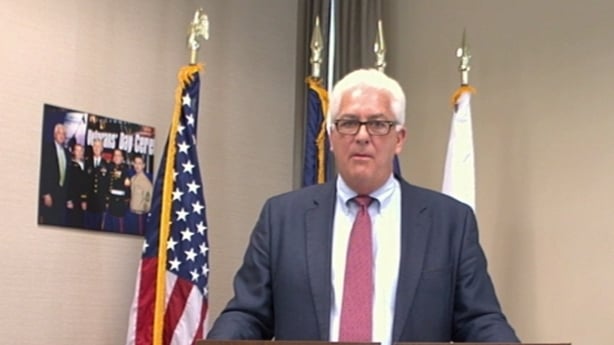 Jack Quinn was a Republican member of the US House of Representatives from 1993-2005. Ireland's youngest ever Taoiseach was one of the students that worked with him as an intern back in 2000. Leo Varadkar worked in the congressman's office in Washington DC while he was on an internship under the Washington Ireland Program.
Speaking to RTÉ, the former congressman spoke of his delight that one of his former student interns has reached the taoiseach's office.
"We were thrilled to have Leo in the office. I have participated in the Washington Ireland Program for many years. In our office, right up to the office I am in today, our interns work. The interns are not there to make copies. They work, they sit down with the rest of our staff who are there for ten years or more and they do all that needs to be done.

"Leo was actively involved and it was a busy time in the Congress so I hope he got a good flavour of what Congressional office in the United States looks like and the work that is done in a district that represents 700,000 people," said Mr Quinn, who is now president of Erie Community College in upstate New York.

He added: "He was an ambitious young man who was bound for success in a lot of different ways."
Mr Quinn recalls that Leo Varadkar's internship in Capitol Hill was during the controversial period between the Bill Clinton and George W Bush administrations.
He said: "After the presidential election we had the whole business of the Supreme Court cases over who would be the president. The calls that were coming into my office were off the charts on both sides of that issue. It wasn't enough to say 'Thanks for calling.'
"These people expected answers and Leo actually led some of the others in our office with developing those answers so that they were complete and left people satisfied. I hope that kind of experience was helpful but I must tell you, he gave us more that we gave him."
---
'He was good to work with but stubborn from time to time'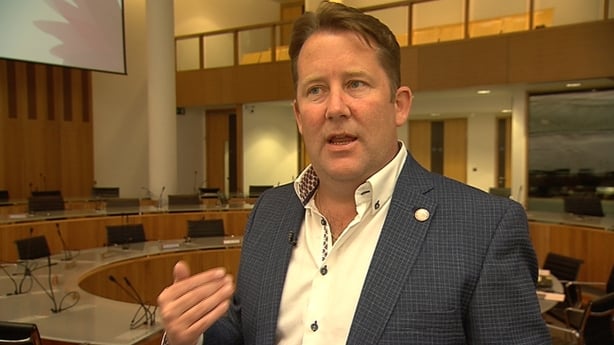 Darragh O'Brien, currently a Fianna Fáil TD and frontbench spokesperson on foreign affairs, served on Fingal County Council with Leo Varadkar from 2003 to 2007.
Although they are political foes, Mr O'Brien, had this to say about the new Taoiseach: "From Day One, you could see that he was very, very ambitious. There was no question about that. I don't think he wanted to spend too long in the council to be honest with you."
The Dublin Fingal TD added: "He was very dogmatic and for a young councillor, I found that he was very much cut from the old cloth of core Fine Gael type values. He was good to work with but stubborn from time to time."
"He drank lots of Diet Coke. That's one thing I do remember. He'd come in here with bottles of Diet Coke." This caffeine fix may have had something to do with Mr Varadkar also working long hours as a junior doctor at the time.
There have been reports that as a young councillor Mr Varadkar left work in Connolly Memorial Hospital in Blanchardstown wearing his green doctor's cloths to attend a county council meeting in Swords. It has been reported that council colleagues labeled him "Dr Scrubs" after this but Mr O'Brien said he has no memory of Mr Varadkar wearing his scrubs in the council chamber and suggests it is an urban myth.
Mr O'Brien concluded: "We'd have a good debate back and forth and he was quite partisan.
He was dogmatic in style, if he believed he was right, that was it.
"He was quite shy and withdrawn but not in a negative way. I worked with him and he was a decent colleague."