The DUP indicated tonight it expects Ms Foster to meet with the new Fine Gael leader and taoiseach-elect, Leo Varadkar, in Dublin on Friday.
Earlier, DUP leader Arlene Foster said she will travel to London to meet with British Prime Minister Theresa May as talks between her party and the Conservatives continue.
Speaking following talks with Sinn Féin on re-establishing power-sharing at Stormont, Mrs Foster described both sets of talks as positive.
The resumption of power-sharing talks comes as discuss\ions continue between the DUP and Conservatives over a potential confidence-and-supply arrangement to support a minority government led by Mrs May following last week's UK General Election.
DUP leader Arlene Foster says her party wants devolution up and running as soon as possible after 'constructive' meeting with Sinn Féin pic.twitter.com/mGshqnGDuZ

— RTÉ News (@rtenews) June 12, 2017
Mrs Foster has pledged to exercise the party's enhanced influence at Westminster responsibly, saying she hoped to capitalise on opportunities the situation presented for Northern Ireland.
Earlier, Sinn Féin leader Gerry Adams said any deal between the DUP and "the English Tories" would not be good for the people of Northern Ireland.
Mr Adams said his party would be involved in talks with the two governments and political leaders in Northern Ireland on the future of the power-sharing executive.
Adams says any deal between the DUP and "the English Tories" would not be good for the people of Northern Ireland pic.twitter.com/Zcf8FX02yB

— RTÉ News (@rtenews) June 12, 2017
Mr Adams said there is a "huge onus" on the incoming taoiseach to "face up to the co-equal responsibility of the Irish Government". New Fine Gael Leo Varadkar is expected to be elected taoiseach on Wednesday.
Mr Adams added that the "train coming down the tracks is Brexit" and that a united executive is needed in Northern Ireland to work for the mutual advantage of people living on the island, particularly in the North.
Speaking on the position of Mrs Foster as first minister, Mr Adams said it is still Sinn Féin's position that she should step aside, while controversial "issues" are dealt with.
He said "I think she should take control of that and not be too mesmerised by what's happening on our nearest offshore island; everything comes back to here and this part of our island."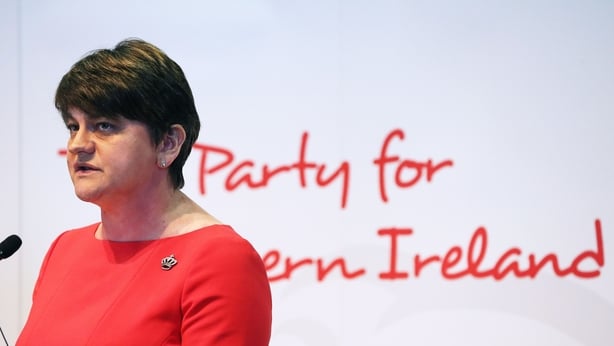 Earlier today Mrs Foster had said: "When I meet with the prime minister in London tomorrow, I will be mindful of our responsibility to help bring stability to the nation at this time of challenge.
"We will be working to agree arrangements that can provide the whole nation with good government.
"The DUP will work to bring about outcomes that are beneficial to all, and in Parliament Northern Ireland's case will be centre stage."
It is likely the DUP will press for increased investment in Northern Ireland as the price of its support in Westminster and push for a more significant role in the Brexit process.
The DUP's social conservatism on issues such as gay marriage and abortion has been in the spotlight in Britain since its role as parliamentary kingmaker became clear.
Mrs Foster branded some of the commentary and analysis about her party as "inaccurate and misleading", saying: "I have no doubt over time those responsible will look foolish in the extreme."
Mrs Foster, writing in the Belfast Telegraph, said the election result had caused a "political earthquake" across the UK.
Tommie Gorman: Arlene and the DUP head for centre stage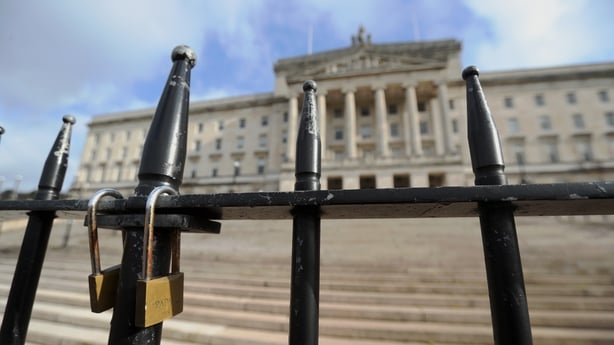 Minister for Foreign Affairs Charlie Flanagan and Secretary of State for Northern Ireland James Brokenshire are to meet the Northern Irish parties for talks on power-sharing.
Speaking on RTÉ's Six One News, Mr Flanagan said he will hold all political parties to account to ensure there is a "rigorous application of impartiality."
Mr Flanagan said his role is to ensure the parties and Mr Brokenshire are held to account to ensure there is no deviation to the "strict, terms, conditions and obligations" of the Good Friday Agreement. 
He said he takes his position very seriously and that the heavy lifting will be done by the parties. 
He also said he believes there is a willingness on behalf of all the parties to push through for an agreement to ensure the restoration of power-sharing. 
Mr Brokenshire was last night reappointed to his role by Mrs May.
Northern Ireland has been without a devolved administration since the collapse of power-sharing in January. Civil servants are in a care-taking role.
The British government has set 29 June as the deadline for an agreement among the parties.
Some query Mr Brokenshire's capacity to independently chair sections of the talks, given the Tories' likely liaison with the DUP.
Fine Gael leader Leo Varadkar has said it is important that governments in Dublin and London understand that they are co-guarantors of the Good Friday Agreement and should not be too close to any political party in the North.
He also said that there is now an opportunity for a soft Brexit. 
Former Northern Ireland first minister David Trimble has said people should 'just calm down' over concerns a deal between the DUP and the Conservatives would mean the British government cannot be impartial.
Speaking on RTÉ's Today with Sean O'Rourke, he said there is no problem and that the government has always had policies but that did not prevent it from treating parties equally. 
Mr Trimble said the biggest problem is caused by Sinn Féin's refusal to join the executive and accused the party of trying to exploit Brexit to create a nationalist surge.