Minister for Children Katherine Zappone has said she has requested an immediate report from the Child and Family Agency, Tusla, into the case of a young boy who continues to live in foster care alongside an older child who allegedly abused him.
The case is one of a number of child protection failures highlighted in a programme by RTÉ Investigates.
The boy at the centre of the case first disclosed in 2011 that he was being inappropriately touched by another older male foster child who was also living with the same foster family.
His allegations were deemed to be credible but documents seen by RTÉ Investigates show a HSE safety plan consisted of little more than an instruction that the two boys - who had been sharing a bedroom - should have separate bedrooms and their foster carers should supervise them more closely.
The boy, who has since made a second allegation of physical abuse, continues to live in the same foster home with the older child who is alleged to have abused him.
Ms Zappone said she had been "deeply distressed" by the contents of the programme and has requested Tusla to provide her with a report on the young boy's case as soon as possible.
The minister has also said a Tusla official will be co-located within the national garda unit for children next week, and that Tusla is ready to sign a joint protocol with An Garda Síochána to ensure better co-operation and communication.
Since 2015 she said gardaí have access to the national child protection system.
The minister said a number of changes for the good have been put into place since Dr Geoffrey Shannon's audit was done.
We need your consent to load this rte-player contentWe use rte-player to manage extra content that can set cookies on your device and collect data about your activity. Please review their details and accept them to load the content.Manage Preferences
Yesterday the Government's Special Rapporteur on Child Protection published his report on child protection commissioned by An Garda Síochána in the wake of the controversy surrounding the removal of two Roma children from their families by gardaí in 2013.
Dr Shannon said there was a need for a whole-Government response to the report on the use of section 12 of the Child Care Act by An Garda Síochána. Ninety-one cases were cited in Dr Shannon's report.
This evening, Ms Zappone told the Dáil that Tusla and An Garda Síochana have developed a joint protocall on the use of section 12 of the Childcare Act 1991, which is due to be signed off on shortly.
She said that the joint protocal covers the application of Section 12 and the process to be adopted during office hours and out of office hours as emergencies arise, aswell as notifications to Tusla.
Ms Zappone said Tusla has set up a team to review the contextual and situational factors and their actions in relation to the 91 cases cited in Dr Shannon's report and to consider the common themes arising out of them.
The team will also look at the number and reasons for repeat applications of Section 12 and that report will be completed by the end of June.
She was responding to Sinn Féin's and Fianna Fáil's spokespersons on Children and Youth Affairs Donnchadh O'Laoghaire and Anne Rabbitte.
Earlier during Leaders' Questions, Taoiseach Enda Kenny described Mr Shannon's report as "good, damning and clear", saying "it speaks for itself".
The Taoiseach said the 17 recommendations "must and will be followed through".
Sinn Féin leader Gerry Adams described Mr Shannon's report as "frightening and scandalous", and the lack of co-operation between Tusla and An Garda Síochána as "breathtaking".
Ms Zappone said gardaí and Tusla now have regular meetings at a strategic level with senior officials.
She said there were a number of changes that have already been implemented and are taking place in terms of inter-agency cooperation.
She was not necessarily satisfied with all of those, which she said was why further meetings are taking place.
Tusla today issued a statement saying it is very concerned that following the publication of the report by Dr Shannon and the RTÉ Investigates programme that the public may be worried about Tusla's practices and procedures.
Tusla Chief Executive Fred McBride said in the statement: "The report conducted by Dr Shannon, published yesterday provided useful information on the child protection system.
"In line with best practice and our commitment to ensuring the enhancement of services, I have asked the Chief Operations Officer to oversee a comprehensive analysis of the cases identified in Dr Shannon's report, and to examine the basis for the professional decisions that were made in these cases.
"This analysis will address key themes identified in Dr Shannon's report. For example, collaboration, the repeated use of Section 12 for the same child, and the use of hospitals. This analysis will be complete by the end of June."
He continued: "There is clear need to strengthen the child protection system in Ireland and Tusla is committed to ensuring that children are safe. The creation of Tusla in 2014 represented a fundamental shift in the provision of family support, child protection, educational welfare and alternative care services.
"Whilst there is still much work to be done, since the Agency's establishment, we have led the most comprehensive process of reform of the child protection and welfare services in Ireland."
Role of alcohol in child protection issues highlighted
It comes as Dr Shannon said a failure to address societal alcohol problems is damaging the child protection system.
Dr Shannon told RTÉ News that "the failure on the part of society and Government to comprehensively address the alcohol problem as a major threat to the proper functioning of individuals and communities leaves the child protection system dealing with insurmountable consequences".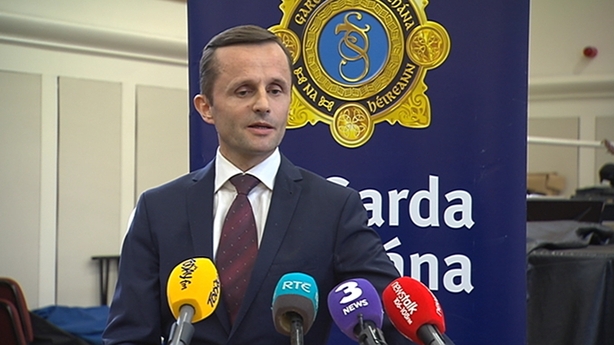 Dr Shannon said the report indicates that inter-agency cooperation is "overwhelmingly inadequate", adding that "those agencies are not located in one Government Department and what this report found is that there is real potential for children to slip through the cracks because the service the child is seeking to access is not in one department".
He said the appropriate Government response would involve "one person with responsibility for delivering on the recommendations set out in the report and pooling all of the recommendations and action plans together in one document".
There are "profound issues around alcohol abuse," Dr Shannon said, and "one of the biggest challenges facing Irish society is the adverse consequences for the welfare of many children posed by alcohol abuse".
He said UNICEF is of the view that this is the first time Ireland has looked at "that critical juncture between a child being in the family and the child being removed by a police force" and it is the largest worldwide study in the exercise by a police force of its emergency protection powers.