Fine Gael leadership contender Simon Coveney has said that some ministers who pledged support to him, including some members of Cabinet, had switched sides over recent days.
Speaking on RTÉ's This Week, the housing minister said he believed that he was assured of support from more than the 20 members of the parliamentary party who have declared for him.
He said he would not give names of those who pledged support and then switched, adding that he respected the decisions colleagues had made.
Asked how Minister for Social Protection Leo Varadkar had been so certain of the strength of his support in the party's top brass, Mr Coveney replied: "Well, he wasn't actually, because from some of the people I have spoken to, who would have been quite supportive, a number of days ago, never mind weeks ago, you know they've changed their mind.
"People make decisions in politics for all sorts of reasons and I'm not going to start judging people. My job now is to put a persuasive argument together over the next ten days to change the mind of some of those," he said.
"When leadership contests are under way some people who know and like both candidates want to get themselves on the winning side. And I think there was a bit of that over the last few days. But I don't blame any colleagues for that," he added.
Mr Coveney said he was "lucky to have people like [Minister for Health] Simon Harris" who he said were standing by him, and "people like Hildegarde Naughten who came out against the tide".
The leadership contender said he was going to have to try to win back some of the people who switched and declared for Mr Varadkar.
He added: "I would not have spent the last few years in politics if I was afraid of big challenges. I'm not. Declarations are not votes."
Mr Coveney has so far garnered support from 20 Fine Gael TDs, Senators and MEPs, against the 45 backing Mr Varadkar.
Under party rules, the parliamentary party accounts for 65% of the vote to elect a leader, councillors' votes make up 10%, and party members around the country make up the remaining 25%.
Nominations for the contest closed at 5pm yesterday.
Mr Coveney launched his policy document in Dublin today.
He said that while he accepted the campaign was a personality contest, it was also a fight for the soul of Fine Gael.
Flanked by Mr Harris and ministers of state David Stanton and Marcella Corcoran Kennedy, Mr Coveney called for an anti-corruption and transparency commission, where he said no one would be immune from investigation, including the taoiseach of the day.
.@simoncoveney says contest is not just about 73 Oireachtas members but 21,000 party members @rtenews pic.twitter.com/epPvOCXwTx

— Martina Fitzgerald (@MartinaFitzg) May 21, 2017
He also wants to deliver a Government which will be the greenest in the history of the State, he said.
On tax, Mr Coveney said that rather than simply abolishing the Universal Social Charge, he wants to reduce the overall marginal rate of tax to below 50% in the medium term.
He also wants to raise the threshold at which people hit the top tax rate.
Mr Coveney said he will be bringing a new national plan for the next 20 years to Government shortly.
He said he is for making Dublin more dynamic and focus on other parts of country to make them regional economic drivers.
He said he cannot remember a national plan for the country being introduced.
Mr Coveney said he is a nationalist and called for Fine Gael to develop a positive economic and strategic case for reunification of Ireland over time.
Mr Varadkar, meanwhile, took part in the Streets of Dublin 5km run this morning.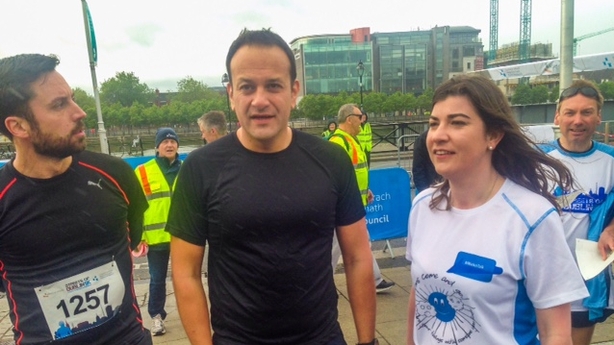 He said he is pleased that Mr Coveney has decided to stay in the leadership contest, saying "it's absolutely important that we take this debate and this opportunity to reinvigorate Fine Gael to the councillors and members across the country".
Mr Varadkar said he will be publishing some policy proposals tomorrow and a document on how Fine Gael can be modernised and energised during the week.
He said his campaign is going very well and he is feeling very confident but taking nothing for granted.
When asked if he would appoint a Brexit minister he said there is only one country with a Brexit minister and that is Britain.
Mr Varadkar said while it would useful to have a spokesperson, an actual minister for Brexit does not make sense.
He said he has "no plans whatsoever" for an early election if he becomes taoiseach.
He said there were teething problems at the start of the current Government arrangement but it has become more stable.
He said he feels he has built up good relationships with colleagues over the past few months and is confident the Government can continue.
But he said the real test is not whether a Government works for politicians but whether it works for the people "and the key thing we have to do as a Government is to implement our programme to improve people's living standards and deal with some of the problems the country is facing".
Next week, both leadership candidates will take part in four regional hustings in Dublin, Carlow, Ballinasloe in Co Galway and Cork city.
Candidates have signed a code of conduct drawn up by the party's executive council.
This code will be binding on both leadership election candidates and governs their behaviour for the duration of the leadership election.
Voting for almost 21,000 eligible party members will take place nationwide at 26 polling stations over four days beginning tomorrow week.
All votes will be brought to a national count centre in Dublin on Friday 2 June, where they will be verified and counted under the supervision of the national returning officer.