Minister for Social Protection Leo Varadkar has established a commanding lead over Simon Coveney in the Fine Gael leadership contest, as he officially launched his campaign in Dublin today.
Seven members of the parliamentary party declared for Mr Varadkar today, including Tánaiste Frances Fitzgerald, ministers of state Michael Ring and Catherine Byrne, and Senator Joe O'Reilly.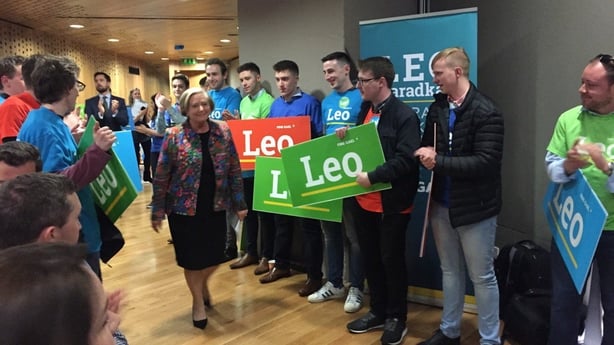 The Tánaiste is the biggest name yet to lend her support to Mr Varadkar. She said he would be a leader to renew and communicate Fine Gael values.
Mr Varadkar said he is keen that the campaign should continue, and he wants councillors and members to have their say.
Meanwhile, a spokeswoman for Mr Coveney has dismissed reports that he is withdrawing from the contest.
She confirmed he is going ahead with a rally in Cork tonight as part of his leadership bid.
Earlier, asked directly if Mr Coveney was considering withdrawing from the contest ahead of the closure of nominations at 5pm, the spokeswoman told RTÉ News he wanted to spend the day talking to members, councillors and TDs.
During his campaign launch speech, Mr Varadkar said the campaign was not over.
The minister said the party must be one for people who get up early in the morning, and he said we must have a truly united Ireland for all members, and Fine Gael must be a party of opportunity.
When asked if Mr Coveney and Minister for Health Simon Harris would be included in his Cabinet if elected, he said Mr Coveney was an honourable man, and if he was successful Mr Coveney would be on his team.
He would not comment on Mr Harris or other ministers.
The Dublin West TD now has the support of 45 members of the parliamentary party which equates to 40% in the overall contest.
Mr Coveney has the pledged support of 20 members of the parliamentary party.
Under Fine Gael's electoral college system, TDs, Senators and MEPs account for 65% of the vote to elect a party leader.
Mr Coveney is adamant the contest is still at an early stage, but these figures suggest the housing minister needs to secure a significant margin of victory among councillors, who account for 10% of the vote, and among the party members, who make up the remaining 25%, if he is to keep his challenge alive.
Limerick Senator Kieran O'Donnell and Minister of State for Employment and Small Business Pat Breen earlier joined the ranks of those endorsing Mr Varadkar's leadership bid, ahead of the formal launch of his campaign.
Joe Carey, Mr Breen's fellow Fine Gael TD in Clare, this morning announced he is also backing Mr Varadkar.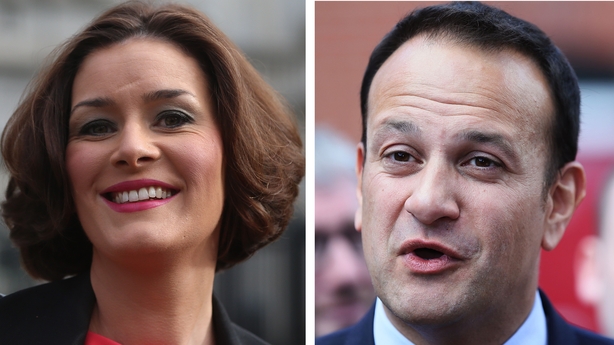 Meanwhile, a prominent TD backing Mr Coveney has made a blistering attack on her colleagues supporting Mr Varadkar.
At a meeting in Co Clare last night, Dublin Bay South TD Kate O'Connell accused Mr Varadkar's supporters of being coordinated choirboys singing for their supper.
The move comes despite all sides in the campaign having said they did not want it to turn nasty.