Brexit negotiations will start in June as planned, after the British general election, the European Union said as parliament endorsed Prime Minister Theresa May's call for a vote on 8 June.
European Commission President Jean-Claude Juncker spoke to Mrs May after her dramatic U-turn yesterday.
Having previously ruled out an early election, she is now gambling on winning a bigger majority that could help her push through a divorce deal with Brussels by 2019 despite divisions within Britain, and in her own party.
Mr Juncker's spokesman said the election would not delay the start of negotiations, which the commission's chief negotiator Michel Barnier has previously said would start in early June.
However, it is likely to take a few days, assuming victory on 8 June, for Mrs May to confirm her negotiating team; it is currently led by Brexit Secretary David Davis, who unlike Mrs May is a long-time opponent of Britain's membership of the Union.
For now, Brussels negotiators and governments of the other 27 EU states are continuing to fine-tune their common position for the talks.
A summit on 29 April should pave the way for Mr Barnier to get his final negotiating instructions on 22 May.
EU officials have said that "talks about talks" could start in late May, to settle for example, how negotiations would be structured. It is not clear how the election may affect that.
Earlier today, Mrs easily cleared the hurdle needed under the Fixed Term Parliament Act to bring the poll forward from the scheduled date of 2020.
With Mrs May needing the support of 434 MPs - two thirds of all seats in the House of Commons - 522 voted for the early election, with just 13 against.
Nine Labour MPs and one SDLP - Alasdair McDonnell - were among those who voted against the motion.
There was never any real doubt about Mrs May securing the backing needed to go to the country, with both Labour's Jeremy Corbyn and Liberal Democrat Tim Farron saying they welcomed the election, though Scottish National Party MPs abstained in the vote.
Earlier, Mrs May promised to deliver "a strong economy, strong defence and strong, stable leadership" if the Conservatives win the snap election.
Mrs May denounced her Labour rival Mr Corbyn as "not fit to lead".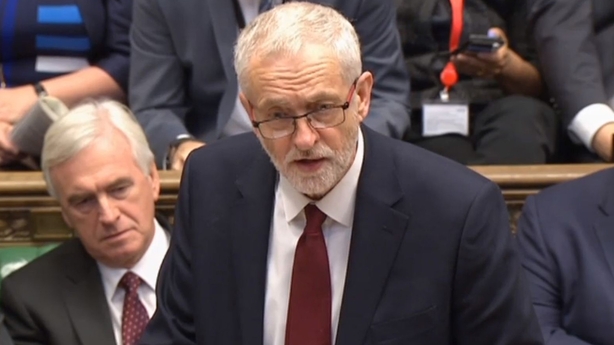 However, Mr Corbyn told MPs that Mrs May could not be trusted, after u-turning on her promise not to call an early election and accused her of running scared of TV debates during the campaign.
Mrs May said this morning that she would not take part in televised debates.
It is likely that the British parliament will be dissolved on 3 May, starting a 25-day campaign.
Mrs May asked parliament to back her call for an early election, saying the result would help unify parliament behind her Brexit plan and prevent instability.
"I believe that at this moment of enormous national significance there should be unity here in Westminster not division," Mrs May told parliament.
"That's why it is the right and responsible thing for all of us here today to vote for a general election."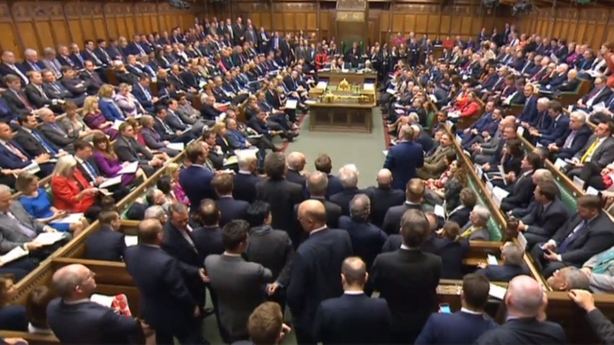 Mrs May this afternoon told MPs: "There are three things a country needs: a strong economy, strong defence and strong, stable leadership.
"That is what our plans for Brexit and our plan for Britain will deliver, and that is what the Conservative Party will be offering at this election.
"We will be out there fighting for every vote, whereas (Mr Corbyn) would bankrupt our economy, weaken our defences and is simply not fit to lead."
Mr Corbyn retorted: "We welcome the general election but this is a prime minister who promised there wouldn't be one, a prime minister who cannot be trusted.
"She says it's about leadership, yet is refusing to defend her record in television debates and it's not hard to see why.
"The prime minister says we have a stronger economy, yet she can't explain why people's wages are lower today than they were ten years ago or why more households are in debt, six million people earning less than the minimum wage, child poverty is up, pensioner poverty is up.
"Why are so many people getting poorer?"
Call for broadcasters to 'empty chair' May
There have been calls for TV broadcasters to "empty chair" Mrs May in election-time leaders' debates if she refuses to take part.
Mr Farron accused Mrs May of "bottling" and said broadcasters had a "moral duty" to go ahead with the showdowns even if she fails to take part.
Plaid Cymru leader Leanne Wood - whose profile received a major boost from her involvement in two of the 2015 broadcasts - said: "Theresa May should be empty chaired if she doesn't show up to any planned TV debates."
Veteran broadcaster David Dimbleby, who hosted debates on the BBC in 2010 and 2015, has warned the "perilous" stance could backfire.
A BBC spokesman said it was too early to say whether the broadcaster would seek to stage a debate. ITV has confirmed it will host a leaders' debate during the campaign.
Mrs May telephoned Taoiseach Enda Kenny yesterday to discuss the snap election.
Meanwhile, Britain's former chancellor George Osborne has confirmed that he is to stand down from Westminster politics for now.
Mr Osborne said the move will allow him more time to focus on his new role as editor of the London Evening Standard.