The United States, its allies and China are working together on a range of responses to North Korea's latest attempted ballistic missile test, the US national security adviser said today, citing what he called an international consensus to act.
"We are working together with our allies and partners and with the Chinese leadership to develop a range of options," national security adviser H.R. McMaster said on ABC's This Week programme.
"This latest missile test just fits into a pattern of provocative and destabilising and threatening behaviour on the part of the North Korean regime," Mr McMaster said.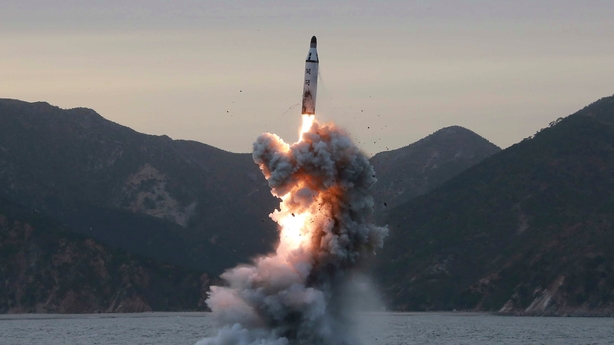 Mr McMaster said US President Donald Trump has asked the national security council to integrate the efforts of the Defense and State departments and US intelligence agencies to develop options if "this pattern of behaviour continues and if the North Korean regime refuses to denuclearise".
"There is an international consensus now, including the Chinese leadership, that this is a situation that just cannot continue," Mr McMaster said.
The North Korean missile "blew up almost immediately" after its test launch today, the US Pacific Command said.
Our military is building and is rapidly becoming stronger than ever before. Frankly, we have no choice!

— Donald J. Trump (@realDonaldTrump) April 16, 2017
Hours later US Vice President Mike Pence landed in South Korea for talks on the North's increasingly defiant arms programme.
His visit comes a day after North Korea held a grand military parade in its capital city of Pyongyang, marking the birth anniversary of the state founder.
What appeared to be new long-range, ballistic missiles were on display at the parade.
We need your consent to load this rte-player contentWe use rte-player to manage extra content that can set cookies on your device and collect data about your activity. Please review their details and accept them to load the content.Manage Preferences
Tensions have been steadily rising as Mr Trump takes a hard rhetorical line with North Korean leader Kim Jong Un, who has rebuffed admonitions from China and proceeded with nuclear and missile programmes seen by Washington as a direct threat.
Mr Trump acknowledged that the softer line he has taken on China's management of its currency was linked to China's help on the North Korea issue.
"Why would I call China a currency manipulator when they are working with us on the North Korean problem? We will see what happens!" Mr Trump said on Twitter.
South Korea said the North's latest show of force "threatened the whole world".
But a US foreign policy adviser travelling with Mr Pence on Air Force Two sought to defuse some of the tension, saying the test of what was believed to be a medium-range missile had come as no surprise.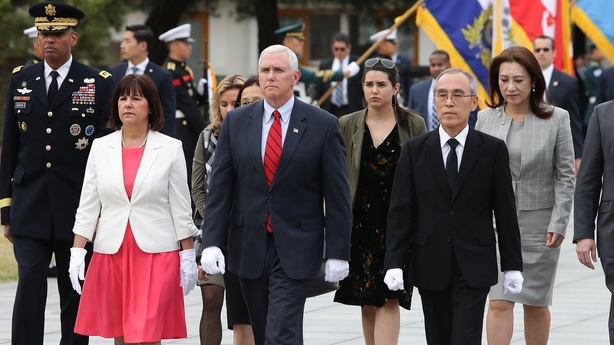 "We had good intelligence before the launch and good intelligence after the launch," the adviser told reporters on condition of anonymity.
"It's a failed test. It follows another failed test. So really no need to reinforce their failure. We don't need to expend any resources against that."
The adviser said the missile's flight lasted four or five seconds.
Mr Pence, addressing an Easter service with American troops in South Korea, said the US commitment to South Korea was unwavering.
"Let me assure you under President Trump's leadership, our resolve has never been stronger. Our commitment to this historic alliance with the courageous people of South Korea has never been stronger," said Mr Pence.
Mr Pence was beginning a 10-day trip to Asia in what his aides said was a sign of US commitment to its ally in the face of rising tension.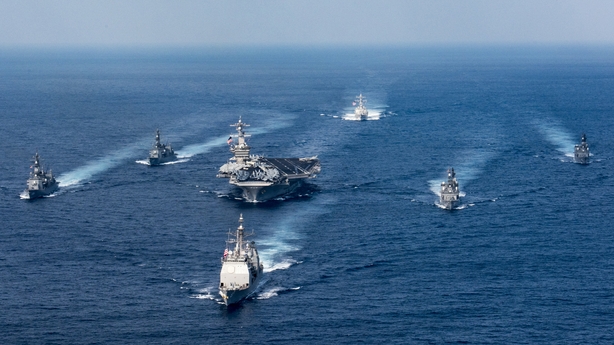 The US nuclear-powered Carl Vinson aircraft carrier strike group is also heading to the region.
China, which Mr Trump has urged to do more to rein in North Korea, has spoken out against its weapons tests and has supported UN sanctions. It has repeatedly called for talks while appearing increasingly frustrated with the North.
China banned imports of North Korean coal on 26 February, cutting off its most important export. China's customs department issued an order on 7 April telling traders to return North Korean coal cargoes, said trading sources with knowledge of the order.