Iarnród Éireann has warned of significant disruption with many Intercity services affected by the Bus Éireann dispute.
While Iarnród Éireann is not a party to the dispute, disruption has arisen from picketing associated with the dispute.
There are no services operating on the following routes:
Limerick to Limerick Junction (includes Limerick to Dublin direct services)
Limerick to Galway
Waterford to Limerick Junction
Limerick to Ballybrophy via Nenagh
A limited service is operating on other routes:
Dublin/Sligo: reduced timetable, with services operating between Dublin and Longford/Boyle only. Please note 5.15pm and 6.05pm Connolly to Longford commuter services will operate.
Dublin/Waterford: reduced timetable, with services operating between Dublin and Kilkenny only.
Dublin/Galway: reduced timetable will operate between Dublin and Galway.
Dublin/Rosslare: reduced timetable will operate between Dublin and Wexford/Rosslare Europort.  Evening commuters should note the only service scheduled to operate at this time is 5.36pm Connolly to Wexford.
Tralee to Mallow/Cork/Dublin: reduced timetable will operate
Iarnród Éireann says full services are operating on the DART, Dublin Commuter and Cork Commuter, and on the Cork/Dublin, Westport/Dublin and Belfast/Dublin routes.
Some special services after the Republic of Ireland v Wales World Cup Qualifier are also affected.
The 11.15pm Dublin Heuston to Cork and 11.25pm Dublin Heuston to Galway will operate.  
However, connections at Limerick Junction for Limerick from the 11.15pm Heuston to Cork will not operate.
Iarnród Éireann has confirmed there will be special late night trains to bring fans back from the Ireland v Wales World Cup Qualifier at the Aviva Stadium to Cork and Galway.
However, doubt remains over the Limerick service.
Around 30 Iarnród Éireann workers gathered outside the gates of Kent Station in Cork early this morning in support of their colleagues in Bus Éireann.
As a result there were no trains to and from Cork.
However, the drivers and rail workers met with NBRU President and Cork bus driver John Moloney at 9am, after which they agreed to resume work at 11am.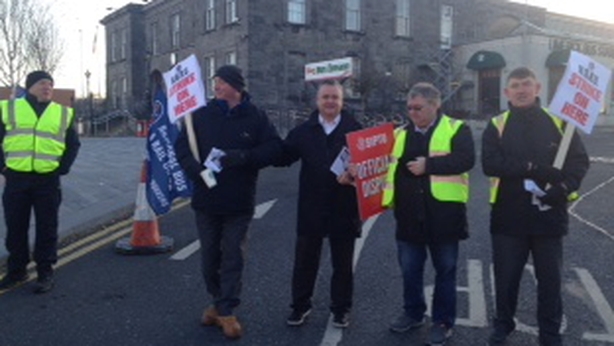 Pickets have also been placed on Limerick rail station by Bus Éireann workers, causing significant disruption to bus and rail services.
Rail workers did not pass the picket, resulting in all early morning train serviced being cancelled.
The 11.05am Galway to Heuston train left Galway's Ceannt Station this morning after earlier services were cancelled due to rail workers refusing to pass the Bus Éireann picket line.
The picket is manned by about 35 Bus Éireann drivers at the station, which is shared by Bus Éireann and Iarnród Éireann.
However, some trains are running between Galway and Dublin as they are staffed by rail workers from Athlone or Heuston, which are not sites of Bus Éireann pickets.
Private bus services are heavily booked as a result of the strike and passengers are asked to book in advance. 
Speaking on RTÉ's Morning Ireland, Iarnród Éireann spokesperson Barry Kenny said rail services have been affected far more than anticipated. 
He said: "We are running what we can run. The fact of the matter is that in a number of locations there are pickets that our employees have decided not to pass. This does differ, I suppose, we had hoped to have a far more extensive service today given that in previous occasions when there had been Bus Éireann disputes they had not been affecting rail services, but that has changed today and we will be reviewing that as well." 
He admitted that the disruption to rail services was extremely frustrating for passengers .
He said the focus for now was on the morning peak hours and that they will update rail passengers throughout the day.
He also said people will be refunded for train services that have been cancelled. 
NBRU General Secretary Dermot O'Leary has said NBRU members that work on trains should be at work as Iarnród Éireann is not involved in the dispute.
He said passing pickets is a moral dilemma for members who must make the decision themselves but his view is they should be at work and not stadning on picket lines.