Tens of thousands of people had to make alternative travel arrangements today due to a strike at Bus Éireann over the company's implementation of cost-reduction measures without union agreement.
Bus Éireann warned that the strike will worsen the company's financial situation, which it has described as perilous.
Iarnród Éireann said some Intercity services were affected by the dispute due to picketing today.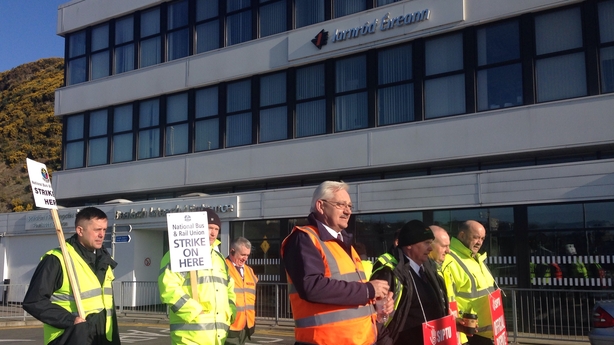 It said there is significant disruption, with some services cancelled and others curtailed.
But Iarnród Éireann said special late-night trains for football fans returning from the Ireland-Wales match will operate to Cork, Limerick and Galway.
The Minister for Transport Shane Ross said that he will "categorically" not be intervening during the strike and he called on both sides to get back to the talks. 
He said an industrial relations dispute is not a matter for the minister. He said both parties should go to the Workplace Relations Commission and the Labour Court for talks.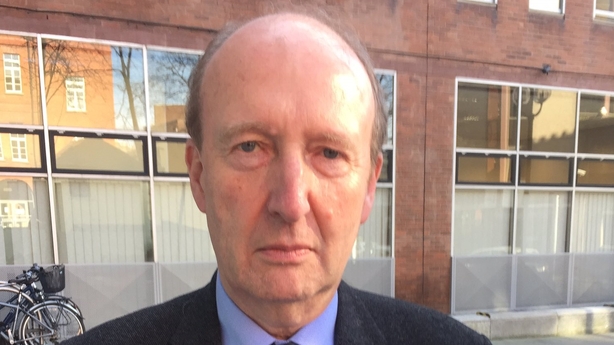 He added that the only reason that people were calling on him to intervene would be to pay taxpayers' money and he said he will not be doing that.
He said the company needs to reform and that can be done maturely through talks by the two sides.
Mr Ross said he would be happy to talk to all stakeholders in CIÉ, when the strike is over.
Dublin Bus services are operating as normal.
GO-BE, the joint venture company between Bus Éireann and Go-Bus, suspended its services between Cork and Dublin city and Airport.
While it was not meant to be affected by the dispute, it is understood there were issues at its base in Cork this morning and the service was suspended.
We need your consent to load this rte-player contentWe use rte-player to manage extra content that can set cookies on your device and collect data about your activity. Please review their details and accept them to load the content.Manage Preferences
It is understood Air Coach, which has a sizable part of the market for Cork to Dublin route, has contracted ten buses from a private bus operator to meet the additional demand. 
The general manager of the City Link private bus service has said the company has increased their departures by 25% on the Dublin to Galway route and other services around the country today to meet demands.
City Link usually has 100 daily departures on services that include 14 different towns on the 'off motorway route' to Dublin from Galway, but has around 25 additional buses out to meet demands.
Some tourists arrived at Busáras this morning unaware of the Bus Éireann strike. https://t.co/NLmiVgcCQI pic.twitter.com/iVBG2FdH4I

— RTÉ News (@rtenews) March 24, 2017
This evening, SIPTU said that it has issued a number of steps to its members which would assist in ending the strike by Bus Éireann workers.
Earlier, a SIPTU official said the blame must be laid for the strike at the door of management and the Minister for Transport Shane Ross.
Speaking on RTÉ's Morning Ireland, Divisional Organiser Willie Noone said that staff had "no other choice" but to strike in an attempt to protect their livelihoods, but acknowledged that it is unfortunate for commuters.
He said that the unions had worked hard to keep staff at work to this point given the anger at company proposals to cut pay.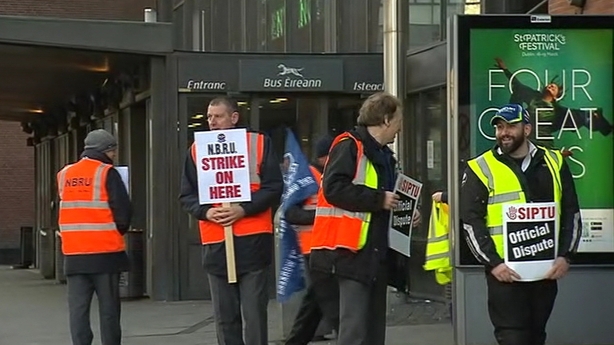 National Bus and Rail Union General Secretary Dermot O'Leary has said disputes such as that at Bus Éireann are solved by discussions sitting around a table behind closed doors and that is where his union would like to be. 
He acknowledged the strike will exacerbate financial problems at Bus Éireann, but said his members had demanded for many weeks this action be taken in response to what the company has done since January.
He said Bus Éireann's agenda is to be able to compete for State contracts in 2019, which is code for people becoming low-cost in terms of how they operate and their wages.
He added that Mr Ross should use his office to create an environment for all stakeholders to get around the table to discuss the crisis.
The minister has said he is not commenting on the strike at the moment.
Stephen Kent, Chief Commercial Officer with Bus Éireann, has apologised to customers for the "highly regrettable" inconvenience caused by the strike.
Mr Kent said the company has run out of time and absolutely needs to implement the cost-cutting measures it has put forward.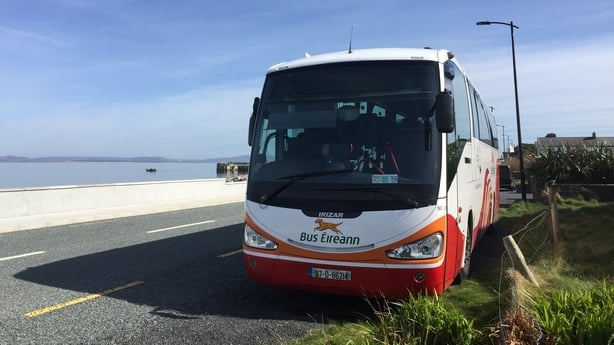 He said the company is doing everything it can to minimise all non-payroll costs and has eliminated all discretionary spending.
Mr Kent said the issues at Bus Éireann can only be resolved through discussion with the workforce but they need to deliver work practice changes that will deliver urgently needed savings.
The strike represents a serious escalation of the Bus Éireann row, which could push the company over the edge.
It lost €9.4m last year and a further €50,000 a day in January. But each strike day will cost another half a million, which the company insists is unsustainable.
Management has said that it had to proceed with unilateral implementation of cuts due to the financial crisis, and because unions would not agree to any reductions in take-home pay or unnecessary overtime.
However, the unions have accused the company of seeking to introduce so-called yellow-pack terms and conditions in a race to the bottom, to groom the company for privatisation.
The strike will affect businesses as well as disrupting the travel plans of 110,000 passengers a day, though not all will be stranded.
The National Transport Authority has reminded passengers that there are alternative private operators on many routes.
If Bus Éireann passengers defect to them, they may never return, further damaging revenue at the State-owned company. No further talks are planned at present.