Former US senator George Mitchell has said Martin McGuinness was a friend and courageous leader, who took his people from conflict to peace, from violence to democratic means, to resolving differences through ballots not bullets.
Speaking on RTÉ's Six One, he said Mr McGuinness, who died early this morning after a short illness, was always an engaging personality and someone whom it was a pleasure to deal with, even when they had disagreements.
Mr Mitchell served as US Special Envoy for Northern Ireland and played a major role in peace negotiations.
Former US envoy George Mitchell says Martin McGuinness took people from conflict to peace, through ballots not bullets. Watch full interview pic.twitter.com/ef8Ma2fkhx

— RTÉ News (@rtenews) March 21, 2017
He said Mr McGuinness deserves great credit, as do leaders from all sides with several parties in making the transformation from conflict to cooperation.
He said this was a tough decision: "Not often has a society the occurrence of leaders coming together after lifetimes of conflict.
"That was the case in Northern Ireland and Martin McGuinness was one of the crucial players in a process that made it possible."
To the very many victims of the IRA, he said: "Nobody can expect those who lost a loved one to let hold of their grief. That's human, natural and understandable, but in the end, Northern Ireland has made a decision to move forward and it was a right decision, whatever the consequences of the past."
Mr Mitchell said the peace agreement needs to be continued and it is up the current leaders to carry that mantle forward.
"When the peace agreement was announced in 1998, it was the first installment, not the final issue and it has to be continued, and it is up the current leaders to carry that mantle forward. I think that's the message of Martin McGuinness' life and passing."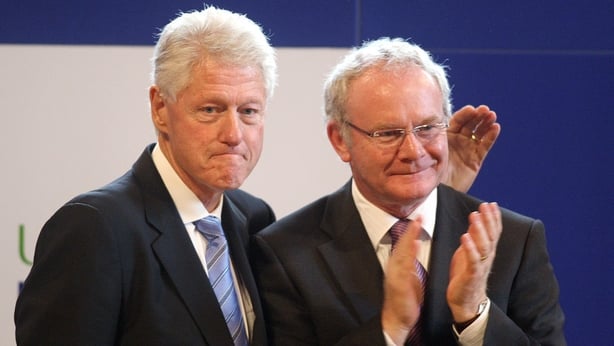 Former US President Bill Clinton has also paid tribute to Mr McGuinness, saying when Mr McGuinness decided to fight for peace, he "was calm, courageous, and direct."
In a statement this afternoon, Mr Clinton said when Mr McGuinness "gave his word, that was as good as gold."
"As Sinn Féin's chief negotiator, his integrity and willingness to engage in principled compromise were invaluable in reaching the Good Friday Agreement", the statement reads.
"He believed in a shared future, and refused to live in the past, a lesson all of us who remain should learn and live by," Mr Clinton said.
Martin McGuinness believed in a shared future for Northern Ireland and he was steadfast & courageous in its pursuit. https://t.co/rykG5AxPjw

— Bill Clinton (@billclinton) March 21, 2017
Meanwhile it has emerged that Queen Elizabeth is to write to Mr McGuinness's wife, Bernie.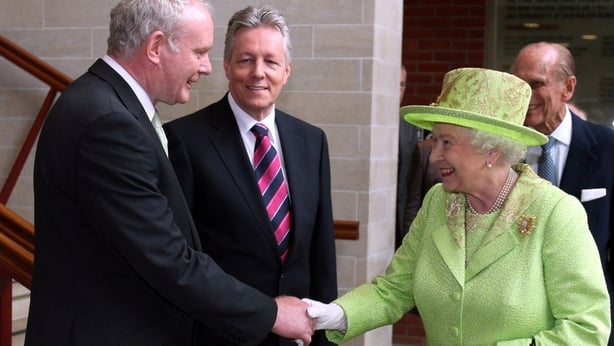 Mr McGuinness met and shook hands with the Queen during a charity event in Belfast in June 2012, an event that would once have been unimaginable.
The day after, Mr McGuinness spoke about its "momentous and historical" significance.
He said that the meeting had the potential to define "a new relationship between Britain and Ireland and between the Irish people themselves".
A few years later Mr McGuinness paid tribute to the Queen for meeting him.
"I liked her courage in agreeing to meet with me, I liked the engagements that I've had with her. There's nothing I have seen in my engagements with her that this is someone I should dislike - I like her," he told a BBC documentary.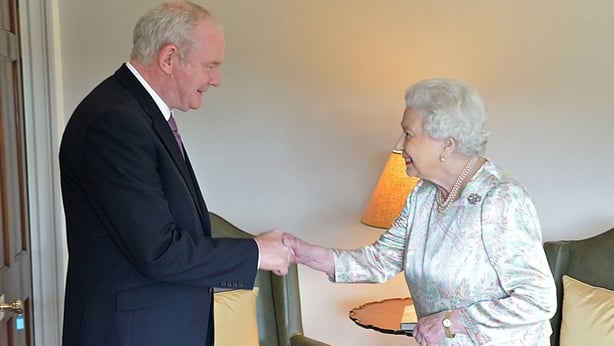 Buckingham Palace today indicated that the Queen would be contacting Mrs McGuinness, without giving further details.
President Michael D Higgins paid tribute to Martin McGuinness for his immense contribution to the peace process in Northern Ireland.
In a statement this morning, the President said: "It was with great sadness that I have heard of the passing of Martin McGuinness, and on behalf of Sabina and myself, may I express our deepest sympathy to his wife Bernadette and to his family.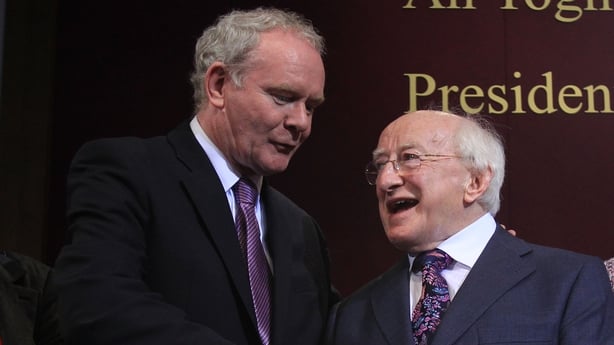 "The world of politics and the people across this island will miss the leadership he gave, shown most clearly during the difficult times of the peace process, and his commitment to the values of genuine democracy that he demonstrated in the development of the institutions in Northern Ireland.
"As President of Ireland, I wish to pay tribute to his immense contribution to the advancement of peace and reconciliation in Northern Ireland - a contribution which has rightly been recognised across all shades of opinion.
"As a political colleague of many years, and having participated together in the Presidential election campaign of 2011 that brought us all over Ireland, Sabina and I have appreciated both Martin McGuinness' warmth and his unfailing courtesy."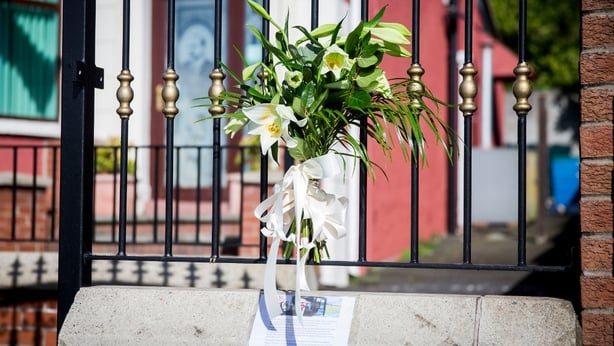 His death leaves a gap that will be difficult to fill. May he rest in peace
---
---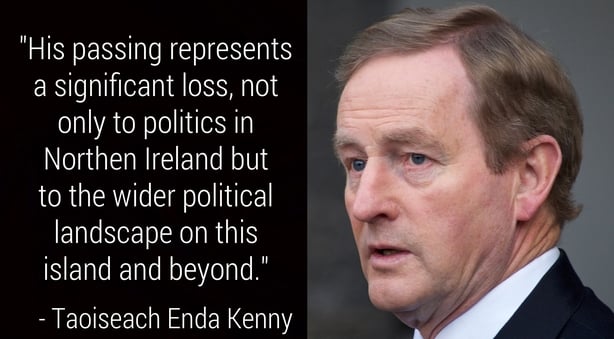 Taoiseach Enda Kenny said Mr McGuinness' death "represents a significant loss, not only to politics in Northern Ireland, but to the wider political landscape on this island and beyond".
Describing the former deputy first minister as one of the chief architects of the Good Friday Agreement, Mr Kenny said he "worked resolutely in the years that followed it in pursuit of its full implementation.
"He strove to make Northern Ireland a better place for everyone, regardless of background or tradition".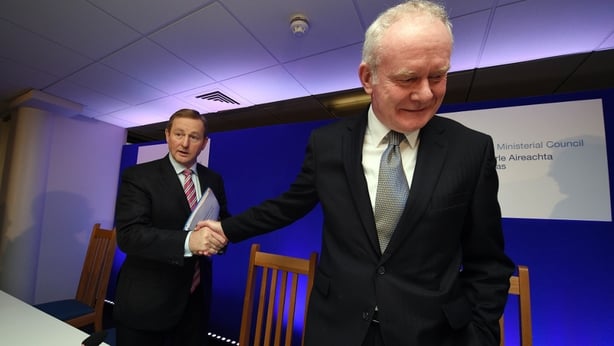 The Taoiseach said he "got to know Martin well in recent years, including through our working together in the North South Ministerial Council. His commitment to securing enduring peace and prosperity for all of the people of Northern Ireland was unwavering throughout this time".
British Prime Minister Theresa May said Mr McGuinness "played a defining role in leading the Republican movement away from violence".
She added: "In doing so, he made an essential and historic contribution to the extraordinary journey of Northern Ireland from conflict to peace."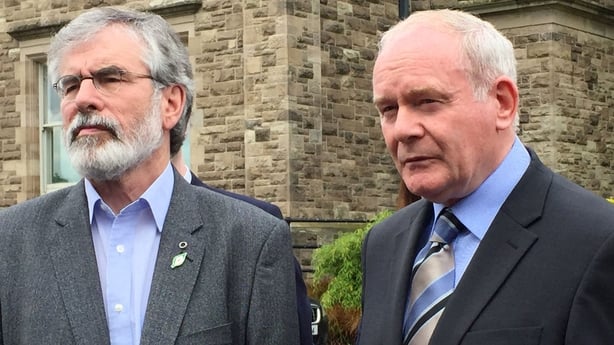 Sinn Féin leader Gerry Adams said: "Throughout his life Martin showed great determination, dignity and humility and it was no different during his short illness.
"He was a passionate republican who worked tirelessly for peace and reconciliation and for the re-unification of his country. 
But above all he loved his family and the people of Derry and he was immensely proud of both
"On behalf of republicans everywhere we extend our condolences to Bernie, Fiachra, Emmett, Fionnuala and Grainne, grandchildren and the extended McGuinness family."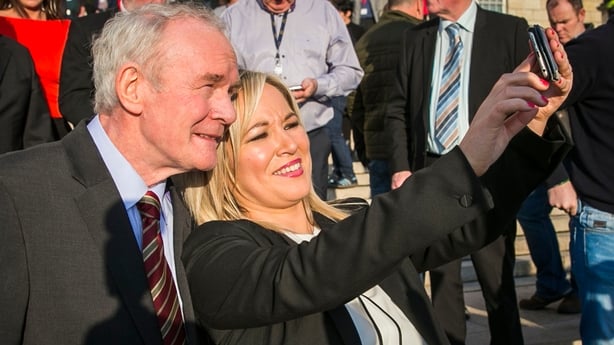 Speaking on RTÉ's Six One Mr Adams said Martin McGuinness was born in Derry and he, like others, was discriminated against and disadvantaged, and when control was given to British generals, Mr McGuinness became involved in IRA activism.
He said Mr McGuinness decided the future course for him and Northern Ireland was in politics when there was an avenue that made it possible to pursue objectives peacefully.
To victims of IRA violence, Mr Adams said people are entitled to their own opinion, but that it is Mr McGuinness's legacy that needs to be built upon in the time ahead. 
"We wouldn't have had the peace process when we had it without Martin's influence and if by chance he had stood against it, then we wouldn't be where we are today, with all of its imperfections, so he was a pivotal figure ... he was a very crucial and central figure in that."
Sinn Féin leader in Northern Ireland Michelle O'Neill said: "Martin was truly a giant of Irish politics and was known and respected across the world. 
"He led republicanism from the front for decades, striving for reunification and promoting peace and reconciliation and a genuine commitment to equality and respect. 
"Growing up as a young republican I was inspired by Martin McGuinness and I continue to be today. His leadership, grace and warm personality have transformed Irish politics for the better and his impact will be felt for many years to come."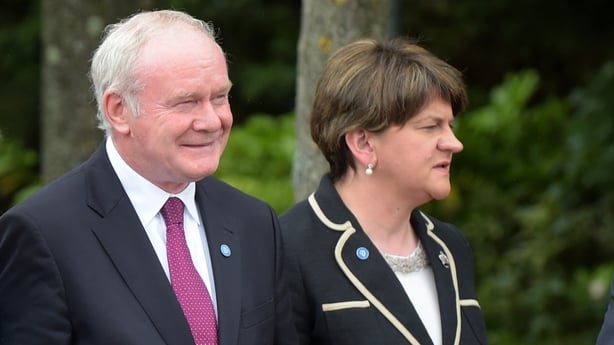 Democratic Unionist Party leader Arlene Foster said: "History will record differing views and opinions on the role Martin McGuinness played throughout the recent and not so recent past but history will also show that his contribution to the political and peace process was significant.
"He served the people of Northern Ireland as deputy first minister for nearly a decade and was pivotal in bringing the republican movement towards a position of using peaceful and democratic means.
Arlene Foster said she wanted to acknowledge the contribution by Martin McGuinness to the governance of Northern Ireland pic.twitter.com/QA1MOZ8uAJ

— RTÉ News (@rtenews) March 21, 2017
"In recent years his contribution helped build the relative peace we now enjoy.  While our differing backgrounds and life experiences inevitably meant there was much to separate us, we shared a deep desire to see the devolved institutions working to achieve positive results for everyone."
SDLP leader Colum Eastwood said: "History will record his political career as a journey, one born in a tradition of violence but, in a testament to Martin's character, that arrived at his true calling in politics, people and the art of persuasion.
Those who knew him will know that his warm and affable nature undoubtedly made it easier to reach beyond his own political base
"The generosity that he displayed in developing relationships with Ian Paisley and Peter Robinson demonstrated a rare gift that came as much from his personality as his politics. It is that gift which is needed in our politics at this moment."
Former SDLP leader John Hume and his wife Pat also expressed their condolences saying Mr McGuinness played "a very important role in our peace process and his courageous, generous and gracious gestures as deputy first minister were offered in a spirit of reconciliation and peace building".
Alliance Party leader Naomi Long said: "Whilst our politics were very different and while his past is well documented, the compromises he made, the leadership he demonstrated and his willingness to work with other despite those differences as part of the peace process helped secure the peace we all now enjoy.
"For that, we are grateful and our best tribute to him would be to do all in our power to secure that peace and progress for future generations."
Fianna Fáil leader Micheál Martin said: "By his actions and words over the last 25 years, he demonstrated a keen understanding of what the Peace Process was all about.
"He worked to build bridges between the different traditions and communities on the island. He reached out to the unionist community in particular, and their leaders, to steer Northern Ireland towards a better shared future." 
Labour leader Brendan Howlin said: "The role Martin played in bringing peace and reconciliation to our island will never be forgotten. His journey towards peace mirrored that of his party, and his contribution to that will be remembered.
Over the coming days as we remember Martin's life we will appreciate the enormous road we have travelled on this island since the darkest days of the Troubles
Minister for Foreign Affairs Charlie Flanagan said: "In his embrace of the politics of peace, he made an immense personal contribution to building and consolidating peace on this island.
"He led with patience, with courtesy, and with a willingness to see and acknowledge the goodwill in others even if those people were far removed from his own republican tradition."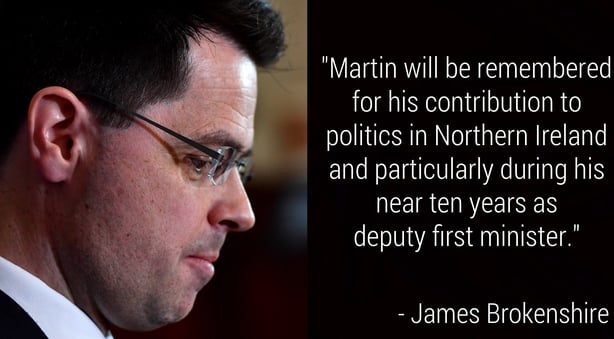 Northern Ireland Secretary James Brokenshire said Mr McGuinness' "personal journey and the clear influence he had on others in the republican movement were instrumental in shaping political institutions in Northern Ireland founded on exclusively peaceful and democratic means".
He said that while the past cannot be forgotten "no-one can doubt the essential role he played in helping to secure power sharing arrangements and political progress in Northern Ireland".
Whilst passionate and robust in his politics, on a personal level I always found Martin to be thoughtful and reflective and appreciated the personal consideration he showed.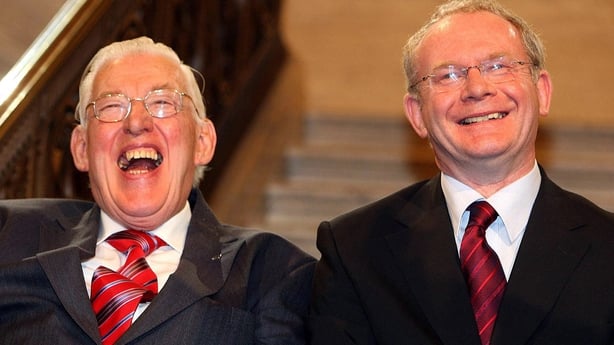 During his time in office Mr McGuinness forged an unlikely friendship with Mr Paisley, then Democratic Unionist Party leader, and the two earned the nickname the Chuckle Brothers.
Ian Paisley Jnr said it is more important to reflect on Mr McGuinness's latter days advocating peace than his early days in the IRA, but acknowledged many would have "mixed feelings" on his passing.
He said Mr McGuinness was once a man who struck fear into people's hearts in Northern Ireland.
"Yet he became the necessary man in government to deliver a stable and necessary peace, and that's a complex and remarkable journey," he added.
Ian Paisley Jnr: "If we could do a deal with Martin McGuinness...we could then work with any republican". pic.twitter.com/67PIJ4Q6T5

— RTÉ News (@rtenews) March 21, 2017
Mr Paisley said the respect Mr McGuinness afforded his father during their time as first and deputy first minister, and afterwards, was "genuine".
"As a son who was very close to his father I could give respect to anyone who could give respect to my father and treat my father with respect".
A Twitter account in the name of Mr Paisley's other son Kyle said: "Very sorry to hear about the passing of Martin McGuinness. Look back with pleasure on the remarkable year he and my father spent in office together and the great good they did together.
"Will never forget his ongoing care for my father in his ill health."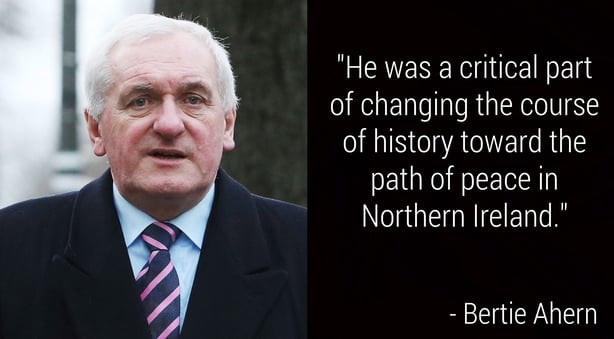 Former taoiseach Bertie Ahern said: "Ireland today has lost a great leader," adding that Mr McGuinness "made a journey, if not without historical precedent, then certainly without equal in modern Ireland. It began for a very young man in pursuit of violent struggle. It ended only weeks before his death, after years in office, spent strengthening the peace he worked for and to which his leadership was essential.
"Shifting strategy from violence to constitutional politics posed recurring challenges in Irish history. At critical moments during the shared efforts to transform The Troubles into a lasting, stable peace, Martin was a defining factor in effecting those changes. He was a critical part of changing the course of history toward the path of peace in Northern Ireland."
Tributes have also been paid to Mr McGuinness in the Dáil from across the political spectrum.
Former British prime minister Tony Blair said: "I came to know the Martin McGuinness who set aside that armed struggle in favour of making peace. There will be some who cannot forget the bitter legacy of the war. And for those who lost loved ones in it that is completely understandable.
"But for those of us able finally to bring about the Northern Ireland peace agreement, we know we could never have done it without Martin's leadership, courage and quiet insistence that the past should not define the future."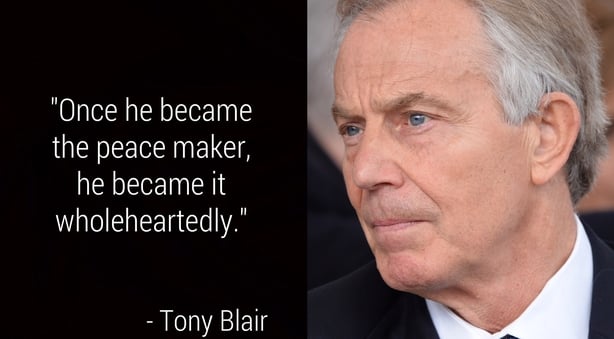 Another former prime minister John Major said: "For too many years, too many people lost their lives over the Troubles in Northern Ireland. Martin McGuinness realised that - if one wishes to secure long-term peace - negotiation must always prevail over violence. In a mixed legacy, that stands to his credit.
"Let that be his epitaph."
And another former PM, David Cameron, said: "Despite our differences I enjoyed working with Martin McGuinness. He wanted politics to work in Northern Ireland and helped make it happen."
Former Northern Ireland secretary Peter Hain said Mr McGuinness was "absolutely crucial" to the peace process.
"He had the grassroots credibility of a republican leader and former IRA commander, that could enable him, along with Gerry Adams, to take his followers, to take republicans, from the past of terror and horror into a democratic future, which is what he did," Mr Hain told the BBC Radio 4 Today programme.
"Sometimes in the history of conflicts - and, goodness me, the island of Ireland has been involved in centuries of conflict with Britain - you need leaders who can rise above their past and, at that point, Martin McGuinness certainly stood the test and proved to be an indispensable figure."
Former SDLP leader John Hume and his wife Pat have said: "Martin McGuinness left an indelible print on politics in Ireland. Our starting points on the approach to finding a solution to the divisions on this island were very different but there can be no doubt Martin was deeply committed to the agreed Ireland of the Good Friday Agreement and its power sharing institutions.
"He played a very important role in our peace process and his courageous, generous and gracious gestures as deputy first minister were offered in a spirit of reconciliation and peace building."
Former taoiseach Brian Cowen has said that there is no doubt Martin McGuinness made a "huge contribution" and when he decided to go for exclusively peaceful means, he did so with complete conviction. 
He said he knew Mr McGuinness very well over a ten year period, and that Mr McGuinness had something "of the Derryman about him".
Mr Cowen said Mr McGuinness had a great sense of humour and he could overcome a tense situation with something that could bring a smile to one's face. He said to have the ability to inter-relate on serious business and also show such a sense of humanity is something he will particularly remember him for.
PSNI Chief Constable George Hamilton said "Martin's journey in life challenges all of us who care about the future to be prepared to change, to demonstrate leadership, and to work to understand the world, not just from our own perspective but from the perspective of everyone in our community."
Archbishop Eamon Martin, Primate of All Ireland, said: "As a leader he was courageous and took risks in order to bring others with him, convincing them that goals could be achieved by politics and persuasion.  
"He channelled his many gifts into creating and sustaining the peace process of which he was one of the key architects. I have no doubt that Martin's faith and relationship with God guided him along this journey."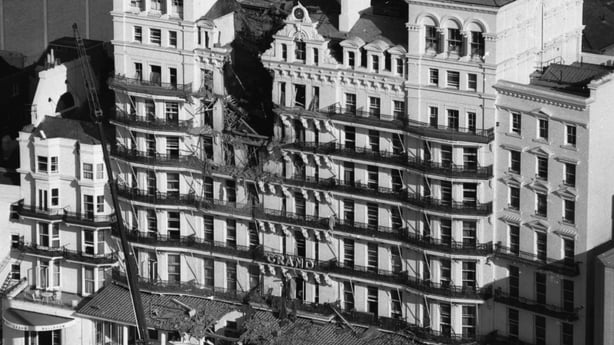 While there has been widespread praise of Mr McGuinness's contribution to the peace process, some people have said they cannot forgive him for his role in the IRA.
Colin Parry, whose son Tim was killed by the IRA, said: "We can never forgive him but we can respect the man he became."
Julie Hambleton, whose sister died in the Birmingham pub bombings, told BBC radio "With his death the truth is buried."
Former British MP Lord Tebbit, who was injured in the 1984 Brighton bombing, described Mr McGuinness as a "coward who never atoned for his crimes".
Speaking on ITV's Good Morning Britain, Lord Tebbit, whose wife was left permanently disabled in the IRA attack on the Conservative Party Conference, said of Mr McGuinness "there can be no forgiveness without a confession of sins".