President Michael D Higgins was among an attendance of over 1,600 people at the funeral of the former bishop of Galway Eamon Casey at Galway Cathedral this afternoon.
Kerry-born Bishop Casey died on Monday aged 89 and was interred in the cathedral crypt.
The requiem mass was celebrated by Bishop of Clonfert John Kirby, in the presence of 11 other bishops and more than 100 priests from the Galway diocese and around the country.
Before the mass began Bishop Casey's niece, Helena O'Hara, brought the Casey and Shanahan family crests, representing Bishop Casey's parents' families, to the altar.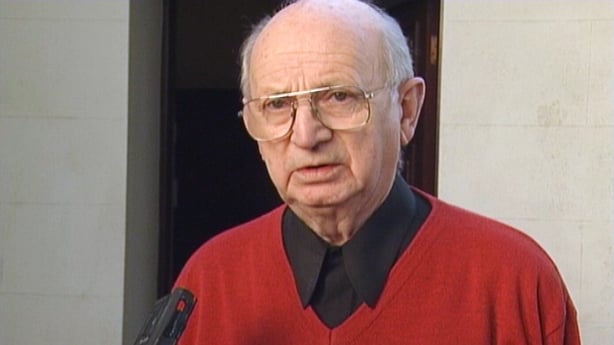 A Trocáire box was also presented to Bishop Kirby, as a symbol of Bishop Casey's long work with Trocáire, by Bishop Casey's sister in law Vera Casey.
Bishop of Achonry Brendan Kelly told the funeral the realisation Bishop Casey had a son was profoundly upsetting for the church and for people in general in Ireland.
He said irresponsibility, infidelity and sin are very shocking in the lives of those who preach the Gospel, but Bishop Casey had apologised and expressed his sorrow many times and asked forgiveness.
Bishop Kelly said people had been hurt and wounded and he asked for prayers for continued healing and peace for those affected.
Bishop Casey's son, Peter Murphy, 42, who earlier this week joined other relatives in a tribute to his late father, was not present at the funeral.
The bishop's sister, Ita Furlong, could not attend because of illness, while his priest brother, Fr Micheal, who lives in Perth, Australia, did not make the trip.
Primate of All Ireland Archbishop Eamon Martin was also unable to attend due to his hosting of the annual St Patrick Lecture in Armagh today.
However, he visited family members in Galway yesterday and a special message from him was read out at the mass.