Bishop Eamon Casey, the former Bishop of Galway, has died at the age of 89.
He died early this afternoon in a nursing home in Newmarket-on-Fergus in Co Clare.
He had been ill for some time.
Bishop Casey resigned for personal reasons after it had been revealed he had been making payments to Annie Murphy to support their son.
Peter Murphy was born in 1974 while his father was Bishop of Kerry.
Born in Co Kerry on 24 April 1927, Eamon Casey was among the most energetic and colourful clerics of his age.
He became well known while working in London to source adequate housing for thousands of Irish emigrants in the British capital.
After his appointment as Bishop of Kerry he became the first chairman of Trócaire the Irish Catholic Church's development aid agency. He was critical of US foreign policy at the time of Ronald Reagan's presidency.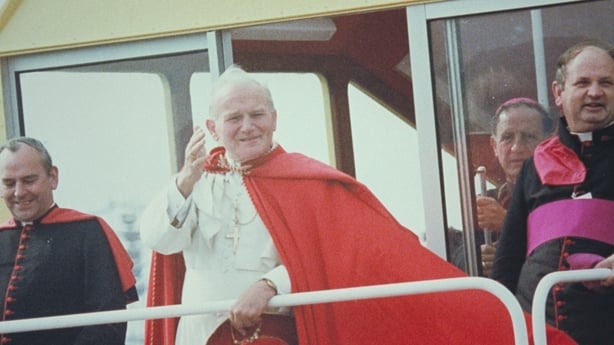 As Bishop of Galway, he helped organise the visit of Pope John Paul II to Ireland, hosting the Pontiff for a Youth Mass at Ballybrit Racecourse.
In 1992 it was revealed that he had fathered a son during a relationship with Ms Murphy, who was the daughter of a family friend and who had come to Bishop Casey for support while dealing with the aftermath of her divorce.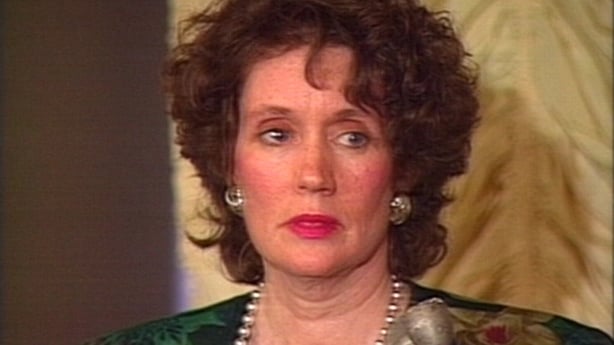 After the revelation of his son's existence and of the fact that he had taken funds from the diocese to support him, Bishop Casey fled the country and undertook priestly work in Ecuador, which many saw as a penitential gesture.
He was then assigned to a parish in England and finally returned to Ireland in 2006 where lived in a rural parish Shanaglish near Gort in Co Galway. In 2011 he went to live at the Carrigoran Nursing Home in Co Clare.
Tonight, Peter and the rest of Bishop Casey's family issued a statement acknowledging his "priestly work" and thanked everyone who supported him in the past, in particular, "the clergy and the people of the dioceses of Galway and Kerry, the Irish community in London, his many friends in Limerick and throughout the country and abroad".
President Michael D Higgins paid tribute to Bishop Casey and said many will remember his work on homelessness and housing with the Irish emigrant community in Britain and his work with Trócaire.
He also noted the Bishop's work in South America saying it helped increase Irish awareness of the sources of conflict there.
In a statement, Mr Higgins also said: "Other aspects of his life were the source of pain to others, for which Bishop Casey has apologised and expressed his deep regret, and he himself had the experience of pain visited on him in later life".
Fr Dermod McCarthy, a friend and colleague of Bishop Casey, described him as a breath of fresh air in the Irish hierarchy.
Speaking on RTÉ's Six One, he said: "He was full of energy; full of life; full of dynamism, and he had great initiatives."
Fr McCarthy said he believes there will be a sadness across the country over Bishop Casey's death, saying he did great good, especially with his work with Trócaire.
He said on Peter's last visit to Dublin three years ago, he brought him to the nursing home in Co Clare to visit his father.
Archbishop of Armagh and Primate of Ireland, Eamon Martin, has also paid tribute to Bishop Casey. He acknowledged his work over a 23-year period with Irish Catholic Bishops' Conference during his time as Bishop of Kerry and as Bishop of Galway.
He added: "Both as priest and bishop, Bishop Casey's ministry on behalf of Irish emigrants is well known and was of immense significance in particular to the Irish in Britain."
Trócaire chairman Bishop William Crean said Bishop's Casey's work with the organisation had benefited millions of people around the world.
Tribute's were also paid to his bravery during the funeral of murdered Archbishop Oscar Romero in El Salvador in 1980, when the mass was attacked by death squads, killing 50 mourners.
Trócaire's Executive Director Éamonn Meehan said Bishop Casey narrowly avoided injury during the attack and spent two hours administering the sacrament of the injured.