The Catholic Archbishop of Tuam has called for a detailed examination of the role of the Church and the State in the running of mother and baby homes.
In a homily delivered at mass this evening, Dr Michael Neary said the Commission of Investigation must deliver clear and objective findings, no matter what the consequences for the institutions involved.
It was reported last week that "significant quantities" of human remains were discovered at the site of a former mother-and-baby home in Tuam, Co Galway.
The mother and baby home was run by the Bon Secours order from 1925 to 1961.
It is the second weekend in a row that the Archbishop has used his homily to deal with the fallout from the recent update from the Commission.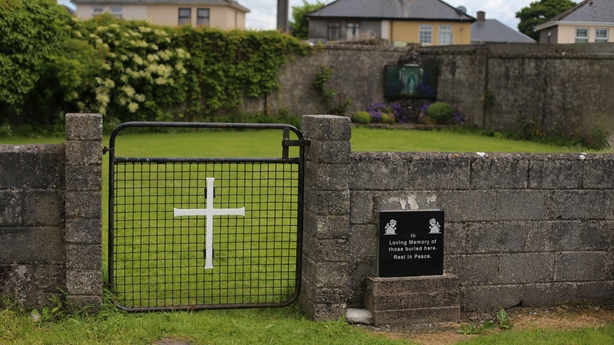 This evening, he said the mothers in question had been treated in a "harsh and unforgiving" climate, which led to them being stigmatised, judged and ostracised by the church and by their communities.
He said compassion, understanding and mercy for the mothers and their children were sorely lacking at this time in the 20th century.
Last weekend, the Archbishop said the Archdiocese had no involvement in the running of the home in Tuam and had no information regarding the manner in which remains were interred.
However, he said any material he had that was "even remotely related" to the Commission of Investigation had been provided to the inquiry.
This evening, Dr Neary moved to include the Archdiocese and the wider Catholic Church in any analysis of the past.
He said any inquiry had to broaden its focus from one particular religious congregation and look at the way the church, the State, local authorities and society in general operated.
Dr Neary said this needed to be done to heal the hurt of the past and ensure it was never repeated.
He suggested that the starting point for this dialogue was to answer how it was that a society, supposedly defined by Christian values, behaved in such a manner towards its most vulnerable citizens.
He concluded his homily by praying for healing for all those impacted by the past. While not offering a specific apology to those who suffered or died in the Tuam home, Dr Neary said he was sorry for the "the failings of the church" and the manner in which it had not welcomed, wanted or loved children and their mothers in the past.
The Mother and Baby Homes Commission of Investigation began test excavations at the site of the children's burial ground on the Dublin Road housing estate in Tuam, Co Galway, in October 2016.
The commission was established following allegations about the deaths of 800 babies in Tuam over a number of decades and the manner in which they were buried.
The commission said significant quantities of human remains were discovered in at least 17 of the 20 underground chambers which were examined earlier this year.