Drone racing enthusiasts have called for help from the authorities and landowners to assist them in finding a safe place for them to practice and race.
The sport is enjoying rapid growth in Ireland, but as more people start taking part it is becoming harder to find suitable locations for it.
First Person View (FPV) racing, as it is known, involves racing small 1kg drones around a large indoor or outdoor track at high speed.
Racers wear first person view goggles, which transmit footage from a live camera on the front of the drone to two small video screens in front of their eyes.
Flying high - Enthusiasts are seeking a safe place for 160km/h drone races in Dublin https://t.co/7Bv6HefpHj pic.twitter.com/uRG6EOGvj5

— RTÉ News (@rtenews) March 10, 2017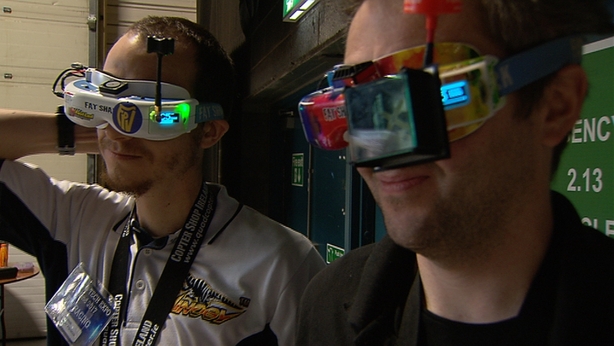 Racing drones can reach speeds of up to 160km/h. This means for safety reasons, they require large open spaces to fly.
Safety regulations also mean drones cannot be flown in areas of population, or near restricted airspace.
FPV Racing Ireland says it has grown from five members when it started two years ago, to over 800 today.
Some landowners allow drone racing pilots to use their property, but these locations are all outside Dublin.
FPV Racing Ireland has asked Dublin City Council to assist it in identifying a suitable safe place for its members to race.
It is also appealing to anyone who owns land or an empty large building, such as a warehouse, to consider letting them use it.
Irish drone pilots are now competing at international level on the rapidly expanding FPV racing circuit.
Drone racing is one of a number of uses of drones on show at the Drone Expo, which runs throughout the weekend at the RDS.