Abuse survivor Marie Collins has resigned from a panel established by Pope Francis to address clerical sexual abuse, accusing senior Vatican officials of "shameful" resistance to its work.
Her departure is a blow to the pontiff's attempts to demonstrate that the Catholic Church is serious about combating the abuse that has profoundly damaged its image over recent decades.
Ms Collins became a household name almost two decades ago when she challenged the late Cardinal Desmond Connell's failure to report to gardaí her abuse in childhood by a priest of his diocese.
She was one of a number of survivors who persuaded the cardinal to establish a child protection office and three years ago was recommended for appointment to Pope Francis' unprecedented Commission for the Protection of Minors.
Speaking on RTÉ News at One, Ms Collins said she resigned from the panel because she could not at this point "accept there are still men in the Vatican, still men in those positions, who would resist the work to protect children".
She said: "They still have the attitudes of 20 years ago, when I was dealing here with the Dublin Diocese, the same sort of attitudes."
She said it came to the point where she could not stay any longer if she wanted to retain her integrity. She said her decision to resign was "extremely difficult", adding "I was sad to go, but I did my best."
In her letter of resignation, which was sent two weeks ago to Pope Francis but published today, Ms Collins said she believed the pope had acted sincerely when he set up the panel.
"However, despite the Holy Father approving all the recommendations made to him by the commission, there have been constant setbacks," she said in a statement.
They have been directly due to the resistance by some members of the Vatican Curia - or administration - to the panel's work, she said.
In a thinly-veiled reference, she highlights as "shameful" the obstruction of the particularly influential Congregation for the Doctrine of the Faith which Pope Benedict put in charge of assessing all abuse allegations.
We need your consent to load this rte-player contentWe use rte-player to manage extra content that can set cookies on your device and collect data about your activity. Please review their details and accept them to load the content.Manage Preferences
She adds that she has happily accepted an invitation from the head of the commission, Boston's Cardinal Seán O'Malley, to continue to be part of training projects, including courses for the Curia and new bishops.
Ms Collins said members of the commission were seen as outsiders, when the commission was "trying so hard to work as part of the church, with the church to change the culture in the church and to bring protection to the people who need it in the church."
Catholic Archbishop of Dublin Diarmuid Martin has paid tribute to Ms Collins' integrity and to her achievements as an advocate for survivors.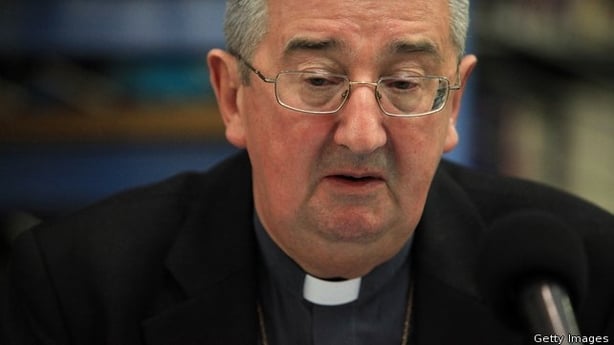 In a statement coinciding with Ms Collins' resignation, Dr Martin said that few people in Ireland have made such a consistent contribution to the change in the church's response to child sexual abuse.
His statement does not refer explicitly to her decision to step down. However, referring to her role to date, he said that "despite opposition and resistance, she remained committed and constructive in what were for her good moments and bad moments".
Dr Martin said abuse victims and survivors owe Ms Collins an enormous debt, but said she was never one to seek praise or affirmation for herself.
He expressed his happiness at her commitment to continue contributing to church life and thanked her for the contribution she has made to the Archdiocese of Dublin and the support she has given him personally.
Meanwhile, the One in Four organisation has said the many survivors in Ireland who want to remain Catholics will be disappointed and distressed at the resignation.
We need your consent to load this rte-player contentWe use rte-player to manage extra content that can set cookies on your device and collect data about your activity. Please review their details and accept them to load the content.Manage Preferences
In a statement, the advocacy and counselling organisation described Ms Collins as a stalwart campaigner for change within the Catholic Church in how it responds to survivors and one of the first survivors in Ireland to speak openly about her experiences.
The organisation's Executive Director, Maeve Lewis, said Ms Collins' bravery encouraged other survivors to come forward, adding that she helped to force the Irish State to establish four commissions of investigation "which uncovered the dark, hidden world of clerical sexual abuse".
She said Ms Collins is recognised internationally as a woman of the highest integrity who harboured real hopes that her participation in the Vatican Commission would lead to genuine change at the very top of the Catholic Church.
Ms Lewis continued: "Marie's resignation after three frustrating years brings into question the sincerity of top level Vatican personnel in responding to survivors of sexual abuse.
"The way in which the Curia stymied most recommendations of the commission shows a reluctance to accept the reality of clerical sexual abuse," she said.
"Despite all the protestations of commitment to child protection, it appears that very little has really changed."
Ms Collins is the second abuse survivor to leave the Pontifical Commission for the Protection of Minors.
Briton Peter Saunders was sidelined last year after a dispute with other members over how to handle allegations of serial abuse by an Italian priest that were brought to the panel's attention.
Mr Saunders subsequently told AFP he felt betrayed by the pope and that he had been tricked into taking part in a "smoke and mirrors" exercise.
Irish survivor praises Marie Collins' contribution
Mark Vincent Healy, the first Irish male survivor of clerical child sexual abuse to meet Pope Francis, has praised the bravery and courage which Ms Collins has shown in her work for survivors.
In an open letter, he endorsed everything she has done to seek full disclosure from the church on abuse by its clergy and religious adding that it should be extended to include all missionary congregations, which he indicated use their international reach to avoid being held to account.
Mr Healy was sexually abused from the age of nine to 12 by two Spiritan priests while attending St Mary's College in the Dublin suburb of Rathmines.
Three years ago, he and five other survivors of similar abuse met Pope Francis for the first publicised face-to-face briefing of its kind with a Pope.
He complained afterwards that the Vatican refused his request to be facilitated in speaking to media immediately after the meeting.
He later wrote that he told Pope Francis that the Pontifical Commission - from which Ms Collins has resigned - ought not to be for the Protection of Minors but ought to emphasise the church's role caring for survivors and victims, such as their families when the survivor has died.
He has highlighted the high suicide rates among male survivors in particular.
In today's letter Mr Healy says: "Child protection policies are only as good as the provisions they make for those whom the policies fail."
He says he dearly hopes male and female survivors will be found to sit on the commission.