Belfast's Court of Appeal has upheld the decision of the British government to not hold a public inquiry into the 1989 murder of solicitor Pat Finucane.
His widow, Geraldine, and family have campaigned for an independent inquiry to examine allegations of UK state collusion in the killing.
The 39-year-old solicitor was shot dead in front of his wife and children by loyalist paramilitaries in the kitchen of their north Belfast home 28 years ago.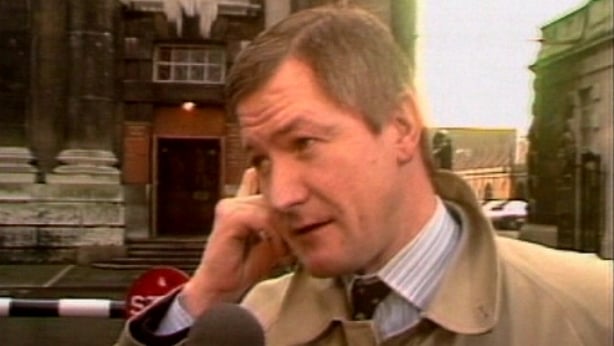 A legal review was sanctioned by then-British prime minister David Cameron and completed by Sir Desmond de Silva in 2012.
It confirmed that UK state agents had colluded in the murder but found no evidence of an overarching conspiracy by the authorities to target the solicitor.
After the de Silva report the Finucane family continued to argue for a full independent and international tribunal of inquiry where documents would be examined in public and witnesses compelled to attend and be cross-examined.
The Finucanes also said that the British government had made a commitment to hold such an inquiry during peace process negotiations at Weston Park in 2001.
They lost their legal challenge in Belfast's High Court in June 2015 and that judgment has now been upheld in the appeal court.
We need your consent to load this rte-player contentWe use rte-player to manage extra content that can set cookies on your device and collect data about your activity. Please review their details and accept them to load the content.Manage Preferences
Geraldine Finucane and some of her family members were in Belfast's Appeal Court when Lord Justice Gillen gave details of the ruling this morning.
The potential cost of a full-scale public inquiry was one of the reasons given during proceedings by the British government for its stance.
At the time of the publication of the de Silva report four years ago, Ms Finucane dismissed it as "a whitewash" that had blamed only "dead witnesses" and "defunct agencies".
She said then that "the dirt has been swept under the carpet without any serious attempt to lift the lid on what really happened to Pat and so many others".
When the de Silva report was published in December 2012 Mr Cameron said it made for "extremely difficult reading" and issued an apology to the Finucane family.