Former Catholic Archbishop of Dublin and Cardinal Desmond Connell has died.
Born in March 1926, he was Archbishop of Dublin from 1988 until 2004 and a cardinal since 2001.
Catholic Archbishop of Dublin Dr Diarmuid Martin said that Cardinal Connell, who had been ill for some time, passed away peacefully during the night in his sleep.
Cardinal Connell formally resigned in April 2004 and handed over the care of the Dublin archdiocese to his co-adjutor, Archbishop Martin.
Then, Archbishop Martin said history would recognise that Dr Connell acted in accordance with his conscience when handling clerical sex abuse scandals.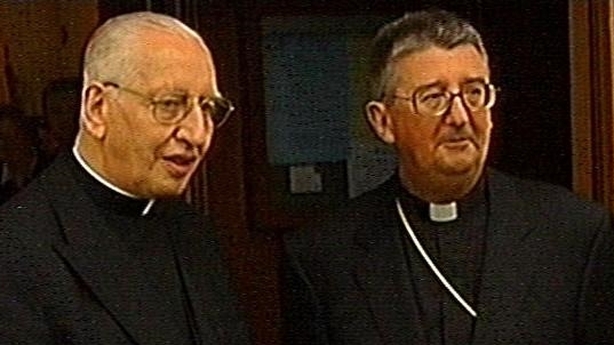 Cardinal Connell with Archbishop Diarmuid Martin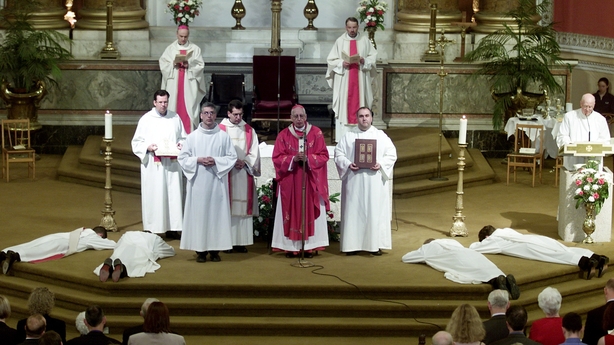 Cardinal Connell retained his cardinal's hat and, for two more years, a vote in papal election.
Although he claimed he was appalled at the scale of abuse when he took office, he appeared slow to address the issue, opting for secret internal church tribunals to defrock abusive priests rather than potentially explosive public prosecutions.
The 2009 Commission of Investigation into the Catholic Archdiocese of Dublin, known as the Murphy Report, found that the then Archbishop Connell's strategies in refusing to admit liability often added to the hurt and grief of many victims of abuse.
In 2008, the cardinal got an injunction against the commission preventing it from examining files.
He withdrew the High Court attempt 11 days later, amid speculation that he may have been persuaded by fellow clergy in retirement to hand over his problems to his successor.
The Murphy Report stated that the commission had no doubt that clerical child abuse was covered up by the Archdiocese of Dublin and other church authorities.
It also found that the structures and rules of the church facilitated that cover-up. It also said that State authorities facilitated the cover up by allowing the church to be beyond the reach of the law.
RTÉ's Religious and Social Affairs Correspondent @joelittlerte on the death of Cardinal Desmond Connell pic.twitter.com/7e6WKLGr0W

— RTÉ News (@rtenews) February 21, 2017
Just before his retirement, at the Pro Cathedral in Dublin, Cardinal Connell asked for forgiveness from all those he had offended.
He asked especially for the forgiveness of those who suffered what he called unspeakable abuse by priests of the diocese and experienced a lack of care.
Abuse survivor believes Connell did not understand devastation of victims
Abuse survivor Marie Collins has said the death of Cardinal Connell has brought back very bad memories.
Speaking on RTÉ's News at One, she said when she had dealings with Cardinal Connell 20 years ago he was "locked into the church ... and institutional side of abuse".
Ms Collins, who is a member of the Pope Francis' child abuse commission, said Cardinal Connell had little or no understanding of the devastating effect of abuse on victims.
Ms Collins said she was not sure Cardinal Connell ever accepted the suffering he may have caused himself, by the way he dealt with victims.
"He was into the canon law and defending the church.
"He had little or no understanding of the devastation to victims.
"He was a man who never had any pastoral experience and he really was a man of academia and I feel in many ways it was very difficult for him to deal with this issue."
She added that she hoped he would rest in peace.
Tributes paid to former Archbishop of Dublin
President Michael D Higgins has expressed his condolences to Cardinal Connell's family, his colleagues in the Archdiocese of Dublin and at UCD.
In a statement, Taoiseach Enda Kenny said Cardinal Connell had a long and distinguished academic career.
"While his time as archbishop was controversial, those who knew him recognised his desire for holiness and his gentleness and humility of character," he added.
Fianna Fáil leader Micheál Martin said: "Dr Connell was a strong advocate for social justice and highlighted the difficulties facing communities in inner-city Dublin throughout his ministry. Throughout his life he dedicated great passion and commitment to the people of his diocese.
"Dr Connell led the Dublin diocese at a very difficult time and recognised the need to allow younger generations to take-up leadership roles in the church."
Archbishop Eamon Martin, Archbishop of Armagh and Primate of All Ireland, said, "I was very sorry to hear of the death of Cardinal Desmond Connell today. Just yesterday we prayed for him at the spring meeting of the Standing Committee of the Bishops' Conference.
"Although I did not know him personally, I understand he was a gentle and holy priest. His distinguished contributions as an academic, scholar and writer are well documented."
Archbishop Martin added: "Regarding the failures on his part in addressing the issue of child sexual abuse, he himself asked for forgiveness from those who had been 'so shamefully harmed', and said, 'I express without reservation my bitter regret'."
The Church of Ireland Archbishop of Dublin has expressed his sympathy to members of the Catholic Archdiocese of Dublin.
Dr Michael Jackson said he wishes to assure all of those touched by Cardinal Connell's death of his prayers at this sad time of bereavement.