US President Donald Trump expects NATO allies to make real progress by the end of this year towards meeting the increased defence spending target agreed by the alliance, his Vice-President Mike Pence has said.
"The president and the American people expect our allies to keep their word and to do more in our common defence ... the president expects real progress by the end of 2017," he said.
Mr Pence was speaking in Brussels at the end of a European trip aimed at comforting allies fearful Mr Trump might abandon them.
He said: "If you have a plan to get there, our alliance needs you to accelerate it. If you don't yet have a plan, these are my words, not his - get one. It is time for actions, not words."
NATO leaders, stung by Russian intervention in Ukraine, decided in 2014 to increase defence spending to the equivalent of 2% of national economic output but progress since then has been painfully slow.
Mr Trump warned repeatedly on the campaign trail last year that the allies could no longer expect a free ride and Mr Pence repeated the message after talks with NATO head Jens Stoltenberg in Brussels.
US Defence Secretary James Mattis delivered a similar message at a NATO defence ministers meeting last week, saying Washington could "moderate" its commitment if allies fail to pay up.
The US President sent Mr Pence, Mr Mattis and US Secretary of State Rex Tillerson to Europe in the past week to reassure nervous allies that the new administration would stand by near-70 year US commitments to NATO and European security in the face of a more assertive Russia.
But all three also drove home the message that the allies must play their part in full or that commitment would inevitably be called into question.
"America will do our part but Europe's defence requires Europe's commitment as much as ours," Mr Pence said.
Mr Stoltenberg stressed his agreement with the 2% spending target, saying the issue was his "top priority" as he also welcomed Washington's reassurances.
So far, of the 28 NATO members, only the United States, Britain, Poland, Greece and Estonia have met the 2% target.
The target is controversial however, critics say a blind drive to 2% ignores a commitment in kind made by some countries, such as France or Briain, in mounting anti-terror operations on their own account.
Additionally, if Germany for example were to meet the target, it would mean a €30 billion increase in Berlin's military budget to some €70 billion.
That would make it Europe's biggest military spender and as diplomatic sources put it, cause some of Germany's neighbours some unease.
German spending currently runs at 1.2% of output while the United States spends 3.6% and accounts for more than 70% of combined NATO outlays.
Pence vows Trump committed to EU
Mr Pence sought to reassure Europe of the US President's commitment to transatlantic ties as he met EU chiefs in the face of anti-Trump protests.
"Today it is my privilege on behalf of President Trump to express the strong commitment of the United States to continued cooperation and partnership with the European Union," Mr Pence said after talks with EU president Donald Tusk.
Mr Pence said US commitment to transatlantic ties remained "steadfast and enduring" after decades of working together on security and economic issues.
Mr Tusk thanked Mr Pence for the meeting, saying that "we all truly needed it" and that Europe counted on "unequivocal" US support.
"Too much has happened over the past month in your country and in the EU ... for us to pretend that everything is as it used to be," the former Polish prime minister added.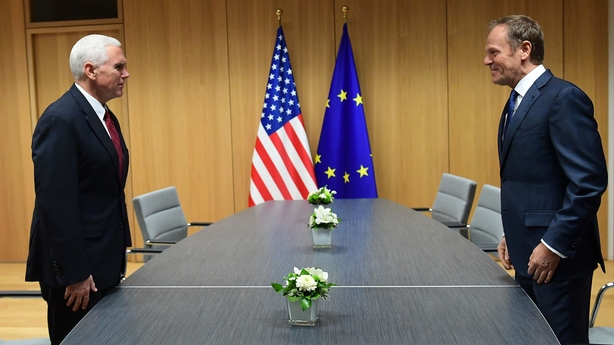 The Brussels trip follows a visit to the Munich Security Conference, where Mr Pence told European leaders and defence experts: "The United States is and will always be your greatest ally.
Topless protest
Scores of protesters gathered outside EU headquarters, criticising the Trump administration's attitude toward women, gays and climate change.
"We are here to protest against the visit of Pence because we are revolted by the decision of the US administration to undermine women's rights worldwide," said Irene Donadio, who works for the International Planned Parenthood Federation.
Two female protesters went topless and carried banners saying "Pence get out of our pants" while another placard read "Love Trumps Hate".
Mr Trump's criticism of NATO as "obsolete", his praise for Britain's decision to leave the EU and prediction that others would follow, plus his apparent tilt to Russian President Vladimir Putin have all unnerved US allies.
Mr Pence's visit comes two days after Mr Trump told a rally in Florida to "look at what's happening in Brussels" as he listed a series of European cities struck by deadly terror attacks.
Mr Pence also met European Commission President Jean-Claude Juncker and EU foreign policy chief Federica Mogherini and will later meet NATO Secretary General Jens Stoltenberg.
Mr Pence's Belgian hosts had earlier called on him to oppose any break-up of the EU.
"No question of allowing the European Union's break-up. That message was given," Belgian Prime Minister Charles Michel told Belga news agency after a dinner with Mr Pence yesterday.
"I feel that it was heard," he said.
'Absolutely disgusting'
The Brussels trip follows a visit to the Munich Security Conference, where Mr Pence pledged Mr Trump administration's "unwavering" commitment to the transatlantic alliance.
"President Trump and our people are truly devoted to our transatlantic union," he said.
But European allies continue to seek reassurance from Washington even though Pence, US Defence Secretary James Mattis and US Secretary of State Rex Tillerson stuck close to established policy during their first foray into Europe.
Mr Pence said Washington would push Russia to honour the Minsk ceasefire accords in Ukraine, while Mr Tillerson said the US would only cooperate with Moscow if it benefits the American people.
But French Foreign Minister Jean-Marc Ayrault said he was "struck" that Mr Pence had not mentioned the EU, after Mr Trump welcomed Brexit and appeared to voice hope that other EU states would follow suit.
Ms Mogherini has said Mr Pence's visit is "a very important political sign," though she suggested EU-US relations may become more pragmatic and less automatic than before.
She has also played down fears that fears that businessman Ted Malloch might be named the next US ambassador to Brussels despite anti-EU comments.
Mr Tusk and Mr Juncker have also expressed concerns about Mr Trump.
Mr Juncker has called Mr Trump's campaign "absolutely disgusting" and told TIME magazine last week that Mr Trump's remarks on the EU were "highly unfriendly and not helpful at all."