US Vice President Mike Pence brought a message of support for Europe from Donald Trump, but failed to wholly reassure allies worried about the new president's stance on Russia and the European Union.
In Mr Pence's first major foreign policy address for the Trump administration, he told European leaders that he spoke for Mr Trump when he promised "unwavering" commitment to the NATO alliance.
"Today, on behalf of President Trump, I bring you this assurance: the United States of America strongly supports NATO and will be unwavering in our commitment to this transatlantic alliance," Mr Pence told the Munich Security Conference, offering "greetings" from the president.
But he also repeated US calls for more defence spending in return: "As you keep faith with us, under President Trump we will always keep faith with you."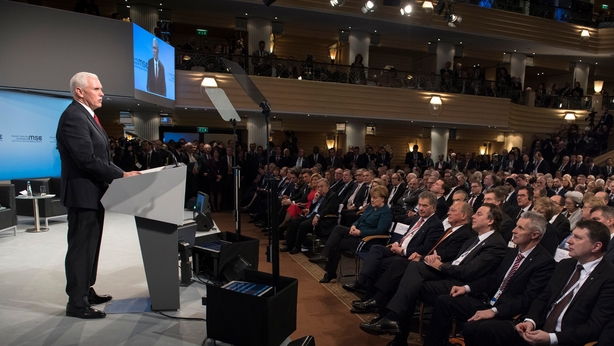 While Poland's defence minister praised Mr Pence, many others, including France's foreign minister and US lawmakers in Munich, remained sceptical that he had convinced his allies that Mr Trump would stand by Europe.
Mr Trump's contradictory remarks on the value of the North Atlantic Treaty Organisation, scepticism over the 2015 deal to curb Iran's nuclear ambitions and an apparent disregard for the future of the European Union have left Europe fearful for the seven-decade-old US guardianship of the West.
After Mr Pence spoke, former NATO deputy secretary general Alexander Vershbow, who is American, summed up the mood, saying: "Many in this hall are still asking if this is the real policy."
Mr Pence, whose meeting with German Chancellor Angela Merkel was described by German aides as "very friendly", also marked out a divide on Iran, which the European Union sees as a business opportunity following the nuclear deal.
Mr Pence called Tehran "the leading state sponsor of terrorism", language never used by European officials. Mr Pence's strident vow to consign Islamist militants "to the ash-heap of history" also raised eyebrows, European officials said.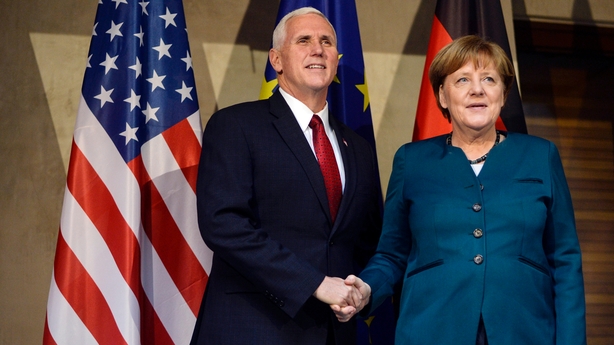 US Homeland Security Secretary John Kelly defended Mr Trump's directive suspending travel to the United States by citizens of seven mostly Muslim countries, since blocked by US judges, which was condemned by EU governments.
Mr Kelly said he would produce a "tighter, more streamlined version" soon, saying: "We need to find ways to vet in a more reliable way to satisfy us that people coming to the United States are coming for the right reasons."
French Foreign Minister Jean-Marc Ayrault expressed disappointment that Mr Pence's speech did not mention the European Union, although the vice president will take his message to EU headquarters in Brussels on Monday.
"I hope that we will have a clear response (in Brussels) ... because Donald Trump has said he was overjoyed by the Brexit and that there would be others," Mr Ayrault said, referring to Britain's decision to leave the European Union.