There is increasing speculation about whether or not the Taoiseach will make a statement about his intentions ahead of the Fine Gael parliamentary party meeting on Wednesday.
It comes after Dublin Senator Neale Richmond became the latest to suggest that Enda Kenny should indicate a timeline for his departure at Wednesday's meeting.
The chairman of the Fine Gael parliamentary party, Martin Haydon, sent members an email this evening saying he is greatly concerned that the Taoiseach and leader of the party is not being shown the respect that his service and office deserve.
In the email seen by RTÉ News, he said he has asked in the best interests of an united party and common decency that members refrain from making further public statements about the party leader.
He said such comments ultimately hurt the party and he added that any comments should be kept for next Wednesday's meeting.
3/6 @martinheydonfg appeals to TDs/senators in interests of a united FG & common decency not to make further statements over wkend @rtenews

— Martina Fitzgerald (@MartinaFitzg) February 17, 2017
Earlier, Fianna Fáil's Finance Spokesman said its confidence and supply arrangement with Fine Gael and the Independents was strained and tested to its limit this week.
Speaking on RTÉ's Six One, Michael McGrath said it is important the Government gets back on track and focuses on real issues, saying "it needs to get its house in order".
Fianna Fáil's Michael McGrath says it's important the Government gets back on track and "it needs to get its house in order" pic.twitter.com/OyEIed7nn4

— RTÉ News (@rtenews) February 17, 2017
Mr McGrath said Fianna Fáil is fully committed to honouring its confidence and supply agreement, but it will be assessing on an ongoing basis, the effectiveness of Government and monitoring it with keen interest. "It's very hard to know what's actually going on in Fine Gael.
In contrast, Fianna Fáil is united in its position and that is honouring the agreement that we signed up to," said Mr McGrath.
"Fine Gael needs to get is house in order. We can't afford a situation where the Fine Gael party is convulsed by a leadership issue, which spills over then into the performance and the functioning of government and that's our real concern."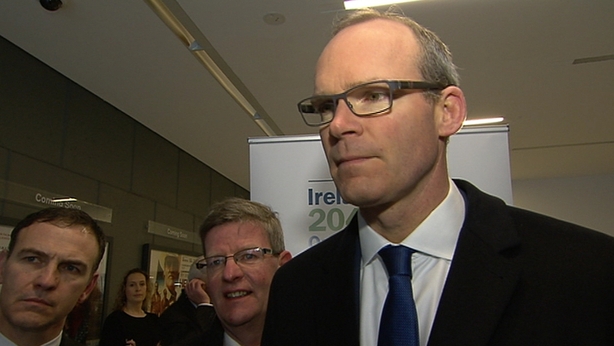 Earlier, Minister for Housing Simon Coveney has said he will not be giving the Taoiseach an ultimatum to step down but he trusts Enda Kenny to act "on his own judgement".
Mr Coveney, seen as a contender to replace Mr Kenny as leader of Fine Gael, said he does not think it is helpful that people are giving ultimatums and demanding timelines.
Speaking in Sligo, Mr Coveney said he trusts Mr Kenny to make a decision in the interest of the party and the country.
He continued: "He's his own person and I don't think he will respond to ultimatums. People who are demanding timelines by next Wednesday, I think, that represents a very small minority in the party.
"And I think most people in the party are not happy with that approach and I don't think Enda Kenny will be expected to respond to that."
He said a motion of no confidence would be damaging to Fine Gael and he hopes it does not happen.
Dublin Fingal Fine Gael TD Alan Farrell, however, has issued a statement joining calls for Mr Kenny to stand down.
Mr Farrell said he had not previously been aligned with TDs who wanted to see Mr Kenny step down but that he had issued his statement out of a sense of concern that Fine Gael was being damaged by the distraction caused by his handling of events.
A.Farrell says you could interpret his statement as message to An Taoiseach not to take too long making up his mind this wk end @rtenews pic.twitter.com/49x6JoUxpf

— Mícheál Lehane (@MichealLehane) February 17, 2017
Speaking to RTÉ's Drivetime, Mr Farrell said its his understanding that "the leadership race" takes approximately 20 days to complete and he does not believe there is any reason or rationale to delay the process, other than the Taoiseach to make his own position known.
Mr Farrell said he hopes his statement and comments would hasten that discussion.
Donohoe, Flanagan rule out bid for FG leadership
Minister for Public Expenditure and Reform Paschal Donohoe and Minister for Foreign Affairs Charlie Flanagan have both ruled themselves of any race for the leadership of Fine Gael.
Mr Donohoe said it is up to the Taoiseach to decide when he will stand down as Fine Gael leader.
Speaking on RTÉ's Morning Ireland, Mr Donohoe ruled out putting his name forward if there is a leadership contest.
He said he is very pleased with his current job and that is where his focus is. He said he wants to play a leadership role in Government, but does not currently want to be party leader.
Mr Flanagan has also ruled himself out of a potential Fine Gael leadership race.
He said he was "privileged to serve as minister for foreign affairs," adding "I have the job of Brexit at the top of my agenda."
Leadership change will not impact Brexit - Noonan
Minister for Finance Michael Noonan has denied that a change of Fine Gael leader would have any impact on Brexit negotiations.
Speaking ahead of the meeting of the All-Island Civic Dialogue, Mr Noonan said there was "no vacancy" for the position at present. But he added it was all part "of the normal political process".
Mr Noonan said leaders in Europe would "not raise an eyebrow".
Mr Kenny last night insisted he is focused on his work as Taoiseach and the challenges ahead, including Brexit.
He was responding to questions about a possible vote of no confidence in his leadership if he does not indicate when he is likely to step down.
The message from leading contenders for the Fine Gael leadership - Leo Varadkar and Mr Coveney - yesterday was that Mr Kenny would himself know when the time had come to leave office, and ultimatums were not appropriate.
Carlow TD Pat Deering, however, said that if Mr Kenny did not give some indication next week of when he intended to stand down, he would reluctantly table a no-confidence motion.
Minister of State for Tourism and Sport Patrick O'Donovan, meanwhile, said Mr Kenny should be given the time and space to lay out his own time frame for a transition of leadership.
He said that Mr Kenny has said he will not lead Fine Gael into the next election, and that position has been affirmed twice by the party, and that continues to be the position.
Phil Hogan says Kenny 'well able to handle' leadership issues
Ireland's European Commissioner Phil Hogan said it is "business as usual" for the Taoiseach as far as he can tell.
Speaking in Ballina, Co Mayo this morning, the Agriculture Commissioner said Mr Kenny had a number of scheduled meetings in the coming weeks with the European Commission, the European Council and the European Parliament, at which he would be putting across Ireland's position on Brexit.
Phil Hogan says it's" business as usual" for the Taoiseach, as far as he can tell. Speaking at Brexit discussion in Ballina this morning pic.twitter.com/ZxQgYkCf6S

— Pat McGrath (@patmcgrath) February 17, 2017
While he would not be drawn on how long the Taoiseach might remain in office, Mr Hogan said he was confident the Taoiseach was "well able to handle" any issues relating to his leadership.
Howlin critical of instability
Labour leader Brendan Howlin this morning said that it was unfortunate that there was a large degree of political instability North and South.
He said Ireland faced a double whammy in the form of Northern Assembly elections and "the fact that everyone is on the hustings".
He said political campaigning in Northern Ireland meant that everyone was taking very entrenched positions and that would make it very difficult to establish government after the election, and he said that would be compounded by any "hiatus" in the Republic.