Taoiseach Enda Kenny has warned that Ireland may need assistance from Europe as a result of Brexit, adding it was "a British policy not an Irish one".
Speaking at the All-Island Civic Dialogue at Dublin Castle, he said that there was a danger of a retreat to partisan debate in the North following the dissolution of the Assembly.
Mr Kenny said: "We must not return to a hard border" and the the most severe impact of Britain leaving the EU could be felt on this island.
Fianna Fáil leader Micheál Martin said Brexit is the biggest threat since the foundation of the State.
Speaking as he arrived at Dublin Castle, Mr Martin said people did not understand the gravity of Brexit.
He said it was a generational change which needed complete coherence and focus from Government and called again for a Brexit minister.
He was accompanied by Fianna Fáil's newest recruit, Stephen Donnelly, who has been appointed the party's Brexit spokesperson.
Sinn Féin leader Gerry Adams attacked Mr Kenny for not seeking a special status for Northern Ireland after Britain leaves the European Union.
He told the All Island Civic Dialogue that this refusal by Government was a "grave mistake" and it would result in a hard border.
Mr Adams demanded more clarity about whether contingency plans were being made by the Revenue Commissioners about the introduction of customs on the border.
Mr Martin said Ireland should seek a special economic zone status for Northern Ireland.
He said many businesses had concerns about the potential for new customs arrangements.
For many firms, he said this would be the first time that companies would have to track the movements of goods for the purposes of customs.
Mr Martin also said Ireland should seek exemptions from state aid rules after the UK leaves the EU.
Pressure mounting on DUP to reveal Brexit donors
Meanwhile, pressure is mounting on the Democratic Unionist Party to reveal who bankrolled its expensive UK-wide pro-Brexit campaign.
More than a quarter of a million pounds is believed to have been spent by the DUP to promote its 'leave Europe' message.
As part of that campaign, the party paid for an expensive four-page Vote To Leave EU advertisement in the British Metro newspaper. The paper is available in London and other cities but not in Northern Ireland.
Questions have arisen over how the DUP raised the cash for a costly Brexit campaign.
DUP leader Arlene Foster (below) has admitted that the party received donations after registering as a leave the European Union campaigner.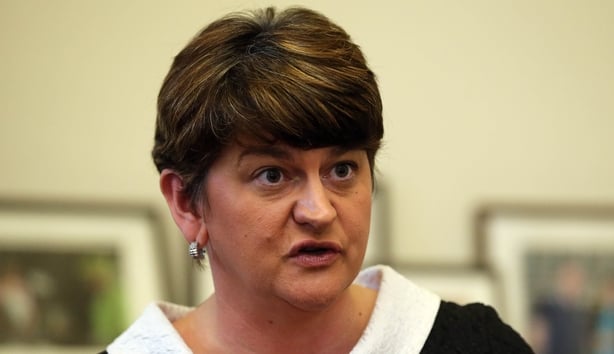 However, when pushed for details about the donors during a UTV pre-election debate in Northern Ireland last night she would only say: "From an organisation in England that wants to see the union kept and make sure we can have a United Kingdom."