Taoiseach Enda Kenny insisted tonight that he remains focused on his job as Taoiseach at what was a very challenging time.
Mr Kenny said he will concentrate on dealing with the preparations for what will be an "exceptionally difficult and challenging negotiations" in respect of Brexit.
Mr Kenny was responding to a question from RTÉ News in the wake of a statement from his Fine Gael colleague, Pat Deering, threatening to table a motion of no confidence in the Taoiseach.
Mr Deering, a Carlow-Kilkenny TD, has said he will table the motion if Mr Kenny does not clarify his intentions about stepping down to the Fine Gael parliamentary party by next week.
Pat Deering says he expects the Taoiseach to indicate a timeline for his departure as FG leader at a parliamentary party meeting next week pic.twitter.com/SLsTf5oMSa

— RTÉ News (@rtenews) February 16, 2017
Mr Deering said the parliamentary party needs to have a say on the matter.
While he said he hopes it does not come to this, he pointed out that the ball is in the Taoiseach's court.
Meanwhile a spokesperson for Leo Varadkar said the Minister for Social Protection will not be one of the ministers supposedly going to Mr Kenny today to make an ultimatum about his leadership.
Earlier, Mr Varadkar said that Mr Kenny will know when the time is right for him to step down.
Speaking at a Brexit-related event this afternoon, Mr Varadkar - who is seen as one of the contenders to replace the Taoiseach - said Mr Kenny had been a fabulous leader, but that in the last week the timeline for a general election had shortened.
He said he knew that Mr Kenny would know when it would be in the best interests of the party and the country for him to step down.
Leo Varadkar has said that Taoiseach Enda Kenny will know when the time is right for him to step down. More: https://t.co/ykwmBQ0z2C pic.twitter.com/XODnJzokgh

— RTÉ News (@rtenews) February 16, 2017
Live: Today's political updates
Mícheál Lehane: Kenny facing swift heave unless he quits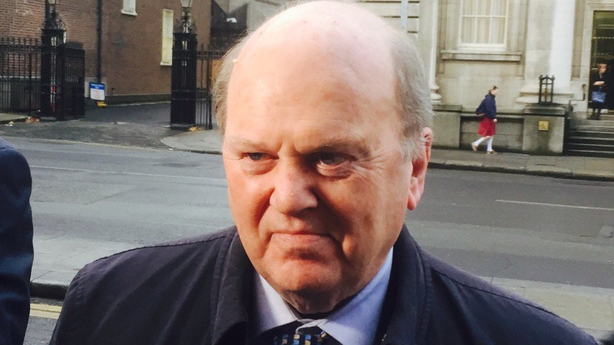 Elsewhere, Minister for Finance Michael Noonan said that the next general election has been brought closer by recent events.
He was speaking after the Cabinet this morning agreed the terms of reference of a tribunal of inquiry into the garda whistleblower controversy.
The terms of reference were subsequently agreed upon by the Dáil without a vote.
Mr Noonan said he expects the motion to be passed by the Dáil today and by the Seanad tonight and that Supreme Court judge Peter Charleton has agreed to lead the tribunal.
Mr Noonan said the judge expects to begin work next Tuesday and to have completed his work in nine months.
The tribunal will prioritise allegations against Sergeant Maurice McCabe, who in an interview with the Anglo Celt newspaper said if he could turn back time he "probably would not do it all again" because of how he was treated during "eight years of constant abuse." 
Other high-profile whistleblowers are expected to be looked at in a separate module.
The terms of reference will include Tusla and the Health Service Executive where relevant.
The terms are understood to state that the tribunal will look at any negative patterns between gardaí and Tusla.
The tribunal is expected to issue an interim report within three months.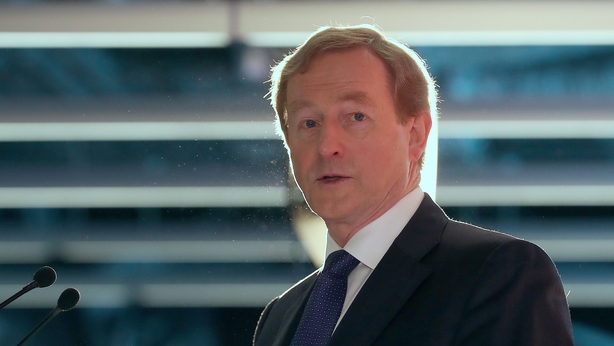 No party election ready, Fine Gael TD claims
This morning Fine Gael parliamentary party chairman Martin Heydon said the leadership issue did not come up at a meeting last night and he did not believe any political party was election ready.
He added that he trusted the Taoiseach to set out the timeline for his departure and to pick the time that is best for the country and the party.
"Obviously there are a number of considerations here," he said.
"The different considerations are that this isn't just an internal Fine Gael matter. We are cognisant of our colleagues in the Independent Alliance with whom we've fostered a very strong relationship over the last year to provide good government.|"
The changeover, when it happens, has a knock on implication and I trust the Taoiseach to choose the time of his choosing that is in the best interests of the country.
He added it has been a very difficult week and Mr Kenny has made mistakes but everyone makes mistakes. 
Mr Heydon also said that he had no doubt there was an orchestrated campaign against Sgt McCabe.
Martin Heydon, Fine Gael Parliamentary Party Chairman, says they never discussed the leadership at last night's meeting pic.twitter.com/46Eh9L21t2

— Morning Ireland (@morningireland) February 16, 2017
He said that if Garda Commissioner Nóirín O'Sullivan felt she was unable to carry out her role to the best of her ability, then she should make the decision to step back.
However, he said it was a decision for her to make.
The Government won a motion of confidence in the Dáil last night by 57 votes to 52. There were 44 abstentions.
---
Additional reporting David Davin-Power
Yesterday's, parliamentary party meeting put the Taoiseach on notice that he has to outline his plans to step down before his departure for Washington next month.
Both Leo Varadkar and Simon Coveney and others set out a thinly-veiled ultimatum to the Taoiseach when they said the party had now to move to make preparations for an election.
The Taoiseach has already said he will not lead the party in that contest.
After the meeting, some of Mr Kenny's opponents intimated that he might face a no-confidence vote should he ignore what was an unmistakable message.
Some ministers said that was a real prospect but figures close to Mr Varadkar were adamant the suggestions did not come from him.
Few around Leinster House last night doubted that Mr Kenny was now facing real pressure - with middle-ground TDs now tending to the view that he had to make his plans clear sooner rather than later.