International jobs search website Indeed has announced plans for 500 jobs at its Dublin headquarters for Europe, the Middle East and Africa.
The company plans to recruit staff in areas including sales, human resources, marketing, finance, operations and business development over the next two years.
Indeed first opened its Dublin office five years ago, and quickly grew its staff to 230.
It announced 300 further jobs in November 2015, bringing its overall headcount today to well over 500.
This latest investment, officially announced by the Taoiseach, will see the numbers employed by Indeed in Ireland double.
Enda Kenny told the staff of Indeed "it's a lot easier to talk to you than other people these days".
He spoke about Brexit saying that Ireland will remain as a member of the EU and take part of the negotiations when they begin.
Last year Indeed outgrew its offices in Grand Canal Docks, moving to a new headquarters in St Stephen's Green with space to accommodate this expansion.
The company, which is based in Japan, operates in more than 60 countries and is visited by 200 million jobseekers each month.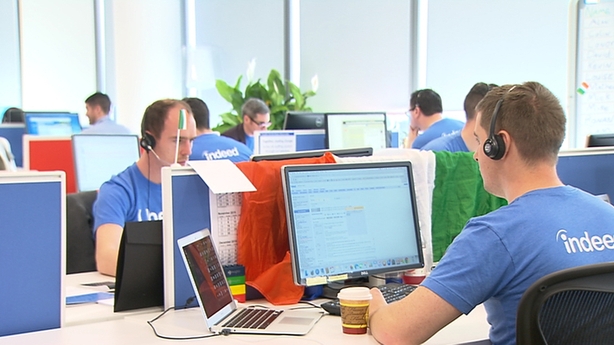 It is understood the new employees are needed to service rapidly growing international business.
Indeed President Chris Hyams said: "Today's announcement is a particularly important one for Indeed. Deciding where to recruit and hire the right people ultimately helps us to fulfil Indeed's mission, to help people get jobs.
"Having our EMEA hub in Dublin is the natural choice given the large pool of high-skilled talent both locally and from the rest of Europe.
"We now have 530 employees, representing 19 nationalities in our Dublin office. We look forward to growing our presence here in Dublin and continuing to work every day to help even more people get jobs all over the world."
Mr Kenny welcomed the announcement, saying Indeed's "staggering growth" since its establishment in Ireland in 2012 "is a fantastic endorsement of our strengthening economy and is a reflection of the benefits of doing business in Ireland".
He added: "Ireland will remain a central and committed member of the EU and the Single Market and growing dynamic companies like Indeed can rest assured we will work continually to promote the opportunities of the European Single Market."
Minister for Jobs, Enterprise and Innovation Mary Mitchell O'Connor said: "An additional 500 jobs is a huge economic boost and vote of confidence in Ireland. We are very keen to support the new dynamic internet-based services sector and Indeed has blazed a trail in this area."
Orreco to create 30 new jobs amid new funding round
Irish sports and data science company Orreco has secured $2m in funding from Silicon Valley-based venture firm True Ventures, which has also invested in Fitbit.

Orreco said the new funding will enable it to fund its expansion in the US and Europe, and further develop its suite of sports science and data solutions for professional sports.
It will also use the investment to create 30 new jobs in its Galway office and at a new office in Los Angeles.
The company was founded in Ireland in 2010 by sport scientist Dr Brian Moore, and haematologist Dr Andrew Hodgson.