A Galway man who sued his stepmother for a share in a lotto win has won his High Court case.
David Walsh of Knocknagreena Ballinasloe Co Galway had sued his stepmother Mary Walsh from Perrsepark, Ballinasloe.
He claimed he was entitled to more than €500,000 from a €3.3m jackpot won in January 2011.
After a six-day hearing, Mr Justice Richard Humphreys said he believed the evidence of Mr Walsh over that of his stepmother whose evidence he described as unreliable consisting of "ducking and weaving and self contradiction".
He ordered her to pay him €564,000 with costs.
The judge granted a stay on the order on condition that Ms Walsh lodge €929,000 in court, to include the amount of the order, estimated costs of the High Court case and half the costs of the appeal.
Mr Walsh's lawyers may also seek an injunction ordering her not to reduce her assets below that amount.
The case returns to court on Monday.
'Justice has prevailed' – a happy, and wet, David Walsh after the High Court rules in his favour in Lotto case pic.twitter.com/2XqC3mlMwr

— RTÉ News (@rtenews) February 2, 2017
The judge described Ms Walsh as being a person capable of "considerable calculation and design" having "done very well out of" the Walsh family even before the Lotto win by having the business, bank accounts and the family home signed into her joint name with her late husband so that everything passed to her on his death.
The judge said she was "tripped up" by trying to access one account containing a relatively small amount of money leading her to sign a false affidavit to Revenue.
The judge said she had made a conscious decision to swear a false affidavit for the purpose of hiding assets from her step children.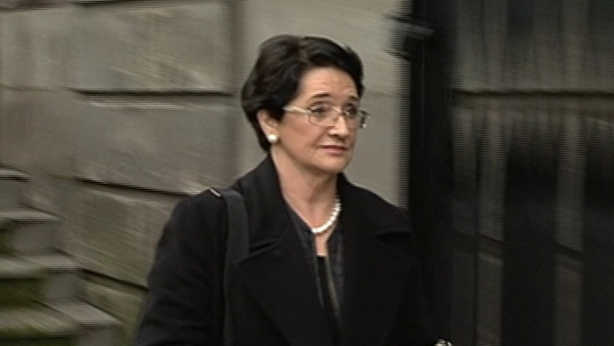 He said by her own evidence she had been prepared to give only €300,000 of the win to her husband's blood relatives while €3m was at her disposal for herself and her blood relatives.
Mr Justice Humphreys said it was more likely that the agreement was to divide the winnings in six equal parts, given there were three signatures from each side of the family.
He rejected Ms Walsh's evidence that the reason she had allowed others to sign the back of the ticket was to enable them to avoid gift tax.
He said five of the six signatories would not have been liable for gift tax.
He also rejected her evidence that Mr Walsh chose to take the family home valued at €135,000 instead of €200,000 cash. He said it did not made sense that he would do himself out of €60,000.
Signing of the ticket was a family agreement, judge says
Mr Justice Humphreys ruled that the signing of the ticket was the result of a family agreement and by accepting the winnings on behalf of the group, Mary Walsh had held the money in trust for the others.
He found that the transfer of the house to Mr Walsh had nothing to do with the Lotto win.
The seven-day hearing was told Mr Walsh's signature was among six which were written on the back of the winning ticket.
He said he signed the ticket in the presence of his father and stepmother and was promised a share by his father.
However his father later became ill and died in December 2011 and he said his stepmother did not give him the money.
Ms Walsh claimed he was given the family home instead of the money.
The hearing was told legal documents concerning the house transfer contained no reference to it being in lieu of a cash gift. The solicitor who worked on the transfer also said it was never mentioned to her.
The court was told others who signed the back of the ticket were given large sums of money.
Ms Walsh's son Jason received €300,000 and her son Tony was given €456,000.
David Walsh's cousin Kevin Black was given €100,000.
Mary Walsh claimed in evidence that she told the National Lottery she was the sole owner of the ticket but was advised to let others sign it so they could avoid gift tax.
However, internal lottery emails sent the day after she made contact described the winner as a syndicate.
Ms Walsh was also sent an email with instructions for syndicates on how to claim a prize. Lawyers for Mr Walsh said the information from the National Lottery was clear.
Anyone who signed the back of a ticket and the syndicate claim forms was legally and factually deemed to be a co-owner of the ticket, they said.
A retired claims manager with the National Lottery said it was possible he had given the advice as claimed by Ms Walsh.
However, he said he had no memory of the phone call with her and also agreed it was possible she told him a syndicate had won the prize.
During the hearing it also emerged that Ms Walsh had made a false statement to Revenue after her husband's death in which she omitted the fact that her late husband had four surviving children.
She also left out details of joint accounts she held with her late husband.
Her solicitor at the time Aileen Giblin said these details were immaterial because Ms Walsh was the sole beneficiary of her husband's will and all property and bank accounts except one were in their joint names, meaning everything passed to her on his death.
However it led to an exchange with Mr Justice Humpreys who said both Ms Walsh and Ms Giblin knew that the information in the sworn statement was a lie.
In her evidence, Ms Walsh denied that she had been trying to hide accounts from her stepchildren. She said she was acting on legal advice when she filled out the form and was given the option of "filling in or not filling in" certain details.
We need your consent to load this rte-player contentWe use rte-player to manage extra content that can set cookies on your device and collect data about your activity. Please review their details and accept them to load the content.Manage Preferences