Minister for Transport Shane Ross has reiterated that rural Ireland is a priority for Government when it comes to public transport as the crisis at Bus Éireann escalates.
Mr Ross was responding to Opposition TDs during a Fianna Fáil Private Member's motion tonight which called on the Government to commit adequate funding to the public sector transport network.
It comes as Bus Éireann workers belonging to the Unite trade union have joined other unions in backing strike action in a row over company plans to cut pay and conditions as part of a survival plan aimed at averting insolvency.
The National Bus and Rail Union and SIPTU, which represent thousands of bus drivers, have already voted to take strike action if the company moves to implement cuts without agreement.
Fianna Fáil transport spokesperson Robert Troy said the State needed to maintain a core public service in public transport, saying that there was fear and anxiety among those reliant on services and those working in Bus Éireann.
Mr Troy said inaction has resulted in where Bus Éireann is today.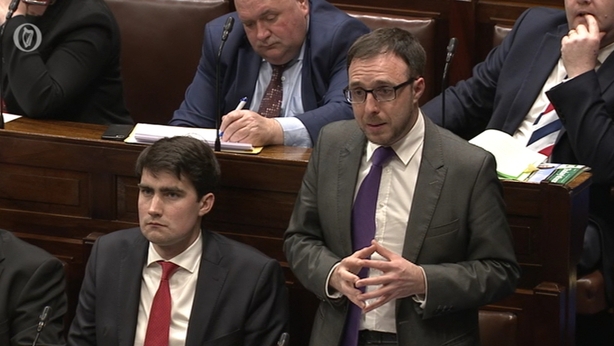 He accused Minister for Transport Shane Ross of happily allowing private operators to run commercial routes between large urban areas with Public Service Obligations taking up the rest.
Minister Ross told the Dáil that the Government is committed to a well-funded public transport system, and said there were items in Fianna Fáil's motion that the Government could agree with and support.
He acknowledged that funding of the Free Travel Scheme needed to be looked at, and said he would work with the Minister for Social Protection to examine whether funding levels "effectively frozen at 2010 levels" are adequate today.
The minister also said rural Ireland is a top priority, which is why he met with the National Transport Agency recently to better inform himself of their statutory powers and track record in this regard.
Mr Ross said the NTA, which "stands ready to assist rural Ireland", would not be found wanting if routes and services are changed.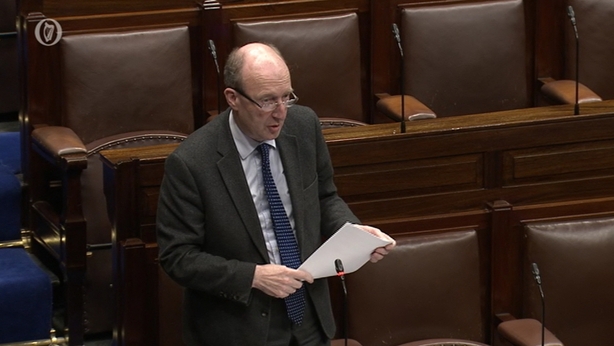 He added: "As minister, I support constructive dialogue between management and its employees, as it is only through such dialogue that the company's difficulties can be resolved".
Sinn Féin said Bus Éireann's problems are a result of bad policy, poor decision-making and gross under funding.
Its transport spokesperson Imelda Munster said the subvention levels were the lowest in Europe, with the free travel pass being funded at just 41% of the cost.
She said the race to the bottom in terms of workers' rights had been quite shocking.
She told Minister Ross he would be responsible for chaos if he failed to intervene.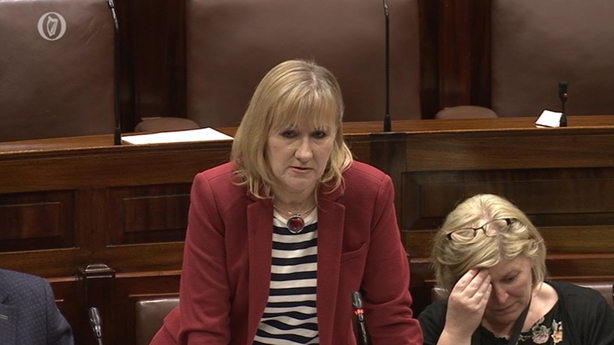 Unite Regional Officer Willie Quigley earlier said the unanimous vote by members reflected their anger at Bus Éireann's approach to the dispute in recent weeks.
Unite represents around 100 of the 200-strong craft workers group largely engaged in the bus maintenance division – a division highlighted for possible rationalisation in a recent external consultants' report.
Mr Quigley said their anger had been exacerbated by what he called the persistent refusal of Minister for Transport Shane Ross to take a proactive role in the current crisis and convene a meeting of all stakeholders.
He said leaks suggesting the threatened closure of some garages had caused great concern to workers and local communities.
Bus Éireann unions will meet on Thursday to agree a response to what Mr Quigley called the forced implementation of cuts.
Management at Bus Éireann said last week that cost cutting would be implemented on 20 February.
These include cuts to premium and overtime payments.
Minister Ross is to discuss the financial situation of the company before the Oireachtas Transport Committee tomorrow.
Last night, RTÉ News revealed that Bus Éireann had presented three restructuring plans to the Department of Transport, Tourism and Sport, its CIÉ parent company and the New ERA government body since 2015 - but none were accepted.