Bus Éireann has presented three restructuring plans to the Department of Transport, Tourism and Sport, its CIE parent company and the New ERA government body since 2015 - but none have been accepted, resulting in losses continuing to accumulate.
This is revealed in a Bus Éireann document marked commercially sensitive and confidential entitled "Bus Éireann Existence Plan: For discussion with the Department of Transport Tourism and Sport" dated 20 September 2016.
In recent weeks, a new management team has warned that the company is now on the brink of insolvency.
It is also facing the threat of industrial action over plans to cut pay and conditions for staff as part of a wide-ranging survival plan.
The previous proposals submitted were the BE Strategy and Roadmap from April 2015, the Expressway five-year plan approved by the company's board in Feburary 2016, and the Bus Éireann Existence Plan reviewed with CIE, the Department of Transport and New Era between July and September 2016.
However, Bus Éireann's September Existence Plan report states: "These plans have not been accepted, and losses have continued to accumulate".
It considers three options: doing nothing, exit from the loss-making Expressway service, or retain Expressway in a restructured Bus Éireann entity.
Exiting Expressway would result in 516 redundancies, according to report 
It notes that exiting Expressway would involve 516 redundancies which would be compulsory for the first time in CIE's history.
It states that in order to mitigate the risk of widespread industrial action over the compulsory job losses, which could spread to other CIE group companies, a more generous and costly redundancy package would be required.
It also notes that the job losses would cost the state €10m a year in PAYE, PRSI and VAT foregone.
It also notes that exiting Expressway would lead to higher costs of up to €5m for the National Transport Authority which would have to subsidise additional routes previously serviced by Expressway.
Examining the prospect of restructuring Bus Éireann, the report says once-off costs incurred in 2017 would result in improvements to the Expressway bottom line of €6.9 million from 2018.
It estimates that a general pay cut across the company could reduce costs by €4.5m.
The Board and management supports the restructuring option, stating: "This plan is recognised as having very high risk. However, since it minimises dependencies outside of BE in terms of funding support, and in the absence of other supported options it is the default plan which BE board and management are prepared to proceed with as an alternative to doing nothing. "
Separately, an external analysis of Bus Éireann maintenance operations has warned that if the company loses routes currently being put out to tender by the National Transport Authority, up to four maintenance depots could close.
Consultants Steer Davies Gleave found wide variations in efficiency, overtime levels and maintenance costs in different depots which they attributed to different custom and practice in different depots.
They found potential for economies of scale at smaller depots servicing fewer than 50 buses.
They raised serious concerns about the conditions of several premises, saying that while some investment is essential, the option of closing certain depots might provide a more economic solution.
They refer specifically to Dundalk and Limerick as high priorities for remedial action, saying that these two depots alone require investment of €8m.
They recommend consideration of closing the Dundalk garage, and moving the Limerick operation to the bus station when it is rebuilt.
They also say there is scope to look at the future of Cavan, and the replacement of leased premises at Kells.
The consultants say the future approach to Expressway service provision - including possibly moving towards sub-contracting some or all operations is under consideration.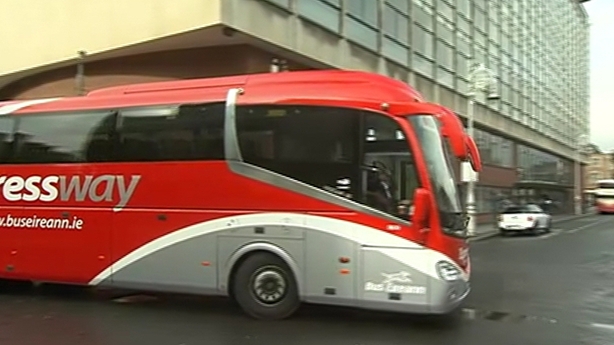 They say working patterns differ considerably from depot to depot, and overtime levels are "surprisingly varied" - and do not seem to directly relate to the size of depots, or the levels of absence by staff.
The consultants say increased levels of shift working would enable more productive use of depot equipment.
On the issue of staff resistance to proposed reforms they state: "It is recognised there may be industrial relations challenges associated with changes to working practices needed to deliver greater labour efficiency - but our analysis demonstrates that efforts to reform have potential to yield significant financial benefits"
They also recommend additional capital investment in the Bus Éireann fleet.
In a statement, Bus Éireann said that "there were many corrective proposals drawn up over the last 24 months in a bid to improve the deteriorating financial situation.
"These culminated in a final implementation plan which was presented to the board and reviewed by Grant Thornton.
"New management are currently working on a new efficiency plan - elements of which have already been introduced - and which will be presented to the board at the end of March.
"We are seeking to engage with unions on other cost savings measures that must be introduced for the business to become competitive and sustainable."