British Prime Minister Theresa May has refused to back down on inviting US President Donald Trump for a state visit, despite a petition gaining more than 1.5 million signatures and protesters rallying across the country.
Mrs May is standing firm on the invitation, which would see Mr Trump honoured by parliament and Queen Elizabeth II, despite the prime minister's office saying she does not agree with his controversial ban on refugees and citizens of seven mainly Muslim countries.
"The United States is a close ally of the UK, we work together across many areas of mutual interest and we have that special relationship between us," Mrs May told a press conference in Dublin alongside Taoiseach Enda Kenny.
"I have issued that invitation for a state visit to President Trump to the UK and that invitation stands."
She added: "In relation to the policies that have been announced by the US, the UK takes a different approach."
Mrs May announced the state visit during a meeting with Mr Trump at the White House on Friday, which was intended to boost trade ties after Britain leaves the European Union.
But her closeness to Mr Trump drew fire at home, particularly when she initially failed to condemn the travel ban, saying it was a US affair.
Tens of thousands protest in UK cities
Protesters rallied in cities across the UK today, with a police source telling AFP the crowd in London stood at tens of thousands.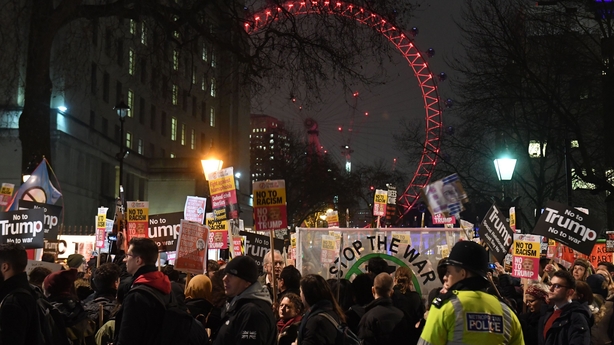 "Don't hold hands with Nazis" and "No to racism, no to Trump" read placards in London, while the crowd chanted: "Shame on you Theresa May."
The national mood was captured on several of Britain's newspaper front pages for tomorrow, many of which carried protest photos contrasting with Mrs May's position.
By this evening, more than 1.5 million people had signed an online petition calling for the state visit to be cancelled because Mr Trump's "well documented misogyny and vulgarity disqualifies him" from meeting the queen.
Set up several months ago, the number of signatures has surged since Mr Trump signed his contentious executive order on Friday.
'Divisive and wrong'
Opposition Labour leader Jeremy Corbyn, the smaller Liberal Democrats and the Scottish National Party have all called for the state visit to be cancelled, as have some from Mrs May's own party.
Conservative Muslim lawmaker Sayeeda Warsi told BBC radio that Britain should question whether it should roll out the red carpet for "a man who has no respect for women, disdain for minorities... and whose policies are rooted in divisive rhetoric."
Mr Trump's order suspended the arrival of all refugees for at least 120 days, Syrian refugees indefinitely, and barred citizens from Iran, Iraq, Libya, Somalia, Sudan, Syria and Yemen for 90 days.
British foreign minister Boris Johnson told parliament it was "divisive and wrong to stigmatise because of nationality", confirming that, after talks with the US administration, most Britons would be exempt.
However, Mr Johnson said there was "no reason "why Trump shouldn't receive a state visit,calling the US-UK relationship the "single most important geopolitical fact of the last 100 years".