A High Court case by a man who is suing his stepmother for a share in a Lotto jackpot has heard legal records contained no reference to a house transfer being in lieu of a cash gift from the winnings.
David Walsh of Knocknagreena, Ballinasloe, Co Galway has taken the action against his stepmother Mary Walsh from Perrsepark, Ballinasloe.
He claims he is entitled to more than €500,000 from a €3.3 million jackpot won in January 2011. His signature was among six which were written on the back of the winning ticket.
Mr Walsh told the court he signed the ticket in the presence of his father and stepmother and was promised a share.
However, his father died in December 2011 and he said his stepmother did not give him the money. Ms Walsh said he was given a house instead of the money.
In court today, a solicitor who acted for Ms Walsh and her husband on the house transfer agreed there was no mention of the lottery win in any of the notes of meetings concerning the house transfer.
Aileen Giblin of Jack Duncan and Company Solicitors in Co Galway, outlined notes of conversations with Ms Walsh which recorded that she "wasn't altogether delighted" with the idea of transferring the house to Mr Walsh but in the end was happy to comply with her husband's wishes.
Ms Giblin agreed that none of the records of meetings, phone calls or letters pertaining to the transfer mentioned anything about the Lotto win.
The court has previously heard various cheques were sent on behalf of Ms Walsh to others who has signed the back of the ticket including a €300,000 cheque to her son Jason, one for £380,000 (approx €456,000) to her son Tony, who lives in Wales and one for €100,000 to Kevin Black, a cousin of Mr Walsh.
Ms Walsh claims Mr Walsh was offered the option of having €200,000 from the Lotto win or the family home at Knocknagreena and opted for the house.
The house was valued at €135,000 in 2013 and Mr Walsh had to borrow to pay the gift tax which he later discovered he should not have had to pay.
Ms Giblin was also questioned about an inland revenue affidavit signed by Ms Walsh after the death of her husband Peter Walsh.
The form was needed to access €50,000 which was in a bank account in Peter Walsh's sole name.
Ms Giblin confirmed that in accordance with instructions from Ms Walsh, a box indicating whether or not Peter Walsh had children was left blank.
Peter Walsh had four children from his previous marriage. In reply to questions from senior counsel Derval Browne, the solicitor said it was "not material because everything in the estate was passing to the spouse".
Asked if it would be usual to be instructed to leave a box unticked when in fact there were surviving relatives Ms Giblin said "it would depend on the circumstances".
Asked if she had ever been instructed to do so before (by other clients) she said "I can't say".
It was pointed out to Ms Giblin that the form carried a warning which said applicants who swore the affidavit without personally verifying the statements were true may be liable for penalties.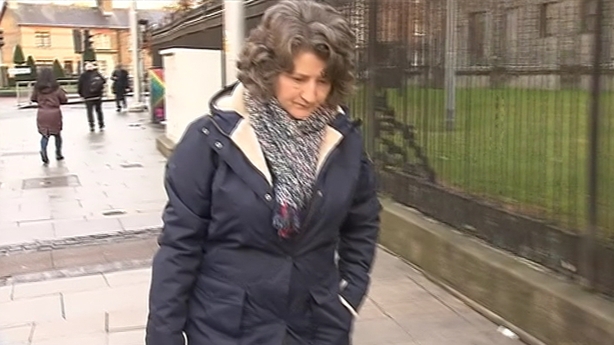 Ms Giblin said she was not aware what the penalties were and had never been questioned about an inland revenue affidavit.
She said she would have advised clients that it was a sworn document and that they were swearing it and signing it.
However on cross examination Ms Giblin denied that she had advised Mary Walsh to leave out details of Peter Walsh's children and of some assets held in their joint names.
It was put to her by senior counsel Michael Delaney that Ms Walsh will say she was acting on Ms Giblin's advice when she omitted certain things from the inland revenue form.
"She recalls that she gave those instructions in accordance with advice you gave?" Ms Giblin replied: "I have nothing to say to that." she added: "I would not say to someone don't put it in. It is up to them."
Mr Delaney said Ms Walsh "would put it further and say you did not simply give her the information you advised her in a particular way and it was not simply a matter of giving her the option."
Ms Giblin replied: "I would have given her the option". She also said the form "speaks for itself".
The court was also told that her file contained a note of advice given to Mary Walsh that the contents of the form would be available to anyone with an interest including Mr Walsh's children if they went looking for it and they would be able to see what assets they had and their whereabouts.
Mr Justice Richard Humpreys asked Ms Giblin if she had ticked a box on the form "knowing it was a lie". Ms Giblin replied "yes".
"And she (Mary Walsh) knew that as well?" the judge asked. Ms Giblin replied: "yes".
Mr Justice Humpreys asked: "And the statement that she swore that it was fully correct and complete she knew that was a lie?" Ms Giblin replied "yes"
"And you facilitated the taking of that by completing it and identifying the deponent even though you knew it was a lie?". Ms Giblin replied "yes".
The judge then asked, "And you know that lying on affidavit is the offence of perjury?", to which Ms Giblin replied "yes."
The case continues on Tuesday.