Some of the known survivors of abuse at the hands of an elite Catholic society in Peru have rejected offers of compensation, branding them "ridiculous and offensive".
Meanwhile, the influential Sodalitium Christianae Vitae announced it had reached a $2.84 million-plus reparation agreement with 35 victims of the organisation's former leaders.
The SCV, which was founded in the country in 1971 is composed of two bishops, three dozen priests and 248 brothers and was running 39 parishes, according to the latest available official figures from 2014.
The Peruvian prosecutor's office has filed 27 complaints against the SCV's founder, Luis Fernando Figari but the Attorney General said this week that no charges would be pressed due to a lack of evidence.
Last April, the SCV admitted Figari was guilty of accusations of sexual and physical abuse.
The Society's Superior General, Alessandro Moroni said that nine of the known victims have not accepted the compensation.
"An agreement for economic compensation has been reached in 47 cases. Of these … 35 have been finalised and there are 12 remaining. There are five people waiting for a court hearing, three who have rejected the proposal and one who does not want to continue with the process," he added.
He said a fund amounting to more than $2.84m has been set aside for compensation.
But some victims have complained that the compensation is not enough, that more than one person has disengaged from the negotiation process and that the deal fails to include an apology.
Pedro Salinas said all fellow-survivors he had spoken with have described the offers as "ridiculous and offensive".
"That's why you have cases of people who have rejected (compensation and) people who have not continued with the process because they feel they are being abused again by the SCV, they feel they are victims again of the institution. Also, where is a public apology?" he asked.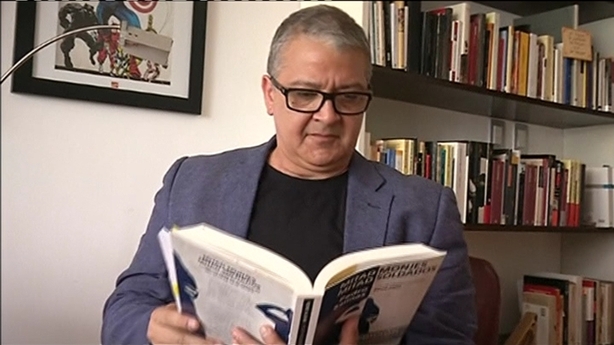 In a book co-authored by Mr Salinas, he documented incidents of abuse involving the SCV. Its publication prompted the society into criticizing its founder.
He has criticised the role of Peru's prosecutors in investigating the alleged crimes and a court decision questioning the impact of abuse on the victims.
Figari, a 69-year-old Peruvian layman, currently lives in Rome and the Vatican has initiated its own process against him.
The hierarchy of the Catholic Church in Peru has said it has recognised Figari's crimes and has welcomed the deal attempting to resolve the matter with victims.
In a statement, Monsignor Salvador Pineiro, the President of the Peruvian Bishops' Conference said the country's bishops agree with all those who want to know the truth about the accusations against some members of the SCV.
"We have shown sympathy with the victims and hope for adequate compensation. We demand the civil court decisions be fair and for await a prompt response from the ecclesiastical forum (in the Vatican)," he said.
However, the Bishop who investigated the allegations for the Vatican has said he did not have time to read Salinas' book.
In an interview last year with a journalist the Bishop of Chota, Pablo Urcey, said that he had met nearly 100 current and former members of the SCV and had prepared a brief 30-page report for the Vatican.
But the bishop said that, although many witnesses alleged psychological abuse, the only evidence of pedophilia he had uncovered was through two separate written statements from people he did not meet.
He also said that he had not read Mr Salinas' book because he had been "too busy" with his other duties, including working as General Secretary of Peru's Episcopal Conference.
"We have been focused on how he [Figari] exercised his authority as founder," Bishop Urcey said, adding that this could have helped cover up "deviation" within the group. "The testimony alleges that he was authoritarian, despotic, bossy, and elitist."
Last week, Peru's Attorney General's office revealed that it will not be pressing sex abuse charges against Figari due to a lack of evidence.
Earlier this year, Pope Francis called on all Catholic bishops to show zero tolerance for sexual abuse.
Since his election in 2013, the first Latin American Pontiff has taken steps to root it out of the Church and to implement child protection practices. But many victims' groups say he has not done enough, particularly to hold to account bishops who tolerated sexual abuse or covered it up.