Gardaí have said the operation which resulted in the seizure of a number of firearms at an industrial estate in west Dublin disrupted an imminent attack and saved lives.
Detective Superintendent Tony Howard, of the National Drugs and Organised Crime Bureau, said a minimum of 15 guns were recovered in a warehouse in the Greenogue industrial estate.
The haul included an assault rifle, a sub-machine gun, several handguns and semi-automatic pistols.
Some of the weapons were loaded.
Gardaí say they are investigating whether the guns are connected to the Kinahan crime cartel, but added that this was not their only line of investigation.
Det Supt Howard said there were very few gangs who have the ability to amass the weapons in terms of quantity and calibre.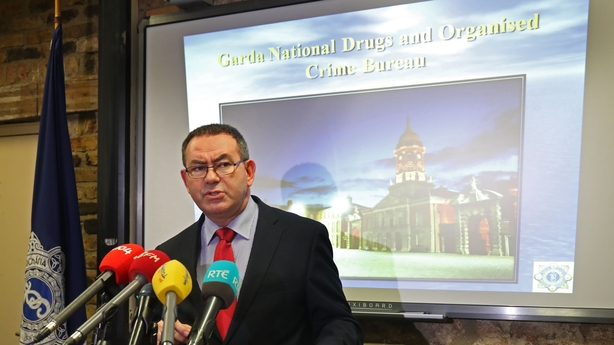 Three men, aged in their 40s and 50s, have been arrested and are being held at separate garda stations in the west of the city.
One of the men was arrested at the scene while the other two were detained nearby.
Gardaí are appealing for anyone with information to come forward.