The wife of a man who murdered his two young sons has secured a High Court judgment of more than €77,000 against him over their deaths.
Kathleen Chada from Ballinkillen, Bagenalstown, Co Carlow, sued 45-year-old Sanjeev Chada, who is serving a life sentence at Arbour Hill Prison in Dublin.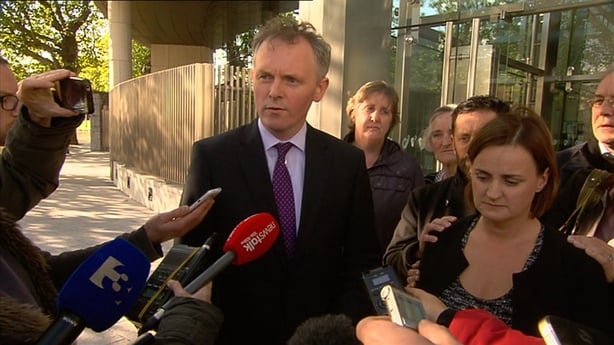 Ms Chada sued him for assault, battery and trespass of the person causing the deaths of ten-year-old Eoghan and five-year-old Ruairí Chada at Skehanagh Lower, Ballintubber, Co Mayo, in late July 2013.
He was jailed for life in October 2014 after pleading guilty to the murders.
Warning: Readers may find the following content distressing
The Central Criminal Court heard the boys' bodies were discovered in the boot of Chada's car on 29 July 2013, after it had crashed into a wall near Westport with him in the driver's seat.
Chada, who had run up gambling debts, told his wife he was taking their sons bowling in Carlow but instead drove to Mayo where he strangled the boys with a rope before trying to kill himself.
The court also heard Chada had secretly mounted huge debts from online trading and had borrowed from family and friends and lost large amounts of money. He was €500,000 in debt at one stage from gambling other people's money.
In one note he wrote before the killings, Chada said: "I could not let you bear the pain of being from a broken home.
"Mammy is getting rid of me and I could not leave you behind. I have so much to teach you but I could not do that if I was not with you.
"We will be together now in some way - in the most beautiful country, your mate and Daddy."
He told gardaí he killed them "because I love them so much".
Today Mr Justice Seamus Noonan was told Chada was not contesting the judgment application.
The judge said it was not necessary for Ms Chada to give evidence. He told her he was "terribly sorry over the tragedy that has befallen your family. It was an unspeakable tragedy and you have my sympathy".
Ms Chada thanked the judge.
The court was told the boys' maternal grandparents had waived any claim in relation to the case as had the paternal grandmother who lives in Romford, England.
Mr Justice Noonan was also told a sum for the legal costs had also been agreed.