Taoiseach Enda Kenny has said that "papers are being prepared" on ways to minimise customs checks on the border between Northern Ireland and the Republic as a result of Britain leaving the EU customs union.
Mr Kenny said that British Prime Minister Theresa May's speeches in London and Davos this week had accelerated discussions on how to minimise the need for a hard border with customs posts on the island of Ireland.
Officials, however, are anxious to avoid any impression that Ireland is involved in bilateral negotiations with Britain before Article 50 has been formally triggered.
Sources also say that Dublin is concerned that no technical discussions on border issues pre-judge the outcome of the Brexit negotiations.
However, Mr Kenny was explicit that options are being explored.
"Now that we have some clarity on this from the Prime Minister, there are a number of options being looked at by the experts that we have with experience in this field," Mr Kenny told reporters at the World Economic Forum in Davos.
He said he and Ms May would hold further talks on the issue when she visits Dublin before the end of January.
"Prime Minister May is coming to Dublin at the end of the month and I'll have some further discussion these issues when she comes to Dublin."
If Britain leaves the customs union then goods entering the Republic from Northern Ireland would in theory be subject to tarrifs and duties which would historically require customs checks.
In her speech in London on Tuesday Ms May said she wanted a "frictionless" arrangement to cover the future customs arrangements once Britain is out of the EU.
It is understood the Government believes her speech left sufficient room for interpretation and that at the end of the negotations Britain could still be "coupled" tightly to its current status as part of the customs union.
In particular her reference to an "associate membership", while being frowned upon by several capitals, could, if workable, help avoid a hard, physical border on the island of Ireland.
Mr Kenny did not specify which options were being looked in the preparation of Ms May's visit.
However, RTE News understands that officials from the Revenue Commissioners have been meeting European Commission experts since last Autumn in order to explore ways of using modern technology to all but obviate the need for customs posts.
It is understood that these could include the use of licence plate scanning technology, the pre-registering of customs forms, and other "ways and means" based on the latest technology.
Officials stress that these innovations would have been explored anyway, as part of the normal modernising of customs and excise systems.
Broadly, Irish exporters face a range of problems if Britain is no longer in the customs union.
Not only would exports from Ireland to the UK (including Northern Ireland) be subject to tarrifs if there is no free trade agreement between Britain and the EU, goods being transited to the European continent via UK sea and air ports could also be hit with tarrifs since they will pass out of the customs union and back in again.
Officials have been working on ways to ensure proper monitoring of goods along the transit route.
Mr Kenny also said there would be a lot of debate among EU leaders on how quickly the future trading relationship between Britain and the EU would take place, whether they are a parallel process to the divorce proceedings once Article 50 is triggered, or whether they only begin once the withdrawal treaty is concluded.
No prospect of election in 2017 - Enda Kenny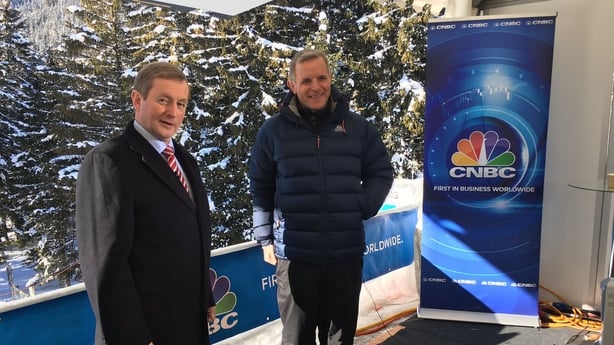 Earlier Mr Kenny said there is no prospect of an election in Ireland this year.
Speaking to CNBC in Davos, where he is due to attend an informal gathering of heads of government and meet senior executives from a range of multinationals, Mr Kenny said the Government is stable.
He said a minority Government "means that you reach out to other parties, that you hear other voices, that you work on a programme, which is published, which is transparent and accountable, and you sign deals with other parties on certain issues to keep government working in the interest of the people".
Asked explicitly by CNBC reporter Steve Sedgwick: "So you won't go to the polls in 2017?", the Taoiseach responded "Not at all."
The Taoiseach said he was "confident and optimistic" that Ireland would be able to attract more foreign direct investment, potentially as a result of Brexit.
He said that banks will not hang around to make their decisions after Brexit, and said Dublin is a great location for financial services companies.
Mr Kenny said that Ireland wants a good relationship with Britain, and good relations between Britain and the European Union.
He said that it has been agreed that there will be no return to the borders of the past, or customs posts. 
He said he expects the issue of citizenship to be dealt with early in the Brexit negotiations.
Mr Kenny held a ten-minute "private" meeting with Ms May in a restaurant in Davos last night, according to officials.
The meeting, which took place in the Altes Schāfli restaurant in the Swiss ski resort, was the result of a "coincidental" encounter.
Taoiseach Enda Kenny met Theresa May "by coincidence" in Altes Schāfli restaurant in #Davos last night, held a 10 minute conversation: srces

— Tony Connelly (@tconnellyRTE) January 19, 2017 
Ms May was attending the World Economic Forum to give a special address to delegates on Britain's aspirations towards global trade once the UK leaves the EU.
The Taoiseach is on his sixth visit to the Swiss ski resort and he will meet executives from a range of companies. He met Sheryl Sandberg of Facebook earlier this morning.
Meanwhile, Minister for Finance Michael Noonan also said that Ms May's Brexit plans are unlikely to lead to the re-establishment of a physical border or customs controls between Northern Ireland and the Republic.
Ms May said this week that Britain would not remain a full member of the EU's customs union, potentially meaning a tighter border between Northern Ireland and the Republic.
However, Ms May has pledged to find a practical solution to preserving a common travel area between Britain and Ireland that predates their EU membership, while also limiting immigration.
Asked if this would make customs controls likely along a border that 30,000 people cross each day to go to work, Mr Noonan told Reuters: "I don't think so and it's far too early to say."
"If you look at Ms May's speech, she committed to the free travel area (between Ireland and the UK). She wasn't as strong on what she would like from the customs union; she said it might be associate membership," Mr Noonan said in an interview on the sidelines of the World Economic Forum.
"In other words, she opened up a negotiating space around the customs union and it is where that lands that will decide whether goods have to be checked on the border. But a lot of this can be done electronically now and it wouldn't necessarily mean a hard border."
Mr Noonan also said he expected an economic growth rate of "around 3.5%" to continue into the early 2020s.