Shane Curran, 16, from Dublin has won the overall prize at this year's BT Young Scientist and Technology Exhibition for a project on software which secures secrets.
His prize includes €5,000, the perpetual trophy and a trip to the European Space Research and Technology Centre in the Netherlands.
He will also have an opportunity to represent Ireland at the EU Contest for Young Scientists in Estonia later this year.
Shane Curran from Dublin has won the overall prize at the #BTYSTE for a project on software which secures secrets https://t.co/Pm0BvdNLM6 pic.twitter.com/PBUhl4uV2t

— RTÉ News (@rtenews) January 13, 2017
A fourth time participant in the BT Young Scientist and Technology Exhibition, Shane's project looked at securing data.
The fifth-year, Terenure College student built a software-based system to store secrets where the secret can be cryptographically verified that it is secure until after the death of the person, or forever.
In order to do this, he created new cryptography methods for data storage.
One of these he called multi-jurisdictional quorum sharding, where the data is broken into pieces, a quorum is defined and each shard is then sent to a server in different jurisdictions.
Shane Curran's winning project. #btyste #ShaneCurran #Winner pic.twitter.com/1kW8F5PXbB

— BT Young Scientist (@BTYSTE) January 13, 2017
The data file cannot be rebuilt unless the quorum of pieces of the data is met, and because the data is split across multiple countries, it remains safe from legal or illegal access.
He said his inspiration for the project came from the Boston College Project, where legal challenges were mounted to have testimony about the troubles in the North released, which was not supposed to be published until after the deaths of those who gave it.
Shane has been working on the project for a year, and began the day after the last BT Young Scientist and Technology Exhibition finished.
He said he hopes to make the project available to people, but he is not yet sure whether he will make it free or sell it on a corporate basis.
Over 140 awards were presented this evening at a ceremony at the RDS.
More than 1,110 children with 550 projects took part in this year's exhibition.
82 judges have been examining the projects since Wednesday, with each project visited by at least three judges over that time.
The exhibition is open again to the public tomorrow from 9:30am until 5:30pm.
Michael Sheehan and Jack Murphy, both aged 14, from Coláiste Treasa in Kanturk, Co Cork, won the overall Group Winner Award for their investigation of prey availability for hen harriers in managed farmland.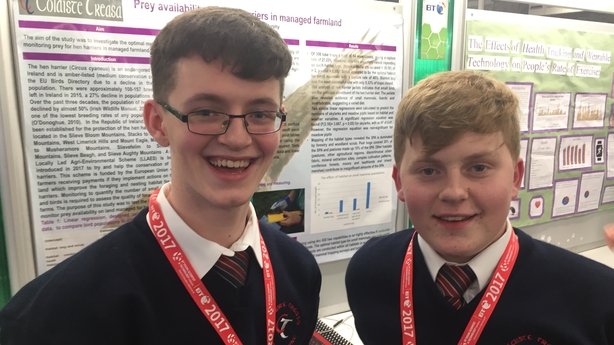 The transition-year students got the idea from visiting a raptor exhibition which explained what birds were living in the local area.
They took a particular interest in the hen harrier because it is an endangered species.
The project involved going out into the habitats before dawn and after dusk on many occasions to trap small mammals, which were then released.
From Jesus and Mary Secondary School in Enniscrone in Sligo, Mark McDermott and Matthew Blakeney won the Group Runners-up Award for their geological study of an area of shoreline on the River Moy.
The second-year students got the idea from Matthew's late grandfather who had described how flint from south England and north Wales had ended up in the river after being used as ballast on boats.
Cormac Larkin, 19, from Colaiste na Spioraid Naoimh in Bishopstown, Cork, won the Individual Runner-up Award after he designed a new method to find massive stars in the local universe, specifically the Large Magellanic Cloud.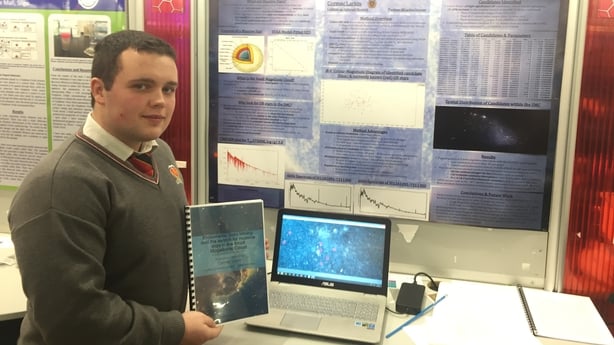 He took a catalogue of data from a locally available source on the internet and fitted the model to it.
This allowed him to identify candidate massive stars and, using a telescope. he was able to confirm seven out of the seven candidates as being massive stars.