Over 3,000 primary school children from all over the country are taking part in the RDS Primary Science Fair over the next three days.
Now in its 8th year, the fair runs alongside the BT Young Scientist and Technology Exhibition.
It gives primary school children a chance to work on and exhibit science projects in a non-competitive environment.
Last year the fair expanded to Limerick, and an event will take place there between the 19 and 21 January.
Today the RDS also announced that another new fair will be held in Belfast in June.
In total, around 7,500 pupils will participate in the three events.
At the Dublin event today, there was a wide variety of projects on display, around a variety of topics.
Fifth class pupils from St Pius X Girls National School in Terenure did their project on The Planet Mars - An Earth Like World.
Which Parachute Can Land An Egg Best was the focus of fifth class at Bunscoil Loreto in Gorey, the answer being one which uses a light dish cloth and felt.
Each day the schools rotate, in order to give the largest possible number of children the opportunity to exhibit.
Independent research carried out on behalf of the RDS last year found the fair is internationally unique, because it uses a whole-class, child led approach to learning STEM in primary schools.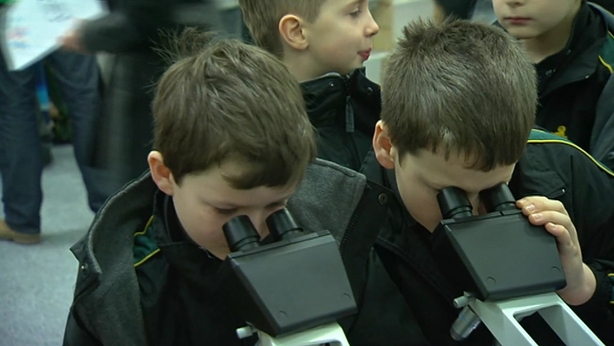 Elsewhere, the second round of judging in the BT Young Scientist and Technology Exhibition is continuing.
The former England captain, Rio Ferdinand, has praised the exhibition, saying it is a fantastic show of talent.
Speaking to RTÉ News at the event, the former Manchester United player said he had been on the floor to see the ideas.
He said there will be so many jobs in the pipeline in the next 20 years that we need to educate the kids in these areas, and this is a great platform and starting point for that.
"What's surprised me a bit coming here is how engrained this whole event is in the culture in this country and it is something I think English people would be envious of if they knew so much about this," he said.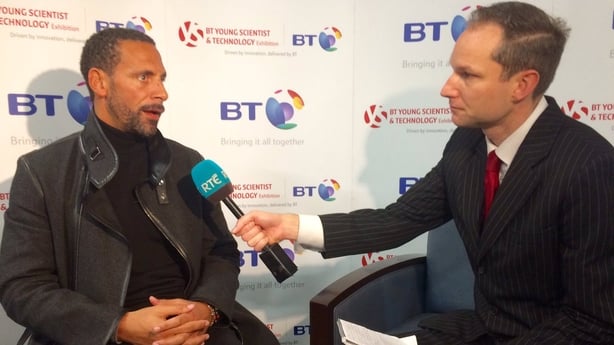 The former football star was attending to speak at an event called "Dream It, Do It", designed to encourage young people from all backgrounds to pursue careers in the areas of science, technology and sport.
"Not everybody is going to play football in the Premier League and for their country", he told RTÉ News, "but there are so many jobs that are tech and digitally driven within industries that young people are interested in that they need to open their eyes and broaden their horizons to."
He also announced a partnership between the Rio Ferdinand Foundation, Active Communities and BT, which will see all three work together to improve the career prospects of the young people they work with.
He said all children need to know that no matter where they come from how or how rich or poor they are, there is going to be an opportunities to work in these industries.
We need your consent to load this rte-player contentWe use rte-player to manage extra content that can set cookies on your device and collect data about your activity. Please review their details and accept them to load the content.Manage Preferences