Sinn Féin's Martin McGuinness has resigned as Deputy First Minister of Northern Ireland in protest at the Democratic Unionist Party's handling of a botched renewable energy scheme.
The move, which came into effect at 5pm, will likely lead to a snap Assembly election.
Mr McGuinness announced his decision after his partner in government, DUP First Minister Arlene Foster, repeatedly refused to step down to facilitate a probe into the ill-fated Renewable Heat Incentive (RHI) - a scheme that has left Stormont facing a £490m overspend.
In a letter, Mr McGuinness said he was resigning with "deep regret and reluctance".
"The First Minister has refused to stand aside, without prejudice, pending a preliminary report from an investigation.
"That position is not credible or tenable."
He made clear that Sinn Féin would not replace him in the role.
"We now need an election to allow the people to make their own judgment on these issues democratically, at the ballot box," he said.
His move effectively means Arlene Foster can no longer operate as First Minister because it is a joint office.
In theory Sinn Féin could renominate Mr McGuinness or a replacement to the deputy first minister role within seven days.  But Sinn Féin says that will not happen and it believes the British government will have no choice but to call Assembly elections with a late February or early March date likely.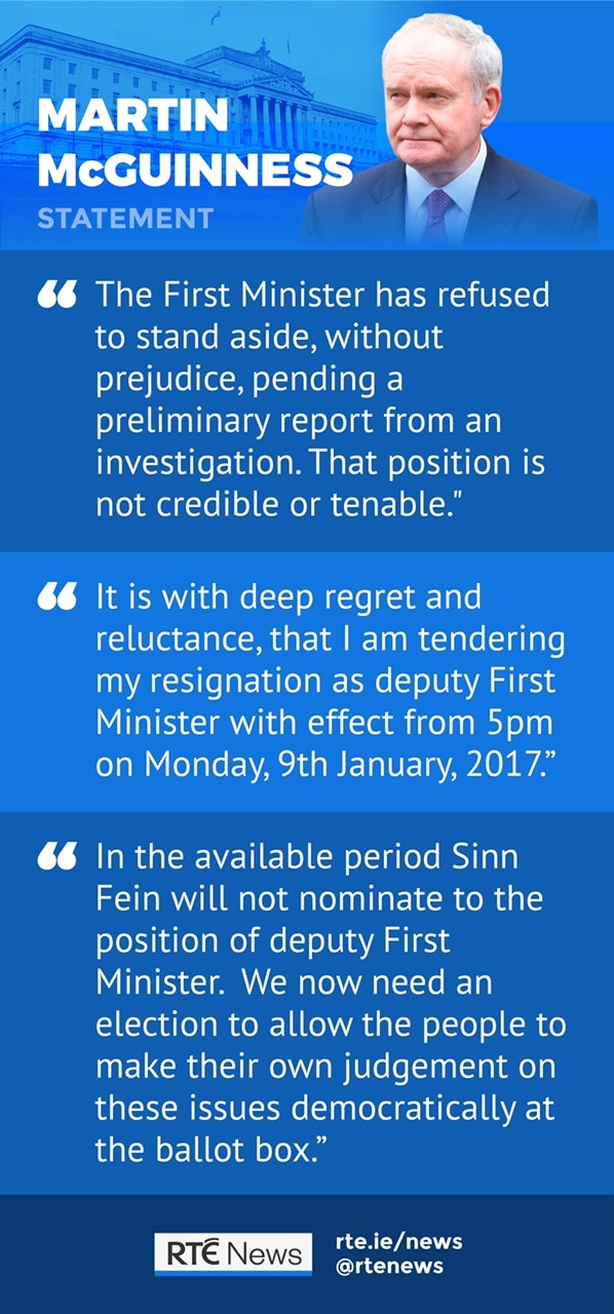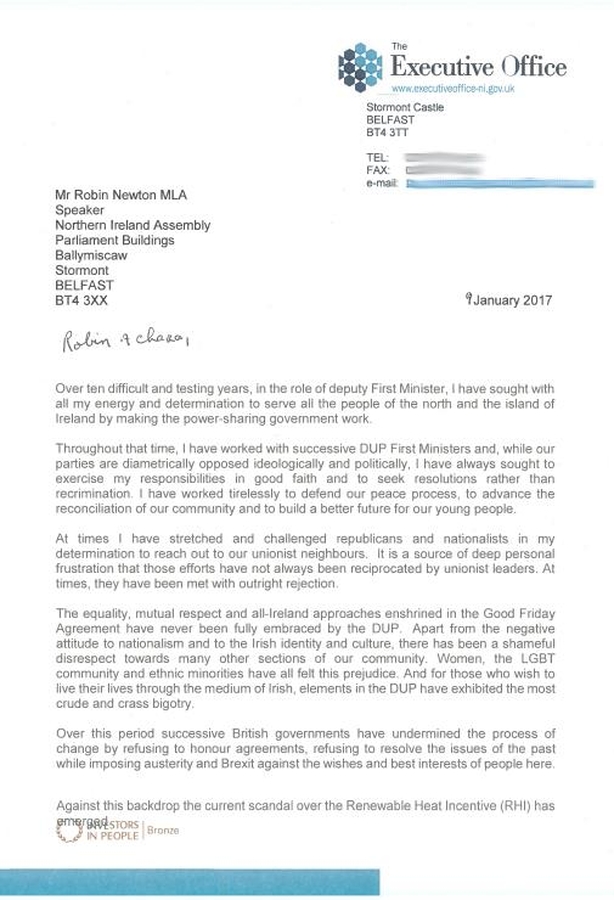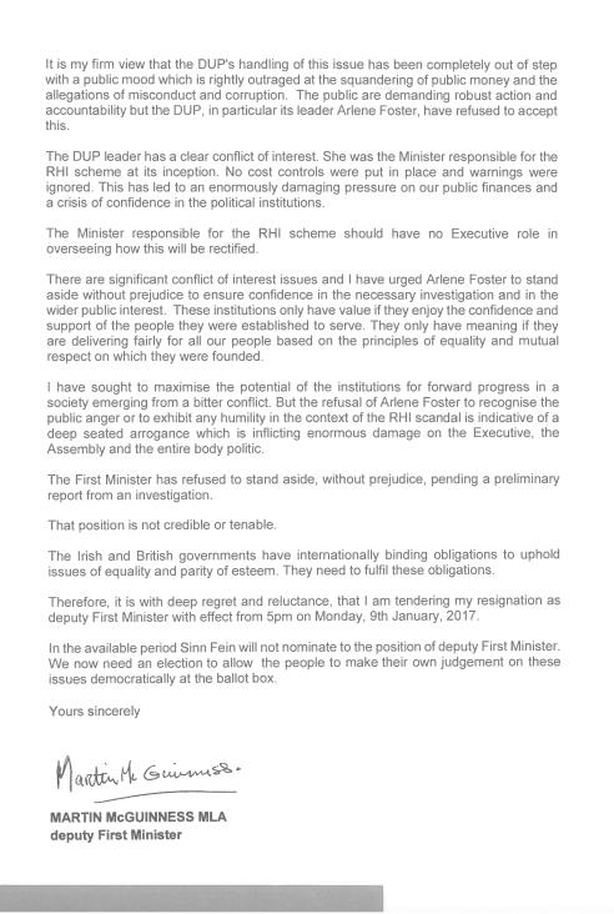 Martin McGuinness says 'today is the right time to call a halt to the DUP's arrogance' as he announces resignation as Deputy First Minister. pic.twitter.com/XWyFdrsweR

— RTÉ News (@rtenews) January 9, 2017
Flanagan 'regrets' circumstances of McGuinness resignation
Ms Foster presided over the ill-fated RHI while economy minister.
She has steadfastly refused to accede to Sinn Féin's demand for her to step aside to facilitate an inquiry into her actions.
The fate of the current DUP/Sinn Féin administration in Belfast now hangs on the pivotal issue of whether or not she will stand down.
The state-funded RHI was supposed to offer a proportion of the cost businesses had to pay to run eco-friendly boilers, but the subsidy tariffs were set too high and, without a cap, it ended up paying out significantly more than the price of fuel.
This enabled applicants to "burn to earn" - getting free heat and making a profit as they did so.
Claims of widespread abuse include a farmer allegedly set to pocket around £1m in the next two decades for heating an empty shed.
At a news briefing this afternoon, Mr McGuinness, his voice cracking, said he had informed Ms Foster of his decision at 1.30pm today.
We need your consent to load this rte-player contentWe use rte-player to manage extra content that can set cookies on your device and collect data about your activity. Please review their details and accept them to load the content.Manage Preferences
"We in Sinn Féin will not tolerate the arrogance of Arlene Foster and the DUP," he said. "I believe today is the right time to call a halt to the DUP's arrogance."
Mr McGuinness said his health had not influenced his decision and said he had been deeply involved in his party's response to the affair.
"My health is absolutely nothing to do with this whatsoever," he said.
He said a decision on whether he would stand in the next election was an issue for "a later date".
Mr McGuinness cited other disputes with the DUP, including over the Irish language and stalled mechanisms to deal with the legacy of the Troubles, in explaining the move.
He said the DUP were living in a "Fool's Paradise" if they thought they would be able to return to government with Sinn Fein after an election if the RHI issue was not resolved.
We need your consent to load this rte-player contentWe use rte-player to manage extra content that can set cookies on your device and collect data about your activity. Please review their details and accept them to load the content.Manage Preferences
We need your consent to load this rte-player contentWe use rte-player to manage extra content that can set cookies on your device and collect data about your activity. Please review their details and accept them to load the content.Manage Preferences