Outgoing Stormont First Minister Arlene Foster has branded Martin McGuinness's decision to resign and pull down the power-sharing administration as "not principled" and "purely political".
"I am disappointed that Martin McGuinness has chosen to take the position he has today.
"His actions have meant that, at precisely the time we need our government to be active, we will have no government and no way to resolve the Renewable Heat Incentive problems.
"Let me make it clear the DUP will always defend unionism and stand up for what is best for Northern Ireland and it appears from the Deputy First Minister's resignation letter that is what annoys Sinn Féin the most."
Tonight Ms Foster posted a video on her Facebook page, reiterating her disappointment at the turn of events and saying: "Northern Ireland doesn't need an election, it needs stability and solutions."
Foster posts video reaction to McGuinness resignation: "Northern Ireland doesn't need an election, it needs stability and solutions." pic.twitter.com/73IIri28SQ

— RTÉ News (@rtenews) January 9, 2017
Ms Foster said Mr McGuinness's actions mean that Northern Ireland will be without a government at exactly a point when it is needed in order to resolve the RHI problem.
She said the DUP's efforts over the past number of weeks have been to try and find a solution to the problem while others have sought to exploit it for party political reasons.
Ms Foster said her party put forward a proposal to Sinn Féin that would have ended the cost to the North's budget but that Sinn Féin rejected it.
She said Sinn Féin will not let her hold an immediate inquiry into the matter despite her calls for one. She repeated in the video her view that Sinn Féin's actions are not principled and that they are political.
Earlier, Ms Foster accused her Sinn Féin partners in government of playing a game of chicken over the green energy scheme scandal and warned she would not blink first.
She branded Sinn Féin's demand that she step down pending a preliminary investigation into her role in the affair as "ludicrous" and "nonsense".
Sinn Féin's Mr McGuinness announced this afternoon was resigning as Deputy First Minister of the
Northern Ireland Executive in protest at the DUP's handling of the scheme.
The DUP and Sinn Féin held internal party discussions in Belfast today.
At the weekend, Sinn Féin leader Gerry Adams left little doubt that his party would pull the plug on the power-sharing institutions, likely prompting a snap election, if Ms Foster did not temporarily stand aside.
The DUP leader rejected the suggestion outright.
"I take my directions from the electorate and certainly not from Sinn Féin," she said.
In an interview with the Impartial Reporter, a local paper in her Fermanagh and South Tyrone constituency, Ms Foster issued a blunt message to Mr McGuinness.
"If he is playing a game of chicken, if Sinn Féin are playing a game of chicken, and they think we are going to blink in relation to me stepping aside they are wrong - I won't be stepping aside. And if there is an election, there is an election."
We need your consent to load this rte-player contentWe use rte-player to manage extra content that can set cookies on your device and collect data about your activity. Please review their details and accept them to load the content.Manage Preferences
Ms Foster, who presided over the ill-fated Renewable Heat Incentive (RHI) when economy minister, has steadfastly refused to leave the stage to facilitate a probe into a scandal that has left Stormont facing a projected £490m bill.
The state-funded RHI was supposed to offer a proportion of the cost businesses had to pay to run eco-friendly boilers, but the subsidy tariffs were set too high and, without a cap, it ended up paying out significantly more than the price of fuel.
This enabled applicants to "burn to earn" - getting free heat and making a profit as they did it.
Claims of widespread abuse include a farmer allegedly set to pocket around £1m in the next two decades for heating an empty shed.
Ms Foster has voiced support for the terms of a judge-led probe into RHI outlined by Sinn Féin, but has emphatically rejected the republican party's prerequisite that she step aside to facilitate the preliminary stages of the probe.
The DUP leader has signalled she would also accept a full public inquiry under the terms of the 2005 Inquiries Act.
But she has made it clear she will not stand aside to facilitate any probe.
Ms Foster expressed hope Sinn Féin might temper its stance, claiming it had done so over previous political crises.
"They make all sorts of threats and make all sorts of points and then they come back to reality and we deal with the situation and we find a solution," she said.
Stormont's independent Justice Minister Claire Sugden had suggested a compromise position whereby Ms Foster would remain in her post during the preliminary stages and only step aside if the interim report found she had questions to answer.
The lack of consensus over Ms Foster's position during an investigation comes amid similar disagreement between the coalition partners on DUP proposals to reduce the overspend.
The DUP has claimed its plan could wipe out the £490m cost, but Sinn Féin has heavily criticised its partners handling of the proposals.
Earlier today Sinn Féin deputy leader Mary Lou McDonald repeated the party's position that it would act if Ms Foster did not step aside during an inquiry.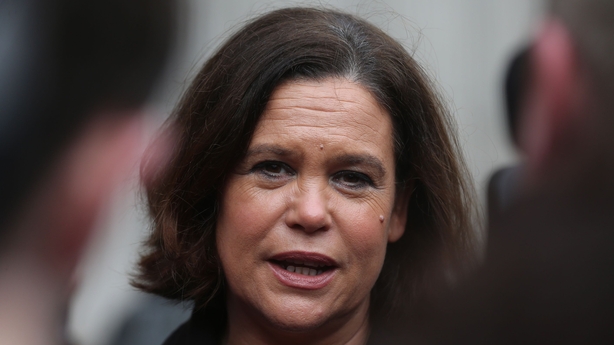 Speaking on RTÉ's Morning Ireland, she said the situation in Stormont was untenable.
Ms McDonald said that Sinn Féin would act in the appropriate way to correct that, to protect the public interest, the integrity of the institutions in Northern Ireland and in defence of good governance.
If Ms Foster had been elected in any other jurisdiction in the world, she would be forced to stand aside because it is the only tenable position for her, Ms McDonald added.
Democratic Unionist Party MP for East Antrim Sammy Wilson earlier accused Sinn Féin of using the 'cash-for-ash' controversy to deflect from party leader Gerry Adams's political difficulties.
Mr Wilson said that an independent inquiry should be able to carry out its work whether Ms Foster remained in charge or not.
He added that Ms Foster should remain in charge and she was right to avoid playing political games.
Speaking on the same programme, he said he did not believe the public wanted another election, and that an election would not solve anything, because an independent inquiry would still have to be held in order to find out what went wrong with the renewable energy scheme.