German Chancellor Angela Merkel has said there will be no cherry picking for the UK in its negotiations with EU partners over Brexit.
Ms Merkel was speaking after British Prime Minister Theresa May said her comments yesterday suggesting 'hard Brexit' - in which border controls are prioritised over market access - was inevitable had been misinterpreted.
"One cannot lead these (Brexit) negotiations based in the form of 'cherry picking'," Ms Merkel said in a speech in Cologne.
"This would have fatal consequences for the remaining 27 EU states," she added Merkel. "Britain is, for sure, an important partner with whom one would want to have good relations even after an exit from the EU."
But it was important, said Ms Merkel, "that on the other hand, we are clear that, for example, access to the single market is only possible under the condition of adherence to the four basic principles. Otherwise one has to negotiate limits (of access)."
Meanwhile, Ms May said her comments on a hard Brexit in a TV interview yesterday were misinterpreted.
Following her interview, sterling fell to its lowest level for two months; the pound is down by 1% against both the euro and the US dollar.
Ms May was questioned today about whether or not she had implied that the UK would leave the single market, sparking what has become known as a hard Brexit.
In the interview on Sky News, she was widely interpreted to mean that the UK would dramatically change trade ties with the EU after Brexit.
She said that the UK was leaving the EU completely and not retaining bits of membership.
Today she said she did not accept the terms hard and soft Brexit, and that it was wrong to interpret her comments yesterday as meaning a hard Brexit was inevitable.
Instead, she said, Britain was going to get an ambitious deal for the UK in terms of trading with and operating within the single European market.
Enterprise Ireland warns that firms need to prepare for hard Brexit
Hogan says Brexit 'a mess and getting messier'
European Union Commissioner for Agriculture and Rural Development Phil Hogan has described Brexit as a mess and getting messier.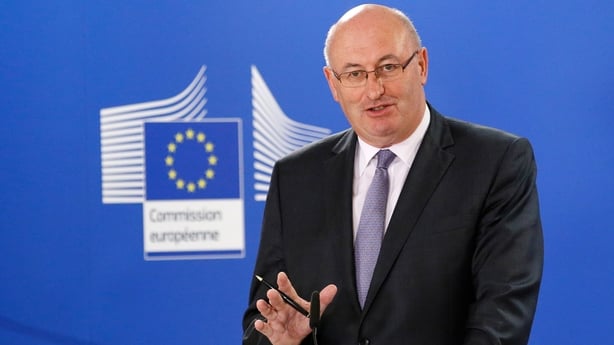 In newspaper interviews this morning, Mr Hogan warned against Ireland making what he called an enormous mistake by allowing its relationship with the EU to be defined by its relationship with the UK.
Mr Hogan made his comments in the Irish Independent and The Irish Times.
Taoiseach Enda Kenny is to travel to Madrid later this week for talks with Spanish Prime Minister Mariano Rajoy, which are likely to be dominated by Brexit.
Mr Hogan said Brexit would force Ireland to forge relations and shape its destiny within the EU without the presence of the UK.
He said that, in doing so, Ireland had the opportunity to redefine and reassert its position as both committed Europeans and good next-door neighbours.
While no one in Ireland wanted to see Brexit come to pass, he said, it may present Ireland with new opportunities and the chance to seize the next phase in its development.
He pointed out that Ireland has deep and long standing links with mainland Europe, and he warned against placing an excessive focus on Ireland's relationship with the UK during Brexit negotiations.
The commissioner rejected claims made last week by Brexit campaigner Nigel Farage that Ireland could follow Britain's example and leave the EU.
We need your consent to load this rte-player contentWe use rte-player to manage extra content that can set cookies on your device and collect data about your activity. Please review their details and accept them to load the content.Manage Preferences
Fine Gael MEP Mairead McGuinness has said the best way for Ireland to negotiate Brexit is as part of the "EU 27".
Speaking on RTÉ's Today with Sean O'Rourke, she said it was important that our EU partners speak for Ireland.
Ireland should not allow a decision, made by citizens of another country, to determine its future, she said.
It is understood in Europe how important the peace process is to Ireland, she added.
Fianna Fáil's finance spokesperson, meanwhile, has said that Ireland must act in its own interests during Brexit negotiations.
Michael McGrath pointed out that Ireland is on the EU side of the table and noted that, out of the remaining 27 EU states, Ireland had the most at stake and must be to the fore in negotiations.
Speaking on the same programme, he said that Brexit does look messy and it is becoming increasingly clear that UK government does not have a coherent exit plan.
Mr McGrath said that he was concerned that immigration appeared to be a greater concern to the UK than trade, given that over a billion euro a week was conducted in trade between the UK and Ireland.